Amy Truesdale keen to cash on precious gift - time
'I have qualified a place for GB. In my opinion it shows that my training plan is going really well and I will just continue what I am doing'
31 Mar 2020
Imagen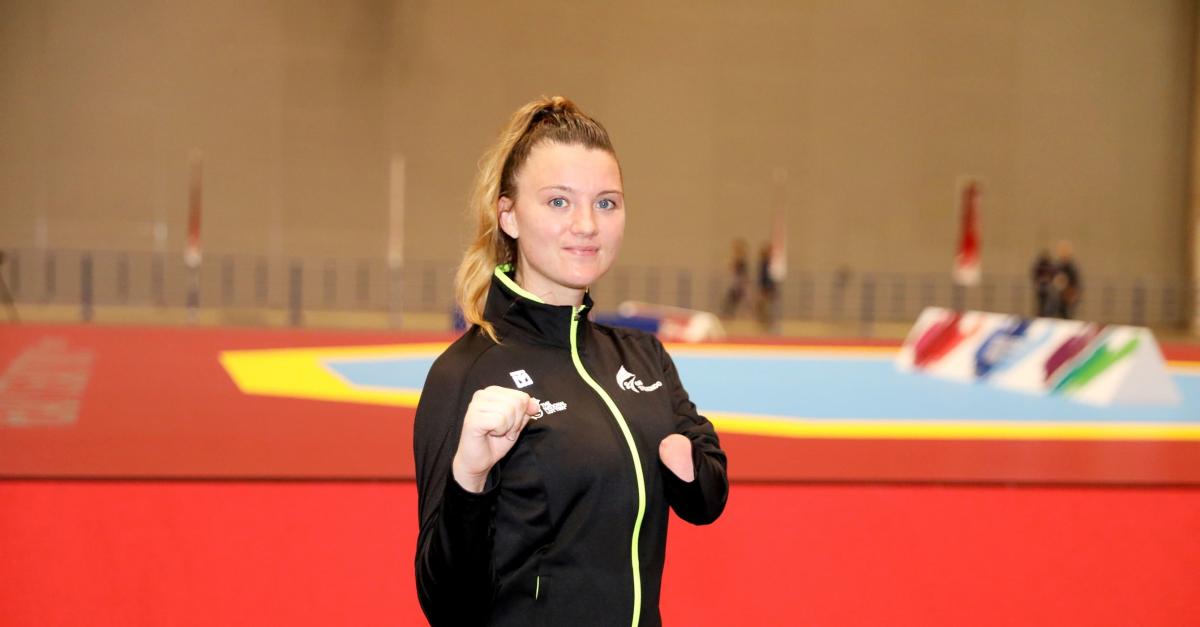 ⒸTokyo 2020
By Tokyo 2020
Para taekwondo World No. 1 and two-time world champion Amy Truesdale is not about to let the postponement of the Games dampen her fighting spirit.
"The most precious gift we've received is time and that's all we can use to improve on, even further," she told Tokyo 2020.
She still has her sights set on achieving Paralympic glory with Team GB, when the sport makes its anticipated debut next year in Tokyo.
"It's amazing that taekwondo is in the Games because GB has previously had such strong Olympic success, so it'll be great to match that at the Paralympics."
After winning bronze in the European Para Taekwondo Championships last November and securing her spot in the Games, Truesdale is all the more excited about continuing her training for the Paralympics next year.
"I have qualified a place for GB. In my opinion, it shows that my training plan is going really well and I will just continue what I am doing."
Truesdale is considered a pioneer of the sport and has been influential in growing the popularity of the power-packed martial art in the UK. When she won her first gold in the World Championships, it paved the way for securing more funding for the GB Para taekwondo programme.
"The 2017 Para Taekwondo World Championships in London was a big one for me – winning there meant a lot. Not only was it amazing to win on home soil but the medal I won put GB Taekwondo in a really good position for a funded Para taekwondo programme. I am forever grateful to the National Lottery and its players for this!"
In early 2019, she missed out on her third world title at the world championships in Turkey but is determined to maintain her fighting form for Tokyo 2020. She remains a strong favourite to bring home the first Paralympic taekwondo gold medal.
'It's your ability not your disability that matters'
Truesdale was born without her left hand, but that didn't stop her from dabbling in sports and other activities like ballet even when she was very young. However, it was her family who encouraged her to take up taekwondo.
"I first took up taekwondo with my sister at the age of eight as my Dad wanted us to do it for self-defence," she recalls.
In the beginning of her career, she was competing with able-bodied athletes, but with more and more competitions available for athletes with impairments, Truesdale finally switched to Para taekwondo in 2009.
"I always wanted to do it full-time but once the federation started doing Para competitions, that encouraged me a lot as it was a new avenue and opportunity."
Aside from her goal of achieving medal success in her first Paralympic Games, Truesdale's true mission is to be the face of para sports.
"My aim is to be a role model and try to inspire others to achieve the best they can whether that's in sport or in life," she says.
Truesdale's personal motto is 'It's your ability and not your disability that matters', and she never fails to mention this line in her interviews. She tries to live by it and thinks of it as an important part of her journey as an athlete.
"Just to highlight to other people who are in similar situations – it doesn't matter whatever obstacle you have in your way. Whatever the challenge is, you can still achieve it, just the same as everybody else," she says.
True to her word, Truesdale has also been giving back to the community that supported her as she rose to become one of the world's best para athletes.
"There are still a few people in my local community who support me as an athlete as I was a coach back at home in Chester. I also helped out at local primary schools and coached, so head of PE departments were and still are very supportive."
Gearing up for Tokyo 2020
As she gets ready to take the spotlight at the Paralympic Games next year, Truesdale believes the Games can inspire people and leave a positive legacy.
"I hope it will be showcased in a fantastic way in order to encourage people to take part in the sport and inspire the next generation."
As for the postponement of the Paralympic Games Truesdale says, "Clearly the correct decision has been made, as health and safety is paramount."
With more time to prepare for the Games, she has gone back to her roots, training in the house of her sister, who was one of the first to support her dreams of becoming an athlete.
"My sister has been really supportive. I have set up my taekwondo and gym equipment at her house (I am self isolating with her). Our service providers have also been helpful during this time, I am still in regular contact with my coach."
Truesdale thinks that achieving her goal of being World No. 1 is all about adaptation and making sacrifices.
"You need to push yourself and constantly try to improve at each competition. You have got to dedicate all of your time to it and make sacrifices – but it's all worth it in the end."