Britain's Rising Cycling Star Who Fell From the Sky
Nobody expected Mark Colbourne to throw himself into competitive sport after a paragliding accident three years ago, but now the Brit is set to make headlines at the London 2012 Paralympic Games
23 Jul 2012
Imagen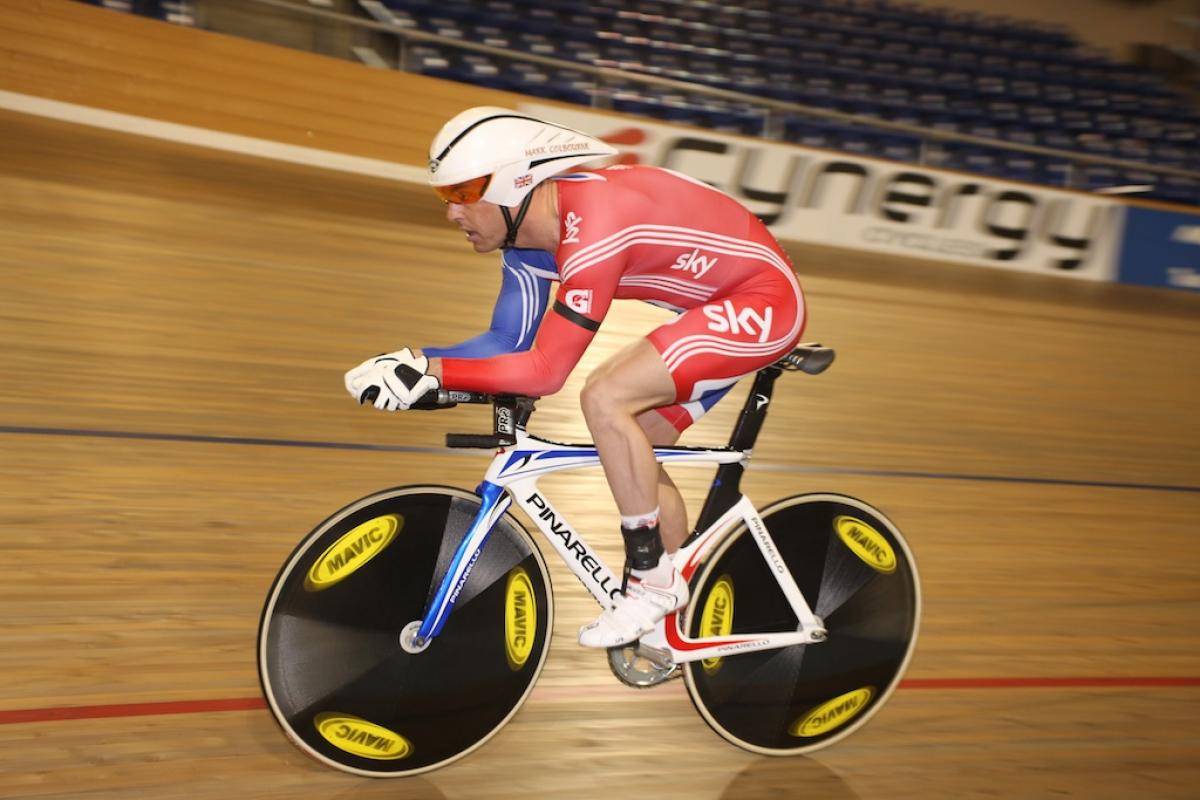 ⒸJAC Sports
By IPC
"People are very shocked that somebody who only broke their back three years ago can actually overcome adversity and start to walk again with walking aids. And then not only got back into society, but started to push the boundaries in Para-Cycling."
Three years after a paragliding accident in Swansea, Great Britain's Mark Colbourne will compete in three Para-Cycling events at the London 2012 Paralympic Games.
In May 2009, Colbourne's paragliding wing collapsed and folded in front of him, resulting in a broken back and lower leg paralysis.
After trying adaptive Rowing for a bit, the former triathlete made his way to the Para-Cycling circuit when he was informed his legs were strong enough to cycle.
"I knew within my heart that it was only a matter of time that I could get myself fit and strong again," Colbourne said.
He was right about that.
Last year, after thousands of training hours on the bike, Colbourne won silver in the C1 time trial event at the 2011 Para-Cycling Road World Championships in Demark, in addition to finishing a respective fourth place in the road race.
"For me, it's almost been quite surreal," Colbourne said.
"People are very shocked that somebody who only broke their back three years ago can actually overcome adversity and start to walk again with walking aids. And then not only got back into society, but started to push the boundaries in Para-Cycling."
After Denmark, the 42-year-old devoted a lot of his training time to the track before having what he called a "revelation" at the 2012 Para-Cycling Track World Championships in Los Angeles.
The South Wales native struck gold in the individual pursuit and was just over two tenths of a second away from a top finish in the time trial, taking home the silver.
Nearly three weeks ago, Colbourne was officially named on Great Britain's squad for London 2012 and will compete in the individual pursuit and time trial at the Velodrome and the individual road time trial at Brands Hatch.
Nicknamed "Uncle Bryn" from the British comedy Gavin and Stacey by his teammates, Colbourne will have to face the likes of established C1 riders Rodrigo Lopez (Argentina), Juan Jose Mendez (Spain) and Michael Teuber (Germany) in London.
For the next month he will train six days a week, working on sustaining his heart levels for certain blocks of time.
Colbourne said his long-term dream is to stay on the squad through the Rio 2016 Paralympics, but for now he will stick with changing other peoples' mindsets in his home country when the Games hit London next month.
Every time he shares his story, it seems to throw people off, Colbourne said.
"I think people's first reaction is that they tend to scratch their head and say, 'Well how have you done this?' "
Tickets for the track races are sold out, but there is limited availability to watch the road races at Brands Hatch at www.tickets.london2012.com.
Related Images