Britain's Skelhon Flies High to Stay Focused
With an easygoing personality and acute vision, Great Britain's Matt Skelhon is targeting triple gold at London 2012.
11 Apr 2012
Imagen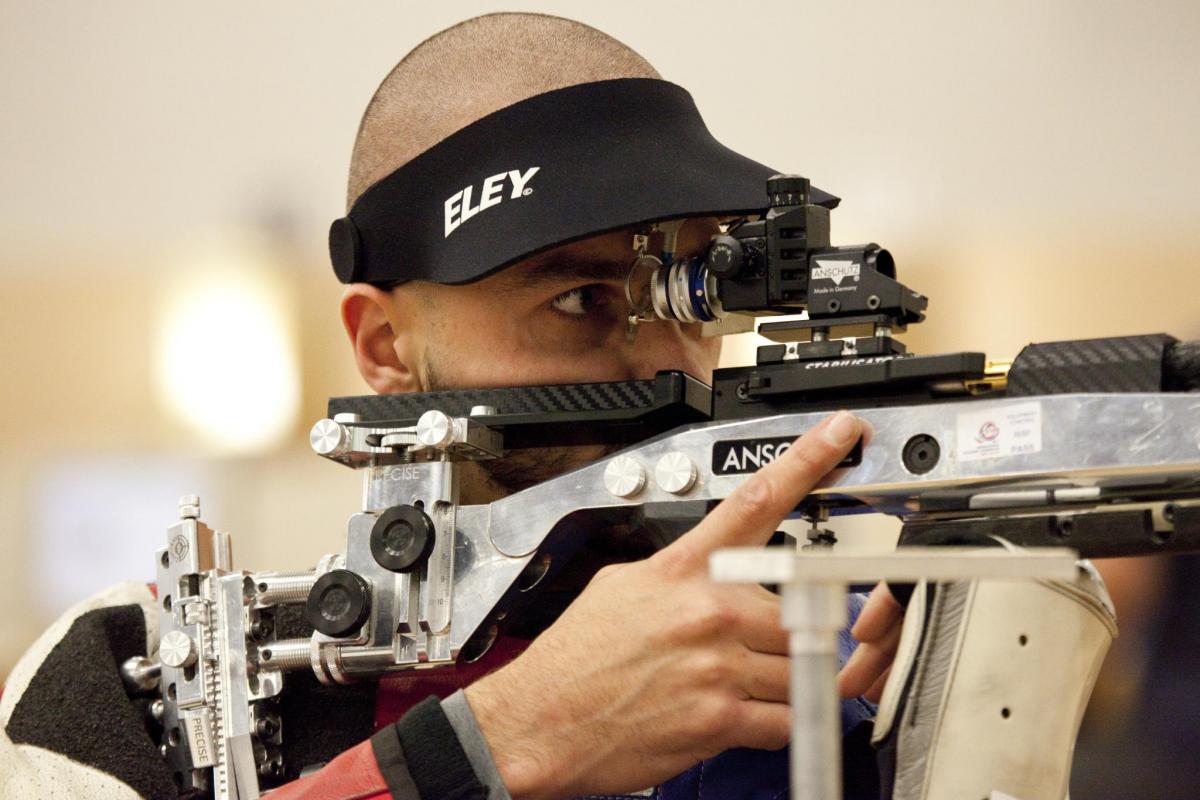 ⒸBritish Shooting
Great Britain's Matt Skelhon always has a full trunk when he goes to the Shooting range.
He piles his radio controlled cars and helicopters on top of his three rifles, triggers, and butt plates, topping off the stash of goodies with his shooting jacket and protective eyewear.
That is one loaded vehicle.
"I'm sometimes carrying almost 10,000 pounds [worth] of stuff in my car when I'm traveling to training camps," Skelhon said.
The 27-year-old, who won gold in the R3 Mixed 10m Air Rifle Prone at the Beijing 2008 Paralympic Games, builds his own mini-cars and helicopters when not aiming for the targets.
He currently just gave flight to a four-foot long bird, which he and teammate James Bevis blast around the parking lot during their downtime at training sessions.
"We've got something else to do to take our mind off the sport," Skelhon said. "I've always got someone egging me on to do acrobatics with it or something, and I normally end up crashing it into the ground."
Luckily for Skelhon, the attention to detail he has with his models translates directly to the shooting range.
"For me, it's just the technicality of it – that's what draws me to it," Skelhon said of the sport. "We're trying to hit such a small target, it's unbelievable when you think how much small amount of movement at your end on the gun can make such a difference. That's what makes it exciting for me."
Topping the charts
In the lead-up to London 2012, Skelhon has become the most recognizable British face in Paralympic Shooting.
With his constantly changing hairdos and laid-back attitude, the Peterborough native comes across very personable.
At the end of 2011, Skelhon was ranked No. 1 in the world in the R1 10m Air Rifle Standing and R3 Mixed 10m Air Rifle Prone events, and he was fourth in the R6 Mixed 50m Rifle Prone category.
He recently won the British Championships and will compete in the International Paralympic Committee (IPC) Shooting World Cup this week in Szczecin, Poland, where he hopes to grab another gold or two.
"Everything's looking good so far," said Skelhon, who is doing the majority of his training at Aylesbury and Stoke Mandeville.
"The one thing that really stands out today and motivates me at the moment is that I'm No. 1 in the world in both my events."
Although Great Britain does not officially select its Shooting team until May, Skelhon said he does not feel he has anything to worry about.
"I don't get too involved in the selection process," Skelhon said. "I'm just waiting for the phone call to be told that I've made the team."
Off to the Barracks
The Shooting events for London 2012 are nearly sold out, and Skelhon explained that spectators can expect a different atmosphere at the Royal Artillery Barracks compared to that at the Olympic Stadium or Aquatics Centre where the Athletics and Swimming events will be held.
"It's a little bit relaxed compared to the sort of explosive sports," he said.
The battle for medals can come down to tenths of a point – or thousandths of an inch on the targets – making it quite a psychological competition for the athletes.
Skelhon conveyed that an adrenaline rush during a competition or music blasting on the loudspeakers may actually have the opposite effect as it does in other sports.
"If you get that in Shooting, that's your worst nightmare when you're trying to hold a gun still," Skelhon said.
"If you can shoot well mentally, there's no way you can't hit the target every time. It's just the mental side of it – keeping your mind clear and on the job and not letting other thoughts creep in."
Skelhon has yet to see the venue in person, though he is trying to gain access to take a peek next month when the able-bodied test event takes place.
His main rivals at the Games will be the Chinese and Koreans, and with the rate his training has gone, he is aiming high in 2012.
If Skelhon is selected, he will compete in R1 10m Air Rifle Standing on 31 August, R3 Mixed 10m Air Rifle Prone on 1 September, and R6 Mixed 50m Rifle Prone on 4 September.
"With all the training I'm going to put in the rest of this year, I'm definitely capable of medalling in all three events," Skelhon said.