Can Britain Live Up to High Expectations on Pitch?
Despite coming fourth at the last European and World Championships, Great Britain's Football 5-a-side team have set their sights on gold in London.
28 Jul 2012
Imagen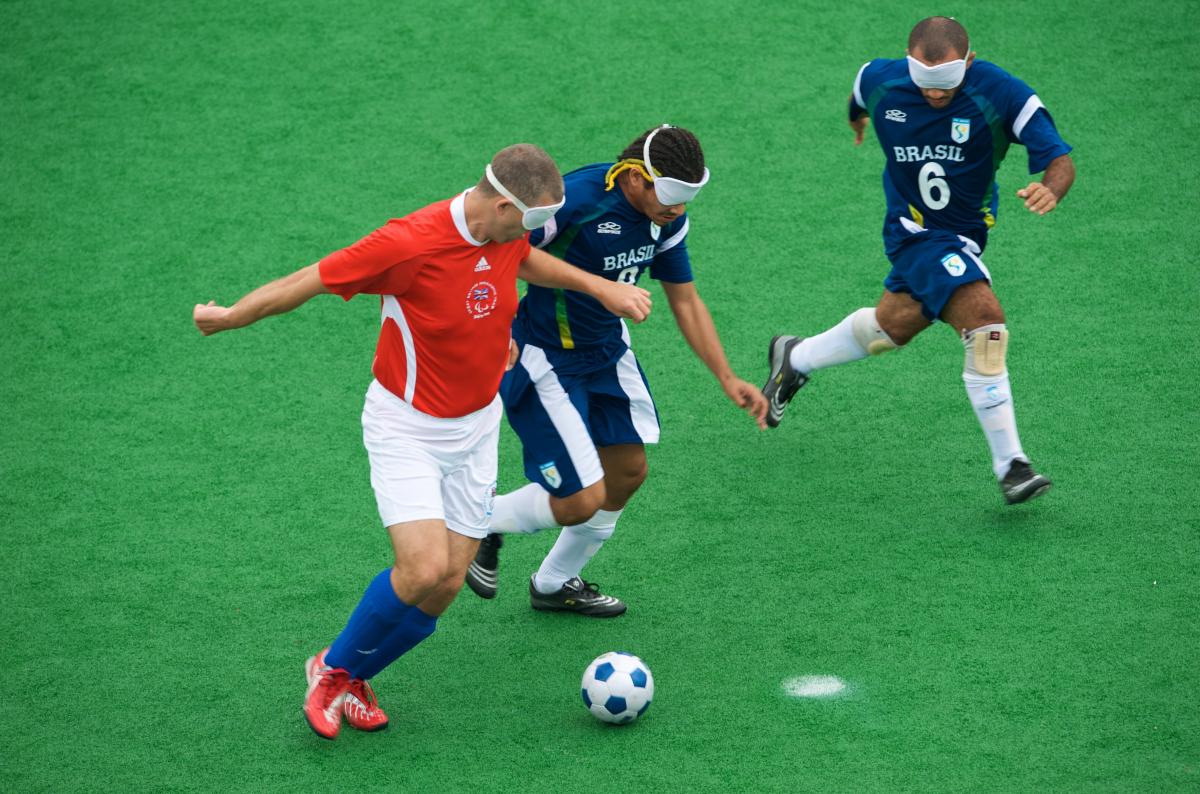 ⒸLieven Coudenys
By IPC
"We're hoping it's not going to come to penalties and that we can get it done in normal time."
Great Britain's Football 5-a-Side team have plenty of silver and bronze medals to their name, but at London 2012, they're in it to win it.
Their recent results, however, do not bode well for them.
In Beijing Great Britain came fifth, and at both the 2012 IBSA Futsal European Championships and 2010 IBSA World Blind Futsal Championships they came fourth.
Despite this, they are still talking themselves up.
"In Beijing we went into it hoping to win a medal, but in London we're going expecting to win a medal. The aim is to get gold," said 28-year-old Keryn Seal.
Great expectations
The British public is highly expectant, too, not least because of all the publicity the team have received with David Beckham's involvement, an incredible morale boost for the team.
"We saw the support that the Chinese team got in Beijing and just thought wouldn't that be amazing when we get to London, and that's something we're going to use," said Seal. "We're really going to be excited about that."
Since Beijing, the squad have developed a highly competitive team culture. But while the pool of competitive players has increased and the team's general fitness and skill levels have improved, so too have those of their rivals.
As one of the only teams on the London 2012 programme that does not train full-time, Great Britain is in a David and Goliath situation.
"We need to claw back the difference between us and those fully professional sides," said Seal, who plans to train full-time and work part-time, ideally in sport development, once the Games have passed.
"Individually we're as good and as fit as all the other players in the world, but we just don't get that contact time that all the full-time pro-teams get."
Results belie performances
This week the players attended their final training camp, funded by the Football Association, one of the few times they get to train together.
The camp has given the team a well-needed confidence boost, which was reflected by players on Twitter.
"Been quiet this week. Simply very tired from some excellent training we are doing as a squad. Final prep going really well," goalkeeper Dan James ?tweeted.
What remains is for the team to translate this training into solid performances on the pitch.
At their last tournament, the FEDC International Blind Futsal Tournament 2012 in Madrid, Spain, they came last. The tournament, held in June 2012, was more or less a dress rehearsal for the Paralympics with the top six teams playing.
Great Britain drew three matches against China, Spain and France, and lost against Argentina and Brazil.
Despite their 5-1 defeat against Brazil, Seal remains confident.
"The results may not have been the best, but there were some incredible performances and I think we're going in the right direction now."
Paralympic rivals
Great Britain will play against pool A teams Spain, Argentina and Iran at the group stage of the Paralympic Games, before the tournament progresses to the semi-finals.
"It's not an easy group," said Seal. "We've probably got the slightly easier group of the two though, the other one's a bit of an unknown quantity with Brazil, China and France. They're all teams that can beat each other on their day and can hand out wallopings to any teams.
"We're pretty happy to be in the group that we're in to be honest."
Great Britain's first match is at 15:30 on 31 August against Spain, a team they have played against more times than any other team in the last 15 years.
"I counted up my caps the other day and almost a quarter of them have come against Spain, so we get to play against them a lot," said Seal.
Spain is known for their technical skills, sharp ball-passing and strong defense. Great Britain's tactics will be to seize opportunities.
Their next match against Argentina takes place at 15:30 on 2 September. Great Britain does not have much competition experience against them and lost 1-0 at the tournament in Madrid. The team are technically also very strong and known for their set pieces.
"With Argentina, we're very much hoping to keep it tight and not commit many fouls, like we would do against Spain as well," said Seal.
Unknown quantity
Great Britain's final match in the group stage is against Iran at 15:30 on 4 September, for which tickets are still available.
The Iranians are a bit of an unknown quantity for Great Britain as they have only met at one major tournament. At the 2011 IBSA World Games, they surprised everyone by winning the championships, with England placing fourth behind France and China.
"We hope to play against them in the same way we played against the Chinese in the last tournament," said Seal. "We kept the Chinese to a 0-0, just by defending really well and hoping to make a goal near the end."
As for penalty shootouts, if the team make it to the next stage, Seal said he hopes to overcome the squad's reputation that is similar to the able-bodied English team.
"We're hoping it's not going to come to penalties and that we can get it done in normal time," he said.