Natalia Dannenberg: Football Frenzy on Twitter
Making amends for some of the omissions in her last blog (50 Tips on who to follow at the London 2012 Paralympics), the IPC's Natalia Dannenberg gives the low-down on the British Football 5-a-Side team.
27 Jul 2012
Imagen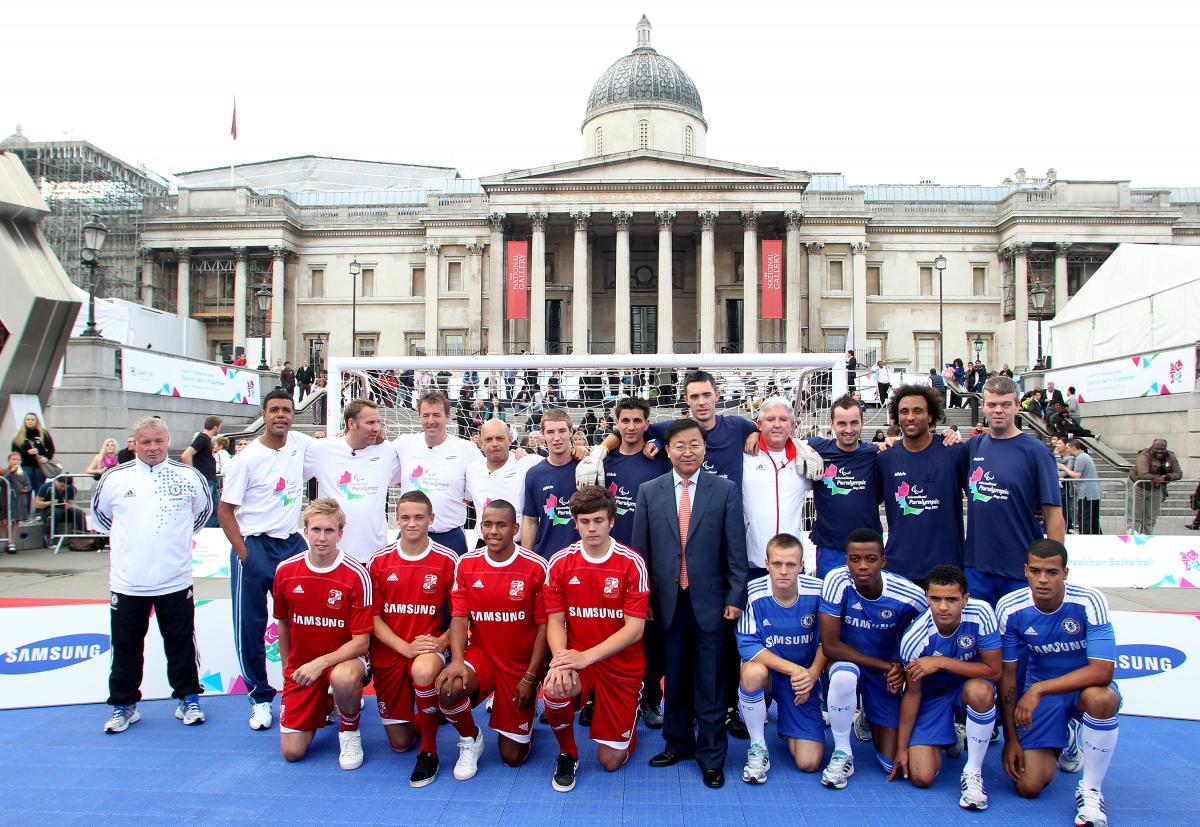 ⒸGetty Images
By IPC
"@lskyersGB Mykolas tells me you trained like an animal yesterday. Anyone would think the Paras were just around the corner."
I have to admit, when I wrote my last blog with 50 tips on who to follow at the London 2012 Paralympics, it got a mixed reaction.
Unsurprisingly, those I mentioned were full of praise.
"@NatDannenberg thanks for the shout out!" tweeted @BenNewton_1, member of the Australian Wheelchair Rugby team.
"Thanks for the love for @usawchrugby! Looking forward to London! #50daystogo" was @Aoki5Chuck's reaction.
But then the omissions started flooding in.
"AWESOME story! But @JessGallagher86 my fave," ?@megitsh tweeted.
My heart sank.
There were so many people I had to leave off, but @megitsh was right. Australia's dual summer and winter athlete Jess Gallagher was a pretty big omission.
Then came this conversation:
"No mention of football," Great Britain's Keryn Seal tweeted from @Blind_Seal.
"Oh man, I wish I could've had at least 30 more slots! With #Football5 week from 23 July, we'll make up for it," I replied from @NatDannenberg.
So here I am, fulfilling my promise.
Out of Great Britain's 10-man squad, only Dan English, Lee Brunton and Roy Turnham aren't on Twitter.
So here's a guide of what to expect if you want to follow any of the other players, none of whom were even on Twitter at the last Paralympic Games in Beijing.
Dan James @OCTOPUSDEEJ
The goalkeeper provides some great insights into team dynamics with tweets like:
"Pleased with that football session. Short and sharp. Good advice from @GaryJk59 and @Blind_Seal this week. Glad I have supportive team mates," he tweeted, referring to coach Gary Knight and teammate Keryn Seal.
Lewis Skyers @lskyersGB
The other goalkeeper has a real way with words on Twitter. Expect some comedy banter with team mates, such as this conversation with Will Norman, proving that the football man-love on the pitch, often transcends to Twitter.
"@lskyersGB Mykolas tells me you trained like an animal yesterday. Anyone would think the Paras were just around the corner." - @willnorman3
"@willnorman3 very true he used the phrase pigeon chest several times. Loving you on Twitter, I feel so close to you." - @lskyersGB
David Clarke @ClarkieGB7
With 126 goals to his name, the captain is quite simply a football legend. He's also the glue that holds the team together and is very pragmatic.
After we challenged him to play the highly entertaining Football 5-a-Side online game designed by Sainsbury's and Channel 4, he realized it wasn't accessible for people with a visual impairment. His response on Twitter:
"Massively respect the fact they created the game at all and sure they will label buttons soon."
Darren Harris @DarrenHarris_
I never thought I would say this about a maths graduate, but this shooter has a brilliant sense of humour:
"If anybody has bought restricted view tickets for an Olympic event, I will take them off your hands #HelpTheBlind."
Robin Williams @MrRMWilliams
The PhD statistics student has opinions on almost everything from the standards of modern education to training sessions.
"Going to bed dreaming of the shot I roofed against @OctopusDeej this morning, gotta reproduce that. #youdontsavethose #pickitout."
Will Norman @willnorman3
The defensive player has promised me he will replace his egg-head profile picture with a suitable action shot to draw in more followers. He wants to get 100 before this weekend.
Expect philosophical conversations from this master's graduate in philosophy and literature about which Olympic sports you can play when pregnant and slightly cryptic tweets like:
"Camp life reveals my possible family ancestory as peasant. I enjoy working hard and being told what to do 14hrs a day by the squire."
Keryn Seal @Blind_Seal
The Welshman's tweets are hilarious and it is a travesty he wasn't on my top 50 list. I would have liked to be a fly on the wall when he tweeted this:
"Weird and wonderful relaxation techniques in our digs. @MrRMWilliams meditating under his bed, and @OCTOPUSDEEJ stretching to River Dance."
You can follow other international Football 5-a-Side players by subscribing to this list.
Related Images