Natalia Dannenberg: 50 Tips on who to Follow at the London 2012 Paralympics
The IPC's Social Media Manager during the London 2012 Paralympics gives the definitive guide navigating social media at the Paralympics
14 Jul 2012
Imagen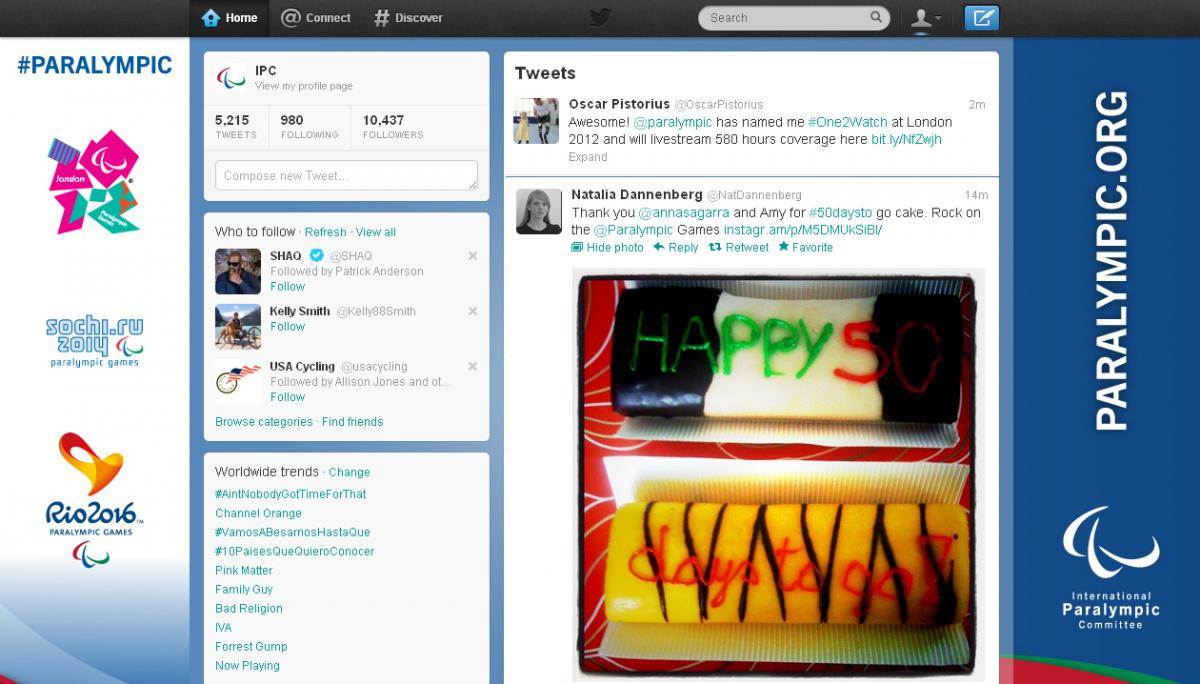 ⒸIPC
By IPC
"If you haven't already done it, make sure you're following @paralympic and are using #paralympic to get it trending worldwide."
Whilst paralympic.org is giving the most comprehensive coverage of the Paralympic Games, the International Paralympic Committee's (IPC) social media outlets will be the icing on the cake.
And because the IPC's social media guidelines for London2012 actively encourage tweeting and facebook posts, this will be the first truly social Games.
Our Twitter handle @paralympic and Facebook pages (Paralympic Games and IPC Swimming) will post exclusive sports pictures, athlete video blogs and a lot of behind-the-scenes insights that you simply won't be able to get anywhere else.
We will also be administering more than 40 athlete profile pages on Facebook.
To navigate your way through this social media jungle and figure out who to follow and like, I've set out my top 50 tips for the London 2012 Paralympic Games, breaking them down into different sections.
You can also follow all the twitter accounts mentioned here (with a few extras) by subscribing to this list.
IPC – Let's start with the shameless self-promotion
1. If you haven't already done it, make sure you're following @paralympic and are using #paralympic to get it trending worldwide.
2. Next up, follow @IPC_CEO (Xavier Gonzalez, the International Paralympic Committee CEO) to get a personal touch from the man at the head of the organization.
3. For behind-the-scenes banter, follow my boss @craigspence (he's a Yorkshireman, but he won't bite), @StuLieberman (he's OK for an American) and @LVEva99 (Eva Werthmann, who we're still trying to convince to tweet more). Oh, and follow me too @NatDannenberg.
Humour – these tweeters will have you crying with laughter
4. With quotes like "You give me a fright in the Customs terminal! I thought I was about to get the rubber glove" Australian wheelchair racer @kurtfearnley keeps us constantly entertained on Twitter. Lots of great information on his website and Facebook, too.
5. Australia's @evanohanlon, a sprinter with cerebral palsy, is one of my all-time favourite tweeters. His daily countdown to the Games using #daystogo includes some comedy facts like "The virus that causes the stomach flu can survive on an uncleaned carpet for a month or more!" Like him on his Facebook page, too.
6. Jerome Singleton, an American amputee sprinter, may be relatively new to social media, but his cheeky humour and sincerity shine through in his tweets from @JSingletonJr. He also shares a lot of behind-the-scenes pics on Facebook.
7. The Adelaide boy @matt_cowdrey has a lot of Twitter banter with teammate @kurtfearnley. Needless to say, you will get lots of laughs if you follow this swimmer.
8. Great Britain's Table Tennis star @WillBayleytt has a naughty sense of humour, but I love it. He's also got a great Facebook fan page.
9. Discus thrower @JeremyKCampbell also cracks me up with quips like "Just almost got my head taken off by a ball at the Padre game during an interview w/ Fox". And ladies, you are going to love his pictures on Facebook.
Teams
10. The USA women's Sitting Volleyball team is one to watch for London and lots of their players are on Twitter including @Angela_DeHaan, @HeatherSITVB6 (Heather Erickson), @ksholloway (Katie Holloway), @Kaleo_Vb10 (Kaleo Kanahele), @KennyLynn15 (Kendra Lancaster), @NicholeMillage, @MoniqueBurkland, and @karisittingV (Kari Miller).
11. Stay updated with Canada's men's and women's Wheelchair Basketball teams on their Facebook page and website. The teams are also on Twitter @WCBballCanada and YouTube. If you want to get up close and personal with more of the players, from the women's team follow @SevenCan_CO (Cindy Ouellet), @thepeachabides (Katie Harnock), @JameyJewells, and on the men's side there's @therealbohedges (Bo Hedges), @AdamLancia, @BWAGG (Brandon Wagner), @The_Real_DENG (David Eng).
12. The USA's women's Wheelchair Basketball team is also one to watch at London. Follow their players @alananichols21 and @mamilford. They also have a great Facebook page with a lot of updates and photos.
13. Australia's men's Wheelchair Basketball team are certain to make headlines in London. Follow their players @Deansy88 (Adam Deans), @BradNess15, @DylanAlcott, @JannikBlair, @john_mcphail and @TigeSimmons.
14. The Aussie Wheelchair Rugby team are a fun bunch. If all of them went on Twitter, we'd have a riot following them. At the moment though, it's just @BenNewton_1 and @RyleyBatt who keep us amused.
15. The USA have traditionally fielded the strongest Wheelchair Rugby team. Follow @usawchrugby and some of their players like @Aoki5Chuck (Chuck Aoki), @sethmcb (Seth Mc Bride) and @JoeDelagrave. They also have a pretty smart website.
Uplifting – tweeters to put a smile on your face
16. There are so many reasons to follow USA visually impaired sprinter @LexGillette. Not only is he fast, but he's also got a great voice: he's recorded a song 'On the stage' available on iTunes to raise money to get his guide's mum to London. Check out his website, Facebook and YouTube too.
17. @aprilholmes is an extremely uplifting athlete to follow. I love her sense of humour with tweets like "My 3yr old nephew just ran around my living room giving me running tips. Said if I want to run fast I have to run like him. #Kids." The amputee sprinter also has a super slick website and Facebook fan page.
18. The visually impaired sprinter Jason Smyth is extremely chatty on @smyth_jason. (Aren't all Irishmen?) The world's fastest Paralympian is also on Facebook.
19. For super upbeat tweets follow Canada's @mikeystilwell. The wheelchair racer is also constantly updating her Facebook fan page with great content.
20. With the Twitter handle @aleginfaith and the hashtag #irun4him, US amputee sprinter Jarryd Wallace reflects his strong Christian faith as he updates fans about his performances and beliefs. He's also just got onto Facebook.
21. South Africa's @Natsdutoit (Natalie Du Toit) tweets about campaigns that she believes in and retweets ideas that she likes. For lots more info about the swimmer don't forget to check out her website.
22. Stunning sailing pics and a sporadic blog are what the GB Skud team have to offer on their website, plus lots of fan interaction on Facebook. Follow Alexandra Rickham and Niki Birrell on @TeamBR for humorous weather updates and inside gossip.
A personal touch
23. @OscarPistorius is by far the most followed athlete on Twitter. The light-hearted South African amputee sprinter is a very busy man and you can follow him in all of his endeavours from sharing his disappointment in a race performance to joking with fans.
24. Australia's @KelCartwright89 offers a very girlish personal insight into her training and daily life. Expect tweets from the amputee track and field athlete about midnight cups of cocoa and the best rice paper rolls ever. And if you love all of that, you'll 'like' the photos that she shares on Facebook.
25. Follow Dan Greaves @DiscusDan to find out he loves the film "Honey I shrank the kids." The Brit is a real hoot with his Twitter banter with other teammates using #sexythrows. He's just started out on Facebook, too.
26. When following @TatyanaMcFadden you really get an insight into her daily life whether it's lunch with her sisters or how tough her practice was. Fans can also get behind the scenes pics on Facebook.
27. Lee Pearson is super-cool. A man on a horse always gives an air of superiority. So it's quite refreshing to see that @MrLeePearsonCBE replies to all of his @ tweets and seems to have a real rapport with his fans. He also posts some dazzling pics on Facebook.
28. Sarah Storey is chirpy, chatty and sometimes opinionated on Twitter. Follow her @MrsSarahStorey and whilst you're at it, check out her Facebook page.
29. Tom Aggar will certainly be a favourite with home crowds in London. When you follow the rowing world champion on Twitter @TomAggar it feels like you're sitting in the pub with him having a friendly chat. He answers questions and gives updates, like he's talking to one of his mates. He also has his own Facebook page. Get interacting with this affable chap!
30. Welcome into the world of @EllieSimmonds1 and her swimming buddies. Follow the teenage British swimmer on twitter for banter with teammates @GemmaAlmond and @CHenshawGB.
31. Travel around the world with @JonniePeacock and find out how the 100m T44 world record holder is training to remain the world's fastest amputee sprinter.
32. @davidweir2012 does tweet a bit about himself – mainly about how sore he is after training – but to be honest, the wheelchair racer is a bit of a retweeter, which actually is no bad thing in his case. He carefully picks out some of the top stories and shares them with his followers.
33. Find out what's on @JessicaLong's playlist and what she's eating for breakfast. The US swimmer also has a fab website and Facebook page.
Non-English language
34. The Swiss Silver Bullet, Marcel Hug, has only tweeted once on @MarcelEricHug to say "tweet tweet," but the wheelchair racer does have a very slick website and keeps his Facebook page regularly updated in German and English.
35. The excitable German track and field athlete @Heinrich_Popow tweets in English and German. He also has one of the coolest websites and Facebook pages. Though the latter is mainly in German, don't let that put you off. Brilliant pictures don't need a translation.
36. Greek Boccia legend Greg Polychronidis tweets in Greek and English from @gregpoly and is also very active on Facebook and his website. We all loved the pics from the time he met David Beckham.
37. Venezuela's judo star @Naomi_venjudo (Naomi Soazo) tweets in Spanish. Follow her for lots of judo pictures and sincere uplifting sentiments.
38. There's something about Jiri Jezek that we really love. He's not yet on Twitter, but he's got a brilliant website, mainly in Czech with some English translations, and has also just started on Facebook.
39. Natalia Partyka is also no Tweeter, but she has a gorgeous Facebook page, constantly being updated with fabulous pics. She also has a very cool website in Polish and English. You can't help but feel blown away by her.
40. For tweets in Portuguese follow the smiley @andrebrasils10. He posts lots of videos from his YouTube channel on Facebook, too.
41. Swimmer @DanielDias88 also tweets away in Portuguese plus he's got a pretty smart website and has just joined Facebook.
42. For tweets in Russian, follow swimmer @sav_ok (Oxana Savchenko), We've no idea what she's tweeting about, but she likes her smiley faces.
43. @AniekVanKoot describes herself as "chaotic but friendly" on Twitter. She tweets partly in Dutch and partly in English about her Wheelchair Tennis endeavours. Check out her yellow website (not orange for some reason). For those who don't understand Dutch, head to her fun and personalised photo galleries. You can also like her new Facebook page.
44. Esther Vergeer is quite simply a phenomenon. Her Twitter account @EstherVergeer has masses of followers, not least because she's constantly updating her fans. Her Dutch website, Facebook page and YouTube site are also not to be missed, if you want to discover the many facets of this incredible Wheelchair Tennis player.
45. Don't worry if you don't speak Italian, cyclist @FabrizioMacchi tweets the most amazing photos of sunsets, landscapes and odd things he encounters. He also has a pretty cool website.
Good reference points
46. Lots of National Paralympic Committees are on twitter and if you're interested in getting news from a particular nation, here are some you should follow: Americas, Argentina, Australia, Austria, Belgium, Brazil, Canada, Columbia, Egypt, France, Germany, Great Britain, India, Ireland, Netherlands, New Zealand, Rwanda, Slovenia, Spain, Sweden, Ukraine and USA.
47. Follow the international federations for the following sports Archery, Cycling, Equestrian, Rowing, Sailing, Table Tennis, Wheelchair Basketball, Wheelchair Rugby and Wheelchair Tennis. In addition, @London2012 will also have dedicated twitter handles for Paralympic Athletics, Track Cycling, Road Cycling, Swimming and Wheelchair Basketball. On the right are also a selection of Twitter lists of athletes from certain sports that you can subscribe to.
48. For British fans, follow the host broadcasters @C4Paralympics and @bbc5live.
49. @ottobockuk will not only be busy repairing prosthetics and wheelchairs during the Paralympics, they also have a great #PassionforParalympics exhibition on the Olympic Park.
50. Last, but not least, IPC Partners, Allianz (@GlobalParaSport) is the author of the fantastic, fun and informative 'Believe in Yourself' section of our website. Great videos, photos, interviews and infographics.