Imagen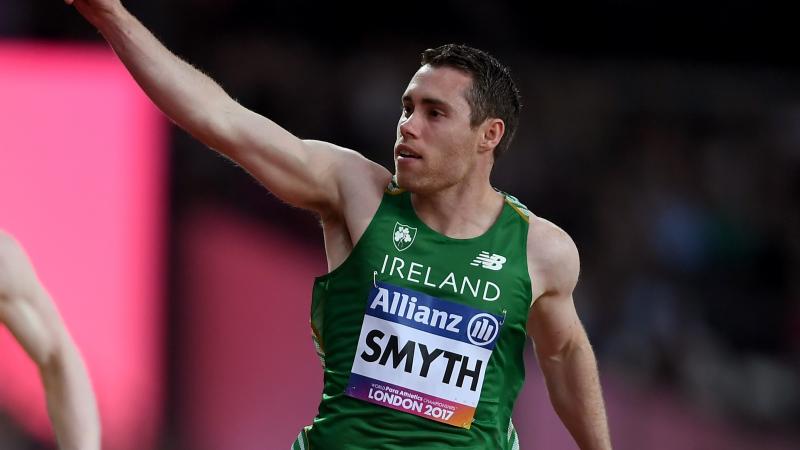 Smyth, the world's fastest Paralympian, claimed his seventh world title at London 2017, winning double sprint gold to continue his unbeaten run in world-class Para athletics which now stands at over a decade.
The Irishman had won 100m and 200m T13 gold at both the 2006 and 2013 World Championships, but only raced the 100m at Doha 2015 in order to return home in time for the birth of his daughter. He missed the 2011 World Championships in New Zealand due to injury.
The visually impaired sprinter, who was diagnosed with Stargardt disease at age eight, also has five Paralympic titles to his name.
Smyth won 100m (10.62) and 200m (21.43) gold at Beijing 2008, clocking new world records in both events. At London 2012 he was in blistering form once again, completing a unique double double as he retained his 100m and 200m titles from Beijing.
Described by his peers as one of the most technically gifted sprinters alive, Smyth ran a world record 10.54 in the 100m heats before clocking 10.46 in the final to stand top of the podium at London's Olympic Stadium.
Although unable to break his own world record in the 200m heats, Smyth did not disappoint in the final running 21.05 to rewrite the history books once again.
Ahead of the 2014 European Championships, Smyth was reclassified and moved from the T13 class to T12. The move did not affect his form however and the Irishman eased to gold in the 100m (10.78) and 200m (21.67) to add two more titles to his already bulging collection.
The 2015 World Championships saw Smyth reclassified back to the T13 class, a move that he took in his stride.
Smyth only had the 100m to look forward to at Latin America's first Paralympics in 2016. He eased to gold in 10.64 seconds.
Photo Gallery
Imagen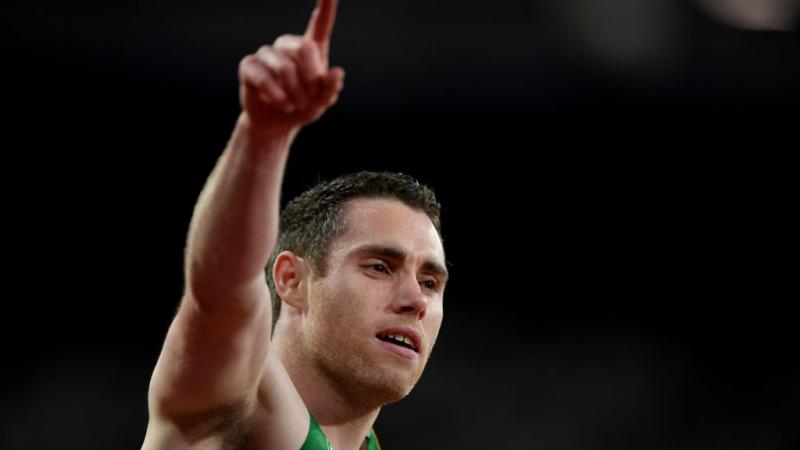 Imagen
Imagen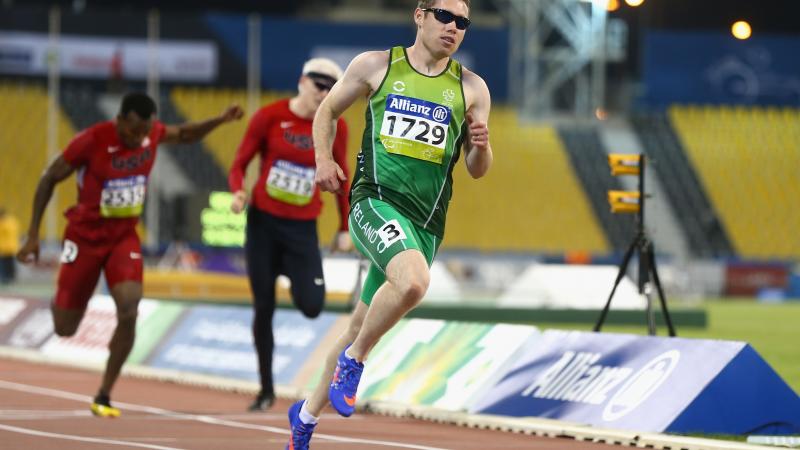 Results
IPC Athletics World Championships Assen 2006 (Assen, Netherlands)

| Event | Medal | Unit | Date | Rank |
| --- | --- | --- | --- | --- |
| Men's 100 m T13 | | Heat 1 | | 1 |
| Men's 200 m T13 | | Final Round | | 1 |
| Men's 200 m T13 | | Heat 1 | | 1 |
| Men's 100 m T13 | | Final Round | | 1 |
IPC Athletics World Championships (Lyon, France)

| Event | Medal | Unit | Date | Rank |
| --- | --- | --- | --- | --- |
| Men's 200 m T13 | | Semifinal 1 | 2013-07-20 | 1 |
| Men's 200 m T13 | | Final 1 | 2013-07-21 | 1 |
| Men's 100 m T13 | | Semifinal 2 | 2013-07-24 | 1 |
| Men's 100 m T13 | | Final 1 | 2013-07-25 | 1 |
IPC Athletics 2015 World Championships (Doha, Qatar)

| Event | Medal | Unit | Date | Rank |
| --- | --- | --- | --- | --- |
| Men's 100 m T13 | | Heat 3 | 2015-10-23 | 1 |
| Men's 100 m T13 | | Final 1 | 2015-10-24 | 1 |
World Para Athletics Championships London 2017 (London, Great Britain)

| Event | Medal | Unit | Date | Rank |
| --- | --- | --- | --- | --- |
| Men's 100 m T13 | | Heat 1 | 2017-07-16 | 1 |
| Men's 100 m T13 | | Final 1 | 2017-07-16 | 1 |
| Men's 200 m T13 | | Heat 1 | 2017-07-17 | 1 |
| Men's 200 m T13 | | Final 1 | 2017-07-18 | 1 |
Dubai 2019 World Para Athletics Championships (Dubai, United Arab Emirates)

| Event | Medal | Unit | Date | Rank |
| --- | --- | --- | --- | --- |
| Men's 100 m T13 | | Final 1 | 2019-11-13 | 1 |
| Men's 100 m T13 | | Heat 1 | 2019-11-13 | 1 |