Out of the Shadows and into the Limelight
How the Paralympic Movement is becoming a commerical success. (This article was first published in The Paralympian, the official magazine of the Parlaympic Movement).
26 Apr 2012
Imagen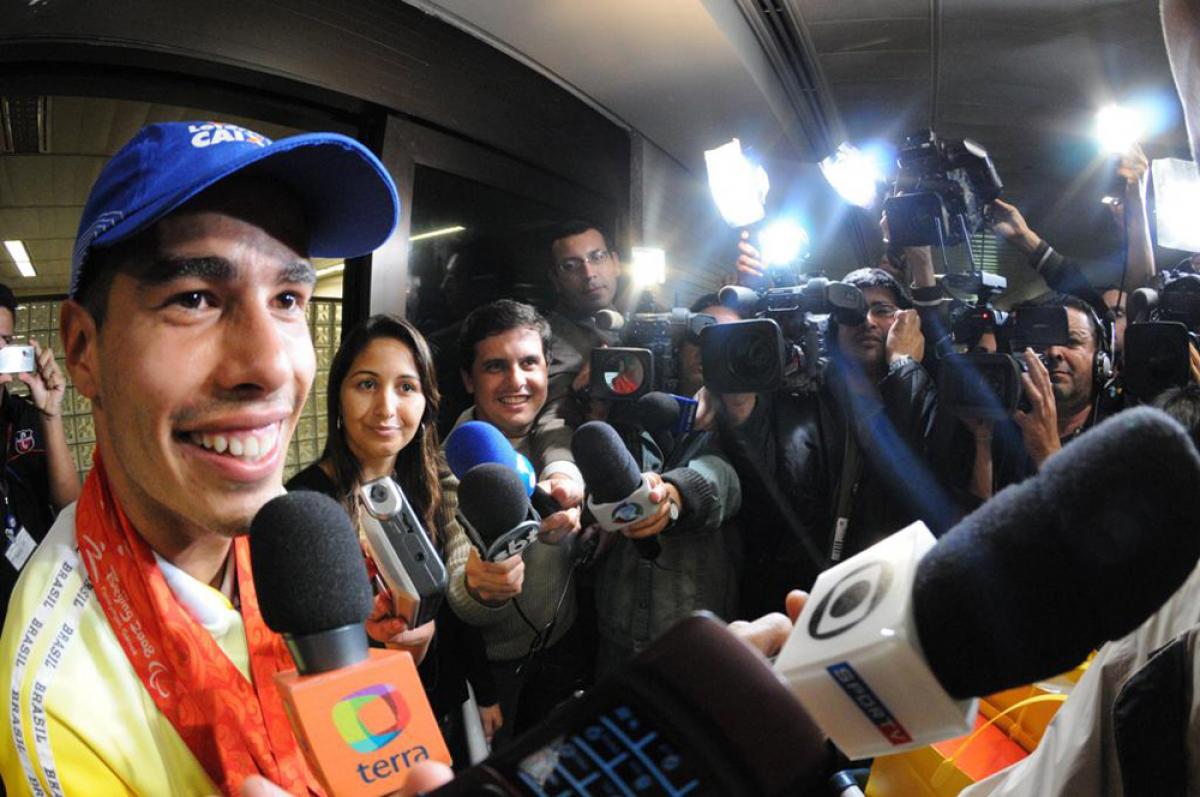 ⒸNPC Brazil
By IPC
"Media strategy is fundamental. In the end, we need revenue and funding for our sport programmes – whether high level or development. If you're not in the media, if people are not aware of what you do, the sponsors will have no interest in associating themselves with the NPC."
Media coverage of Paralympic Sport in recent years has grown significantly. The London 2012 Paralympics are expected to accumulate four billion TV viewers from around the world. In addition, 6,000 media representatives will be reporting on the Games from the British capital.
Increased media coverage makes the Paralympic brand more attractive to sponsors and many National Paralympic Committees are developing their own media strategies to capitalize on this interest.
Prior to the Athens 2004 Paralympic Games, the work of the Brazilian Paralympic Committee was " completely ignored by society" according to its President Andrew Parsons, leading to problems in attracting and activating sponsors.
The Brazilian NPC decided the best way to change this and raise the profile of Paralympic Sport in Brazil was to get on TV.
"Media strategy is fundamental. In the end, we need revenue and funding for our sport programmes – whether high level or development. If you're not in the media, if people are not aware of what you do, the sponsors will have no interest in associating themselves with the NPC," explained Parsons, who was convinced that as soon as people saw Paralympic Sport on television, they would begin to recognize it as elite sport.
However, getting broadcasters to agree to show Paralympic athletes on TV was not easy.
After seeing footage, Brazilian broadcasters showed some interest, but were not too keen on paying money for broadcasting rights or sending their journalists to Athens. In fact they did not want to pay for anything.
In response, the Brazilian NPC bought TV rights to the Athens Games, hired a production company, and gave 13 Brazilian TV stations everything for free. They even paid for all journalists' expenses to fly to Greece to cover the Games.
Sounds expensive, doesn't it?
At first the NPC's membership was sceptical at such a radical approach.
"We were 100 per cent sure this was the way to go, but it was hard to convince people. Some of our members said, you're taking money out of the sports side to invest in this," said Parsons.
"No one had done this in the past. There were a lot of concerns, so we really had to stick to our strategy."
To finance the project the NPC called upon the support of an existing sponsor Loterias Caixa, the Brazilian National Lottery.
"We convinced them in order to maximize their return on investment they should team up with us in this strategy. They paid for part of the operation and then we paid for the remaining amount," said Parsons.
Out of the shadows
Thanks to the strategy, Brazilian TV broadcast 168 hours of live coverage and news from the Athens Games, where the team won six gold and one silver medal.
"Because of initiatives like this, people recognized the Brazilian NPC as a very young, dynamic, fun and creative organization, delivering high quality services to the athletes and achieving sporting excellence," stated Parsons.
By raising the NPC's profile and drawing attention to Parlaympic success, the NPC increased sponsorship revenue from one million Reals (US $340,000) in 2004 to R $3.4 million (US $1.46 million) the following year.
In 2011, sponsorship had increased to ten million Reals (US$ 5.37 million).
Full circle
The Brazilian team's performances at Paralympic Games and other major Championships has also improved dramatically in recent years, a consequence of athletes benefiting from greater investment from the NPC and Federations, who in turn are receiving greater financial support from sponsors.
TV Globo, one of Brazil's most popular TV channels, has also recently purchased the broadcasting rights to show the London 2012 Games.
"We're finally getting to where we wanted to be at the beginning. The TV channels are buying the rights because they see the value in the Paralympic Games," said a clearly delighted Parsons whose team is tipped for a top-six finish in London after coming 14th in Athens eight years ago.
Smaller scale works too
The key to a successful media strategy according to Parsons, is understanding and tackling the obstacles in the way.
"It's important you talk to the media and understand their problems – not your problems – about why they are not covering Paralympic Sport. By understanding what they want and their challenges, you can create your own strategy to match your resources and the event you wish the media to cover."
One NPC that has enjoyed success on a smaller scale is Namibia. For the 2011 IPC Athletics World Championships in New Zealand, it paid for journalists to attend and cover the event, covering all expenses.
"At first it was quite a difficult exercise, because our media had a different perception of Paralympic Sport. They never thought it was an elite sport," said NPC Namibia's Michael Hamukwaya.
"We came to see that the only way we could get them involved, was to invite some of them to the international competitions we were attending. This helped us very much." Hamukwaya said once journalists saw how serious the training was and how professionally the sports were run, they started covering the sport more.
"When they went back to our country they made sure this information was published."
Home Games advantage
Holding a home Paralympic Games has the potential to leave behind a legacy as the Canadian Paralympic Committee (CPC) found after the Vancouver 2010 Paralympic Winter Games.
CPC's coverage increased from approximately 25 million media impressions during the year before the Games, to 13 to 27 million media impressions every day during the Games.
CPC is on pace to total 300 million media impressions this year.
"Vancouver was a catalyst in getting Paralympic Sport on the map in Canada," said Henry Storgaard, CEO & Secretary General, Canadian Paralympic Committee, which is working hard to get broadcasters to cover London 2012 in a similar way.
As well as allowing CPC to secure some additional corporate partners, media coverage of the Vancouver Games has also changed the perceptions of Paralympic athletes.
CPC is hoping to continue this momentum with a new marketing campaign featuring vignette videos of its "super-athletes" which will be shown online.
"We're trying to emulate the overall sports model where the Wayne Gretzky's of the world really increase viewership, participation, social media numbers, all of those kind of things," said Storgaard, referring to one of the greatest hockey players of all time.
Media hype
The essence of the Paralympics and the spirit of Paralympians are what draw audiences and broadcasters to the Games according to Gina Lundby, Sports Rights Manager for London 2012 at the European Broadcasting Union (EBU), which serves 85 national media organizations in 56 countries in and around Europe.
"Paralympic athletes do not perform for money but for recognition of the efforts they put in their training. "For many of them competing has changed their lives, provided them with a goal. Viewers are becoming familiar with these exceptional performances and over time relate to these athletes which we can all only admire," Lundby said.
Part of the reason that audiences are engaging more with the Paralympics is the higher production standards.
"Only a few editions ago … production was limited to highlights and, given the number of competitions included in each edition of the Games, viewers did not have the opportunity to understand these sports," continued Lundby.
For the first time, London 2012 will offer live feeds for 11 sports and news and highlights packages for every other sport, meaning that coverage has the potential to be more extensive than ever.
Interest from broadcasters has been impressive. London 2012 is set to sign agreements with the majority of territories around the world and, in each case, broadcasters have guaranteed record levels of coverage for London 2012 compared to previous Paralympics.
"It's fantastic that millions of people around the world will have the opportunity to watch the London 2012 Paralympic Games," said Nick Hockley, Head of Commercial Negotiations for LOCOG.
In the UK, Channel 4 acquired the broadcast rights and is already broadcasting weekly programmes profiling Paralympic athletes and their journeys to compete at London 2012.
Chicken and egg
Greater visibility of the Paralympics has made it an even more attractive proposition for sponsors to invest in, especially in the lead-up to London 2012.
"In Vancouver all sponsors from the Olympics also crossed over to the Paralympics for the first time," said Alexis Schäfer, IPC Marketing and Commercial Director.
"Pleasingly this has been repeated in London. However, what we're now seeing is more sponsors activating their Paralympic sponsorship and using para-athletes to front their campaigns."
Whilst supermarket chain Sainsbury's has produced a series of 90-second films for screening on Channel 4 featuring British Paralympians. Visa is using a number of London 2012 hopefuls in its promotional work and Ottobock has erected huge banners of German athlete Heinrich Popow in Berlin's main train station which handles more than 300,000 people per day.
"For a long time, the Paralympics was in the shadows and was partly pushed out of sports coverage and into the 'Health' category," said Professor Hans Georg Naeder, Chairman and Managing Director of Ottobock, an IPC Worldwide Partner since 2005.
"In light of a rapid increase in recent years of public interest in the Paralympics, Ottobock's involvement in disability sport has markedly increased awareness for the company," Naeder added.
Allianz is also pleased to be associated with the Paralympic Movement, having first got involved with the IPC in 2006. Today it is the IPC's first International Partner and a National Supporter of nine NPCs on a local level, a partnership that it sees as ongoing.
"Together with the IPC and the NPCs, Allianz will continue to foster public awareness, generate a greater interest in Paralympic Sport and bring the Paralympic Community forward," said Eike Bürgel, Global Brand Manager at Allianz SE.
Should the Paralympic Movement come out of London 2012 with the same momentum it has going into it, then it can only mean great things and great viewing.
Related Images
Related Videos