Canadian captain McGregor hoping to slay the dragon on ice
22 Feb 2022
Imagen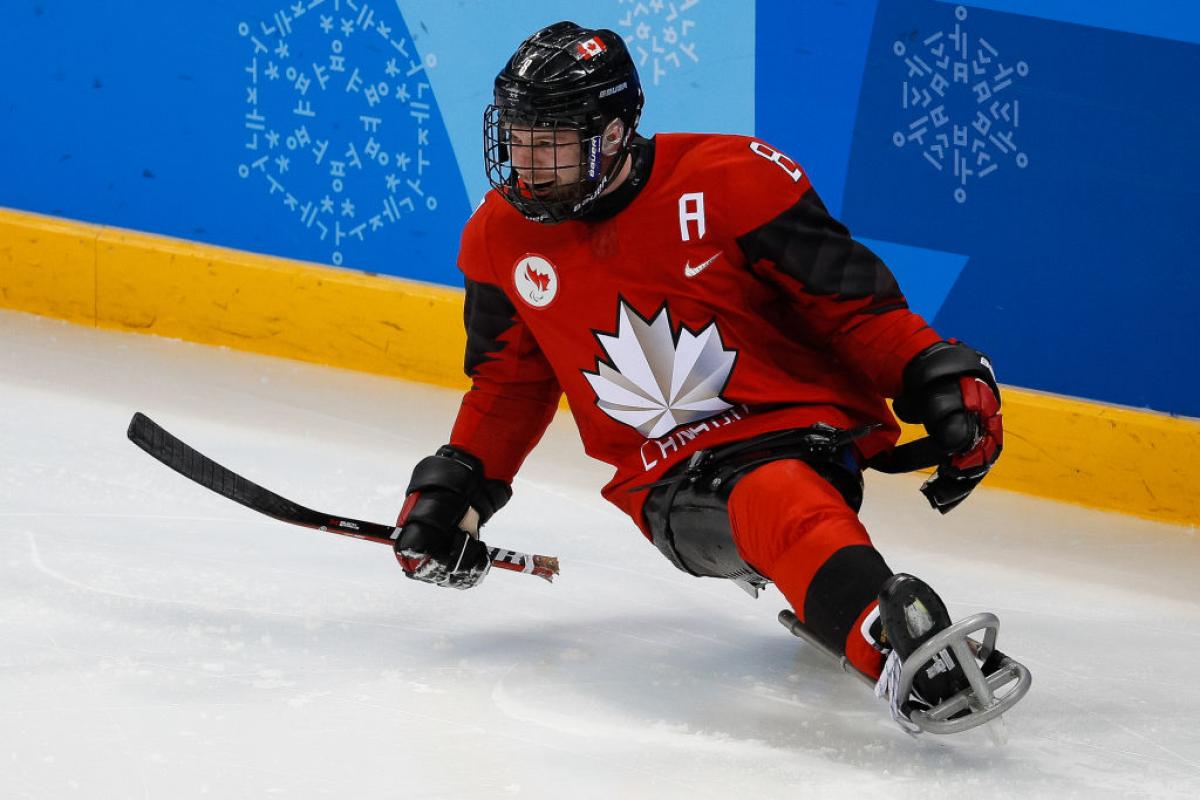 ⒸBuda Mendes/Getty Images
By Teddy Katz | For the IPC
The journey to Beijing has been a rocky one to say the least for Team Canada captain Tyler McGregor who found out he tested positive for COVID-19 on Christmas Day.
"It went through the entire household. I had mild to moderate symptoms, but they lasted a while.  It's been nerve racking because suddenly you need a certain number of PCR tests before being allowed to go to Beijing.  That part was a little bit terrifying."
The Canadian team cancelled its exhibition games and instead brought the whole team to Calgary so they could train together in a bubble environment in the weeks leading up to Beijing.
Showing that kind of resiliency is something all the teams competing in Beijing have had to deal with in the two years of the pandemic.  But resiliency is nothing new for the Canadian team and McGregor in particular who had to wipe away some of the stinging memories from PyeongChang.
CANADA'S PAINFUL LOSS AT PYEONGCHANG 
In a packed and noisy arena in one of the most dramatic moments at the PyeongChang 2018 Paralympics, Canada was 37 seconds away and ready to celebrate finally knocking off its North American rivals for the Para Ice Hockey gold medal.
That's when disaster struck for the Canadians who live and breathe hockey as the national sport.
The US tied the game and then scored in overtime to win an impressive third straight Paralympic Games title dating back to Vancouver 2010.
While the US players mobbed one another, the Canadian team and McGregor its captain were shell-shocked. 
"It led to some of the more difficult, darker moments of my adult life," McGregor says.
THE DREAM OF BEING A PRO
As a teenager, McGregor was a prospect about to be drafted into one of Canada's top hockey leagues when he was diagnosed with cancer and had to have his leg amputated.
He adds, after the disappointment in PyeongChang, he battled depression, questioned his ability, and rather than training, he spent way too much time socializing trying to cope.
"I was in one of the worst places I had ever been as an athlete, both mentally and physically."
McGregor says, he struggled for about a year to get out that funk. When the team started to rebuild, McGregor found a way to refocus.
McGregor now leads a Canadian team with many new young talented players.
They beat the US in one of early games at the World Championship in 2021 before losing once again in the final. But they also won one of two recent exhibition matches in October.
"That built confidence for some of our younger guys. That was important for our team to see we could compete with them," McGregor says.
EX-PLAYER HELPS MCGREGOR LEAD THE WAY
In the past year, McGregor says he has learned to become a better leader in part thanks to the team's assistant coach, Mike Foligno.
Foligno was captain of the Buffalo Sabres and played more than 1,000 games in the National Hockey League scoring 355 goals.
"Mike has so much knowledge and experience, and I think, especially for myself, in the past year, he's been an excellent resource in terms of helping me grow as a leader."
Foligno even connected McGregor to his son Nick who recently captained the NHL's Columbus Blue Jackets and has plans to connect the team to other NHL players.
TEACHING NHL STYLE LEADERSHIP
Foligno says, he's trying to help McGregor and the team leave "no stone unturned" so they've prepared for every situation they could face at the Games.
When it comes to McGregor, Foligno says the captain is an intense and passionate player with a tremendous work ethic. But in those pressure-packed situations at the Paralympics, he says, McGregor needs to think about more than just himself to lead the team.
"You need to be in control of your game and in control of your emotions. That will help you to be able to sometimes outlast your opponent."
"Mike's a great resource we can lean on as we get into these important games in Beijing. He's been in plenty of pressure-packed situations. That's a pretty valuable thing to have a calming presence for a young group, someone who's gone through all this before," McGregor says.
NHL STAR IMPRESSED WITH PARA ICE HOCKEY
Foligno helps run the Canadian team's power play and draws up with different plays they can utilise to put pressure on their opponents and put the puck in the net.
Foligno says, watching the Para Ice Hockey team from behind the bench, he's been impressed with some of the unique elements of the game.
"You've got players who are able to work the puck and shoot the puck with both hands," Foligno says, adding, "We've got some players on our team who can shoot almost a 100 miles an hour. It's incredible that you can do that with one hand."
Even the body contact and how physical the game is sticks out for Foligno.
"In the NHL when you play, there's some shifts where you might not get hit. But (in Para Ice Hockey), there's almost a guarantee that every shift there's going to be body contact."
Foligno adds, the Canadian team was inspired to see their women's hockey team beat the US at the Olympics in Beijing for the first time since 2014. He says, the Para Ice Hockey team is hoping to play with that same passion in Beijing. 
McGregor says, he's ready for that. "It's going to take everything we have. I don't necessarily know the secret ingredient. But we are so close. That's the way sports should be."