China aims to continue wheelchair curling history on home sheet
Coming off winning the nation's first Paralympic and World titles, China knows doing it all again at Beijing 2022 will be a challenge
09 Mar 2021
Imagen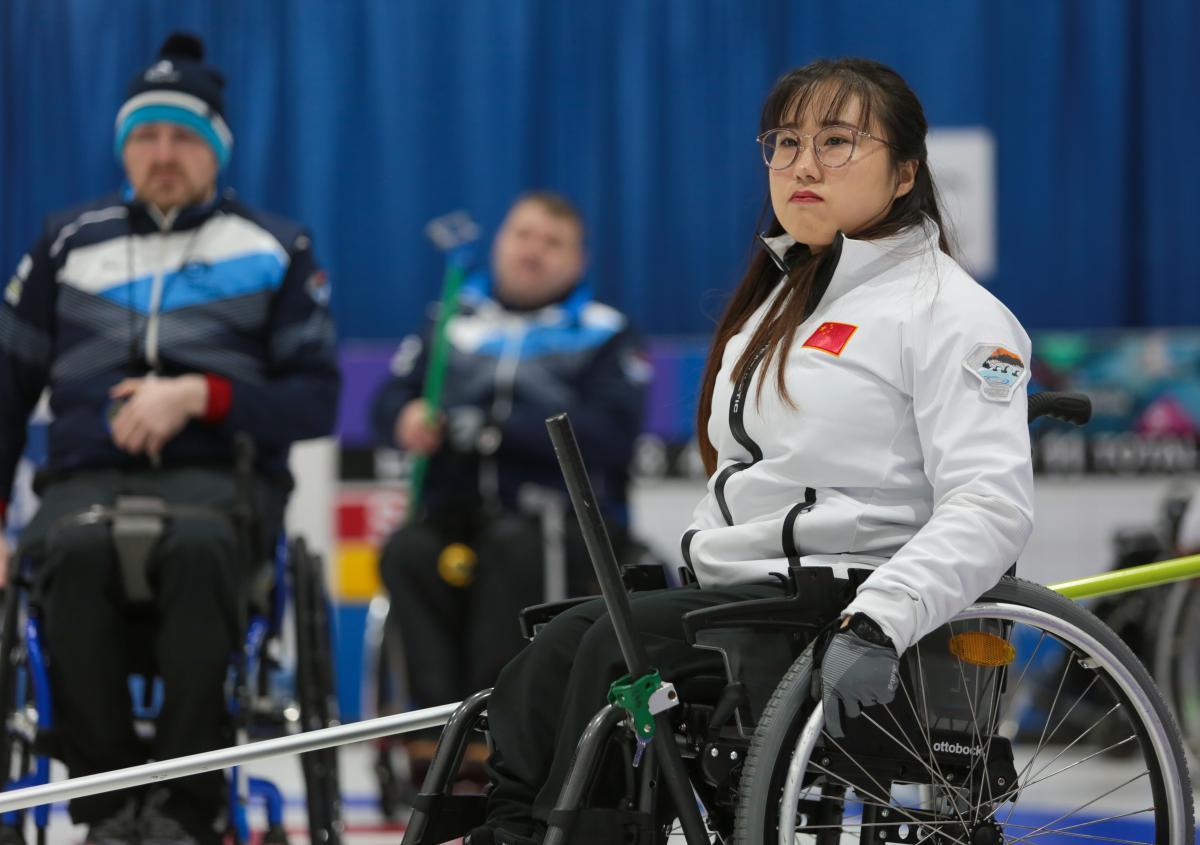 ⒸWorld Curling
By Teddy Katz | For the IPC
The Chinese wheelchair curling team is greeted in its brand new state of the art curling rink by a banner on the wall which roughly translates to 'PyeongChang is history. The drive to Beijing starts from scratch.'
This is meant as a daily reminder to the athletes that while they train for the Games, which begin a year from now, they cannot get complacent. The Chinese wheelchair curling team won their country's first ever Paralympic Winter Games gold medal at PyeongChang 2018 and followed that with another gold medal at the 2019 World Championships. 
Yan Zhuo, who was part of that World Championship team, does not think it is hard for the athletes to remain grounded when they think about where they came from.
"I am really proud of be part of this historic team, but it was a tough journey to achieve these medals," Zhuo said.
The Chinese team was founded in 2007 and it was far from smooth sailing. Team captain Wang Haitao has been there from day one.
Wang said when they started the team, they used to train in an old skating rink that did not even have an elevator.  The coach had to carry the athletes up and down the stairs in their wheelchairs. They had to scrounge around for whatever curling equipment they could find. If one of their poles broke, they just stuck it back together with glue.
He said before the Sochi 2014 Paralympics, the five players only had a few months to train together in conditions that were pretty inadequate.
Fast forward to now. The new world class curling rink specially built for the Beijing 2022 Paralympics, the National Ice Sports Arena for People with Impairments, opened in December last year. It features the latest in accessible design including, elevator buttons at foot level.
Wang said there is quite a difference between the way things used to be and the way they are now. They now have more coaches. In non-pandemic years, they travel overseas to compete with the top nations.
"The authorities have paid more and more attention to us. Given that the 2022 Winter Paralympics will be staged in our country, they built a new arena for wheelchair curling and the training conditions are so much better."
Wang added the curling team's success in PyeongChang, which he calls, "the proudest moment of his life," has not gone unnoticed. Many people in China now see curling can be played by people with all different abilities.
"We have reached such high achievements which makes the nation proud and has also helped boost our sport in the country," Wang commented.

Now there are 20 players jockeying for the top five positions. In fact, Wang is the only holdover from the team that won Paralympic gold in 2018.
Now, younger players like Zhuo are trying to earn their spots on the team. She likes to study all kinds of strategy, even analysing chess, to get better in curling.
"Curling is like chess on ice," she explained. "It requires you to predict the next three, four, or even more steps ahead, as well as the corresponding countermeasures."
The athletes and coaches know with all their success, many countries will be watching videos of them in action, intent on beating them.
But the Chinese are also carefully studying the top nations and their strategies to try to ensure the gold medal stays right where it is.