Dutch swimmer Marc Evers now recognised at supermarkets
The Paralympic and world champion is heading into the IPC Swimming European Championships as the S14 swimmer to beat.
09 May 2014
Imagen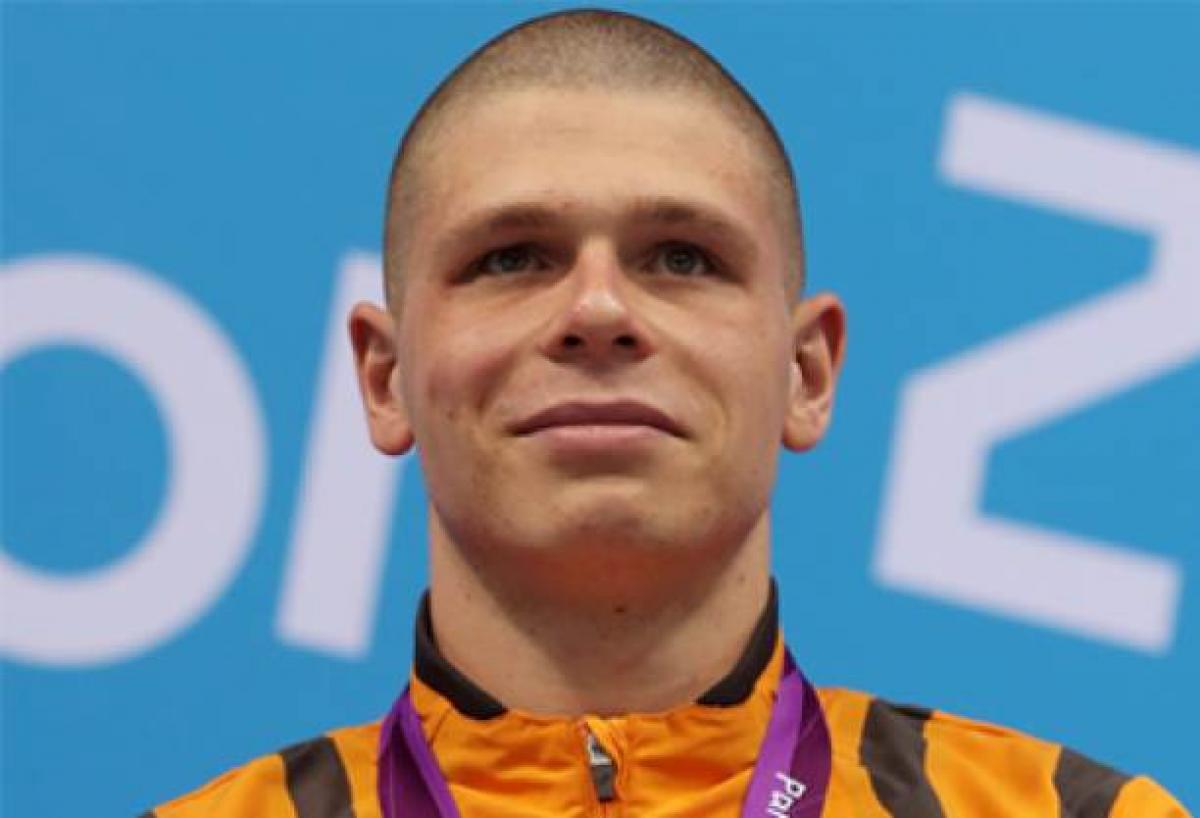 ⒸGetty Images
By Ryan Hills | For the IPC
"I never thought he would become this successful. But slowly, step by step, he improved. I always say, his impairment is his power."
Four years ago, Marc Evers broke into the limelight when he recorded his first medal at the 2010 IPC Swimming World Championships.
Two years ago, Evers reached sporting greatness when he won gold in the 100m backstroke S14 at the London 2012 Paralympic Games.
One year ago, he set a host of records when he won three gold medals at the 2013 IPC Swimming World Championships.
And this year, the swimmer wants to repeat those heroics at the 2014 IPC Swimming European Championships in front of a home crowd.
Beginning on 4 August, the European Championships will see the continent's top swimmers descend on Eindhoven, Netherlands, in an attempt to crown themselves the best in their class, and Evers is sure to be right up there.
"I will do everything to win" Evers said. "I won three gold medals at the World Championships last year, so I know I am the one to beat and that the competition will be hard. But that's how I like it."
During that competition, Evers set records alight, breaking the 100m backstroke S14 world record
His 100m breaststroke SB14 saw him hold the European record, and in the same distance, he broke the backstroke S14 world record. To top it off, he added a 200m individual medley gold medal in the SM14.
And this season, he wants to write himself further into history, by breaking his own records.
"The (Championships) will be very special to me. The swimming pool is named after my idol, Peter van den Hoogenband, and it's where I won my first medal in the IPC World Championships in 2010."
Could his history in the Eindhoven water be an omen?
Born with autism, at an early age specialists and psychologists told Evers' parents, that the Dutch hero should go into daycare for children with an intellectual impairment. Frank, his father, explained the severity of Marc's impairment.
"At the age of two , me and my wife were told Marc would never speak or communicate, never kick a ball," he said. "It took four years from then for him to talk."
And Frank could never have predicted just how legendary Evers' swims could become.
"I never thought he would become this successful," he said. "But slowly, step by step, he improved. I always say, his impairment is his power."
Unsurprisingly, his victory at London 2012 changed the life of Marc and the lives of his family members forever.
"The Paralympics of 2012 changed me, people recognised me when I was buying groceries and treated me as a hero," Ever said.
Frank is slightly more open about his feelings behind that summer.
"His victory in the 100m backstroke S14 was the most emotional moment of my life," he said. "All the years of hard work, the problems, they were worth it."
Dutch Swimming's assistant coach, Sander Nijhuis is not surprised by just how much of a revelation Evers has been in recent years.
"He sets high standards, in training and races," Nijhuis said. "When you can do it in both, you become a big name."
"He has a great team around him, and they push each other to higher levels. That combination of the team and his input makes him a great swimmer."
Evers' short history of success is sure to make him one of the faces of this summer's competition. But he is not the only talent Dutch Swimming has to show off. His fellow countrymen Michael Schoenmaker and Simon Boer both have the capability to become national treasures along with Evers, whilst one the women's side, Lisette Teunissen and Marlou van der Kulk are potential medal winners.
Evers, meanwhile, has fought for everything so far in his life, and that desire to succeed could make him recognised across Europe this August.
That would surely spice up a trip to the supermarket.