Experience and Bravado to Win Canada's Boccia Team Gold
With Josh Vander Vies's experience and Marco Dispaltro's aggressive go-getter attitude, the Canadians hope they've found a winning combination in the Boccia BC4 team event.
11 May 2012
Imagen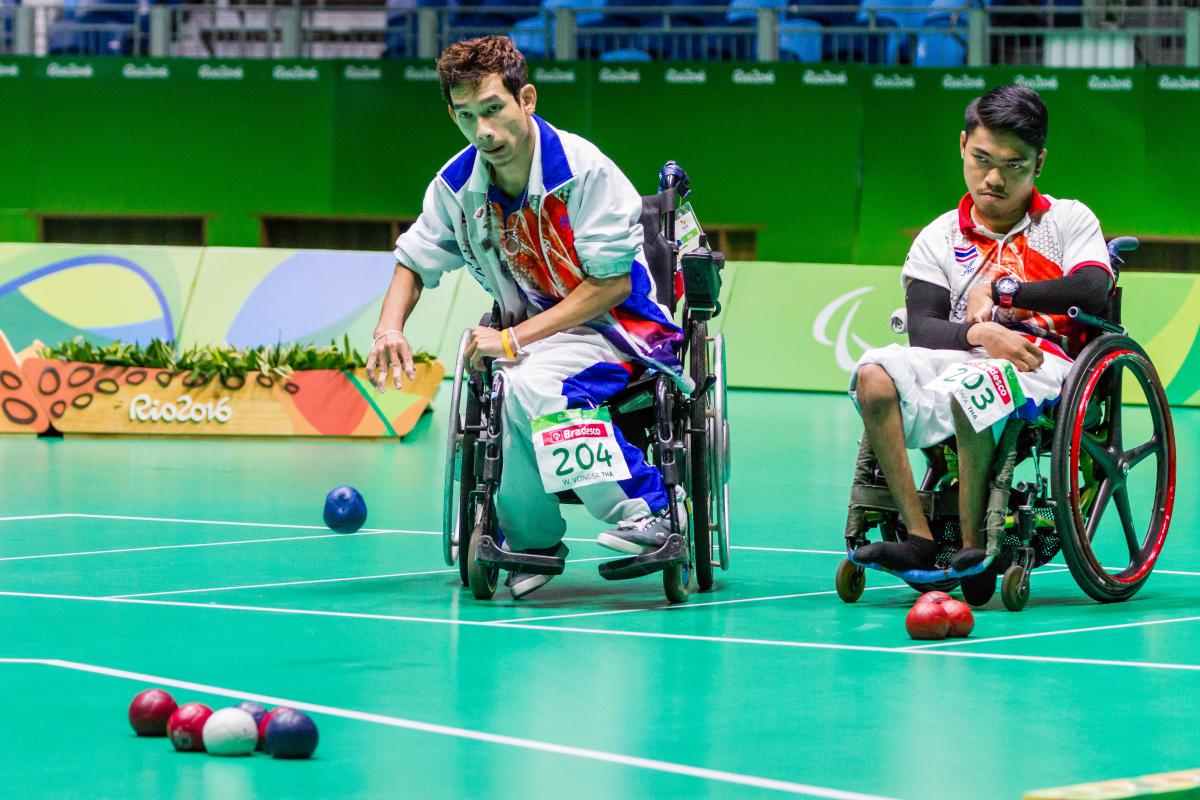 ⒸCicero Rodrigues for the IPC
By IPC
"I think Marco and I are a really good team. We compliment each other quite well. I think my experience and his bravado make us pretty deadly."
The two players on Canada's Boccia BC4 pairs team could not be more different.
Josh Vander Vies is a soft spoken 27-year-old, studying law at the University of British Columbia. His teammate Marco Dispaltro is an ex-Wheelchair Rugby player who boasts about how many balls he throws every day, which is actually probably a bit less than Vander Vies.
Dispaltro, aged 44, has been playing Boccia for just two years, whilst Vander Vies has been competing for 13. Though Vander Vies missed out on qualifying for the Beijing 2008 Paralympic Games by just one point, he competed in Athens 2004.
Dispaltro has never competed in Boccia at a Paralympic Games.
"[Dispaltro] is full on, and it's fun," said Vander Vies, who also chairs the athlete's council of the Canadian Paralympic Committee.
"I think Marco and I are a really good team. We compliment each other quite well. I think my experience and his bravado make us pretty deadly."
Dispaltro definitely exudes an unusually strong determination to win, but he admits he had to taper the aggressiveness he had from Wheelchair Rugby to be successful in Boccia.
"At the beginning, my experience of Wheelchair Rugby did affect my gameplan because I was very aggressive, but in Boccia you need to be able to reflect a lot and be patient and that was the biggest adjustment for me," Dispaltro said.
Training together to win
Vander Vies bases himself in Ontario and British Columbia, whilst Dispaltro heads to the warmer climate in Florida.
As both of them live quite far apart, they will only have the opportunity to train together at camps and before competitions.
The team events will take place from 2-4 September, with Dispaltro and Vander Vies facing the world's strongest teams, including the reigning Paralympic champions, Brazil.
"[Brazil] plays a solid game," said Vander Vies. "They're tacticians and they can lob the ball, place their ball directly onto the jack and they can exploit angles with millimetre precision.
"That describes our game as well and so it's really going to be a skill match. It's going to come down to who can execute it the best."
The Canadian duo will also have to battle it out with Great Britain's McGuire brothers, who will have the advantage of home crowds.
Vander Vies and Dispaltro have a long-standing rivalry with the Peter and Stephen McGuire who beat them at the Cheshire Internationals in 2011, only to lose to the Canadians in the semi-finals of last year's World Championships.
"I'm sure that they're going to be looking for some revenge if they come up against us in the pools," said Vander Vies.
"They're brothers, so they work really well together, and they've been playing for a long time together, so they really know how to use each other's skills in a complimentary way.
"It's pretty fun to listen to the banter between the two of them because they go back and forth quite a bit and argue a little bit."
Teammates to arch-rivals
From 5-8 September the teamwork will be over for Dispaltro and Vander Vies once they enter the individual competition.
"Luckily, doubles happens first, so we get to work as a team first, and then we go into the individual part of the competition after the doubles have finished," Vander Vies said. "We're going to have to balance our rivalry and teamwork.
"Certainly in individuals, Marco has come out of nowhere and shown that he's a really talented Boccia player with his silver medal at the World Championships."
Vander Vies will rely on his experience and intensive training regime leading up to the games. He throws 500-1,000 balls each day and sets up difficult scenarios to tackle.
As the level of competition has dramatically increased over the past few years, Vander Vies will be taking all his opponents extremely seriously. The Paralympic competition will follow an elimination format, so any mistake could knock him out.
Shocking tactics
Some of the toughest competition comes from Asian nations such as Hong Kong and China, which are known for their aggressive style of play, which at times can appear reckless.
When they blast a position, Vander Vies says it can be pretty shocking.
"All of a sudden everything changes; that's a part of the game," said Vander Vies. "You have to always be on top of the strategy and thinking what could happen and playing some balls to that effect.
"A devastating shot like that can be a distraction, just like a well-placed ball, the crowd or a missed shot can be a distraction, so all we can do is work on our mental toughness leading up to a big competition and then apply it."
Vander Vies uses a three-tier approach to stay focused and mentally strong: intentioned thinking, breathing techniques to ensure his body is in the optimal level for performance – not too calm and not too nervous – and finally the use of rituals.
"You often hear that athletes are superstitious, but what that really means is that we just control everything that we can control, so we do things the same way each time," said Vander Vies. "I pick up my ball the same way each time and prepare it on my arm the same way each time as I get ready to throw."
Vander Vies, who was born without arms or legs, balances the ball between his shoulder and cheek, and rolls it down his arm, flicking it off as he releases.
Hooking in the crowds
He said one of the most exciting things about watching Boccia is how athletes throw.
"Other athletes have cerebral palsy where they have spasms and have to wrestle with themselves and find that split second of focus and control and release the ball with millimetre precision. It's just such a cool thing to watch."
Vander Vies thinks the crowds in London will be blown away by the sport.
"One of the things we've noticed at all recent Paralympic Games is how well spectators react to Boccia. It's a sport that not that many people might have heard of before and as soon as they see it played, they're always hooked.
"It's a game that can change completely in an instant, but it's also pretty fun to watch the strategies unfold and watch the mental games that the athletes are playing against each other: trying to knock each other out, trying to intimidate each other."
Related Images