Holger Nikelis motivated for Euros by past failures
Despite winning at London 2012, Germany's Holger Nikelis is still looking to regain his men's Class 1 table tennis European title.
24 Sep 2013
Imagen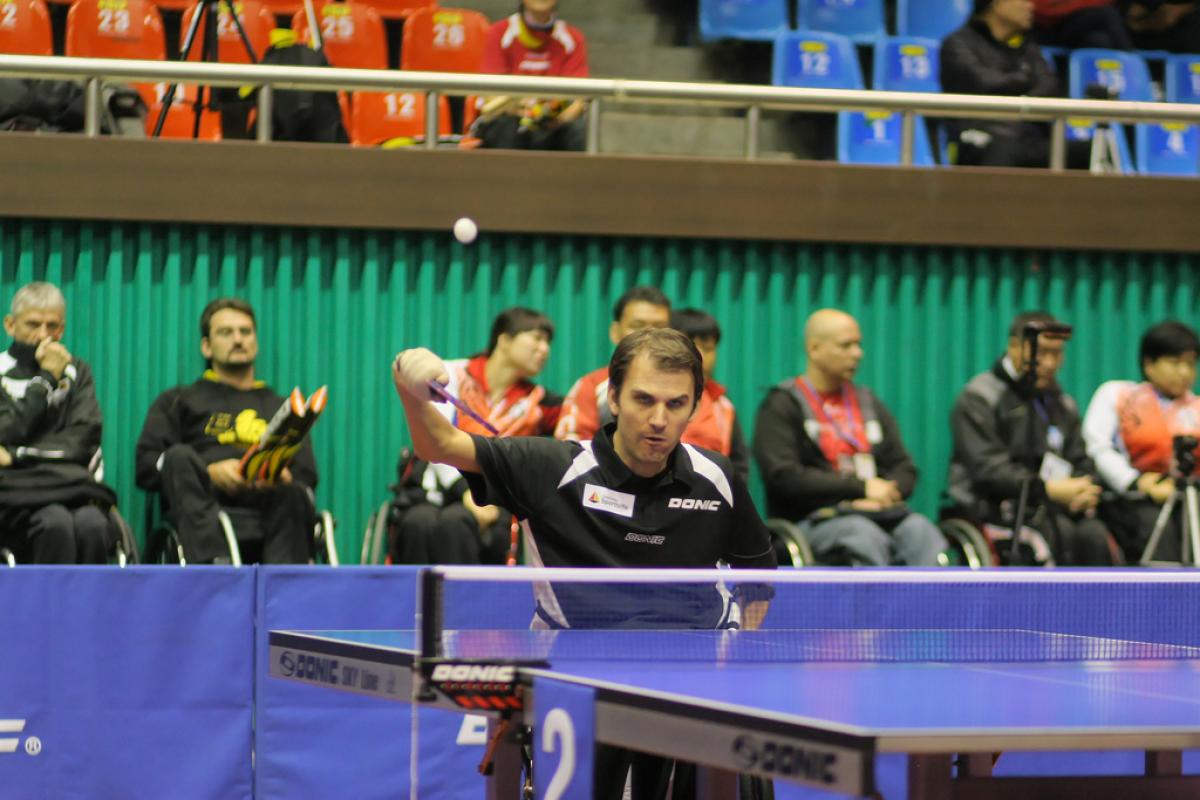 ⒸITTF
By Liam Norcliffe | For the IPC
"We have a fantastic team with a good atmosphere. Let's see where our performance and team spirit will lead us."
Germany's Holger Nikelis has admitted that he is extra motivated to bring back a gold medal from next week's ITTF Para-Table Tennis European Championships in Lignano, Italy.
Nikelis, the world No. 1 player in Class 1 and four-time European champion, is determined to re-write the wrongs of 2011, when he failed to defend his title he won in 2009.
The right-handed London 2012 Paralympic champion is the favourite to win back the title this year at the Championships, which run from 29 September – 5 October, and he claims he will be use the pain he felt two years ago to help him become European champion once again.
"In 2011, I did not win the Euros and couldn't reclaim my title from 2009 but this was not a low point in my career," Nikelis said.
"Quite the contrary, it gave me extra motivation and the year after I won the gold medal at the Paralympic Games. I see each match as an improvement, whether if I lose or win. But this year, I am of course highly motivated to bring a medal back to Germany - most of all, of course, the gold medal."
Nikelis is aware that as world No. 1, he is a target for other players to make a name for themselves by raising their game and defeating him, which is a similar mentality he had 12 years ago.
"In general I think every player is trying to perform their best," Nikelis said. "I don't know if it has something to do with me and my success. But I can imagine that players, as long as I am No. 1 of the world, are more relaxed because they have nothing to lose and therefore they can perform the best they ever did - as long as I can countervail it's OK.
"The Euros in Germany in 2001 were my first big event I attended. It was there I also won my first major title.
Therefore, I came as a nobody and could win the Euros. That was a great feeling."
Nikelis said at the Championships that his main rivals for the gold medal will be France's Jean-Francois Ducay, who he beat in the final of the Paralympic Games in London, and Austria's Andreas Vevera.
"Jean-Francois and Andreas are very experienced players and not easy to play," Nikelis said. "Also the Brits, Rob and Paul Davies, are not to be overlooked. In line with and after the London 2012 Paralympic Games, the Brits could in general improve their technical, tactical and mental power. I am very excited to see them again and to have good matches.
"There will be 23 players starting for Germany at the European Championships. With this we are one of the biggest nations. It's a good mixture of talented young players and experienced players who can give the newcomers the support, background and advice they need.
"We have a fantastic team with a good atmosphere. Let's see where our performance and team spirit will lead us."
Related Images