One year on: Jochen Wollmert starts a family
Germany's Paralympic table tennis champion talks of his newborn son and his quest for a seventh Paralympics.
05 Sep 2013
Imagen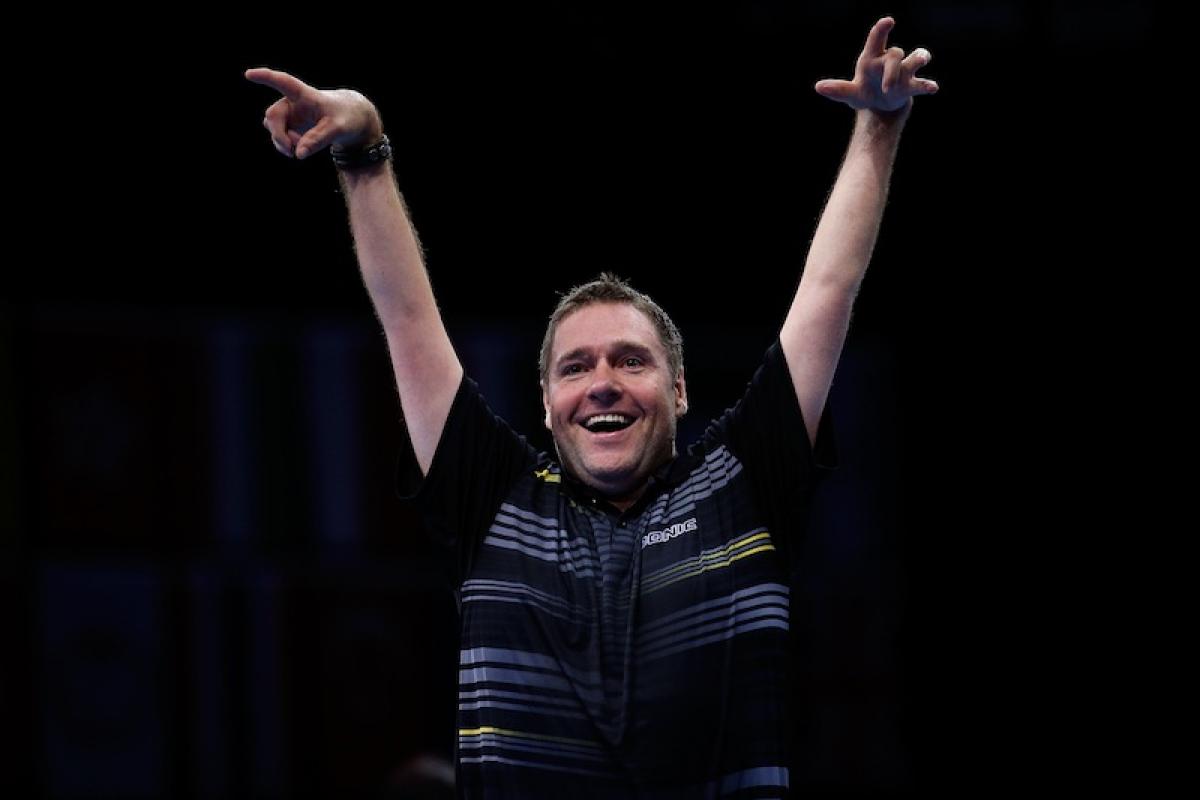 ⒸGetty
By Liam Norcliffe
"It is amazing to see Mika grow and learn every day. His laughter and happiness gives me a new life."
A Paralympic gold medal, a new baby son, a change of coach and forced to relocate.
The last 12 months have certainly been a whirlwind for Germany's Paralympic table tennis champion Jochen Wollmert.
Whilst many other athletes decided to take a year out from training after London, Wollmert has been busy juggling work, sport and family life as he continues to build for the future, rather than dwell on the past.
Sporting stars can be forgiven for looking after number one, especially as their chosen career can so often be short lived. But for Wollmert, his attention is no longer dominated by shot selections or diet plans.
For he is now not just Jochen Wollmert the table tennis player who has won five gold medals in his last five Paralympic Games, he is now Jochen Wollmert, a dad.
His new No. 1 fan
The encouraging shouts of appraisal of the crowd have in the short term been replaced by the screeches of his baby son, Mika, born in February of this year.
"People say to me it must be difficult trying to get a balance in my life but it really is not," Wollmert said.
"It is amazing to see Mika grow and learn every day. His laughter and happiness gives me a new life."
Adjusting to fatherhood can be a mixture of enjoyment with panic. Add to that the stress of relocating and swapping coaches then Wollmert could be forgiven for feeling the strain. However, this is a man who has been to six Paralympic Games and he is not about to buckle now.
"I changed my job inside my company, I now work as a Press Relation Officer, and so I and my family have moved from Stuttgart to Wuppertal," he said.
"My home coach Volker Ziegler is now the head coach of the German table tennis team. That is fantastic, because he is a coach who understands his job. Sadly, in the last years, we have not had this before but now he can't train with me. I think the whole German table tennis team will benefit from him and be much stronger.
"Now, I train with my coach from Beijing and London, Hannes Doesseler. He is also a fantastic coach but we have to restart our training areas all over again, including training with the able-bodied. It is not so easy to train this way, but from day to day it will get better."
More great moments ahead?
In the Class 7 final at London 2012, Wollmert defeated Great Britain's Will Bayley, a player he had lost to nine times out of the 10 previous matches. But this time, Wollmert had an inner belief that this was his moment and that he would once again triumph with a gold medal as he produced shots that he confessed he didn't know existed.
"For me it was the greatest moment to be in the final and I played very well," he said.
"Normally, Will gives me less chances, but this time it was reverse. I performed so well that he couldn't play his normal offensive way. In the second set, he found his game more but I knew that he was not so good at returning the ball because he had to attack. But in the final I attacked more and played balls where you think, that these balls are not possible.
"I saw the TV report that said Will become desperate here and there. I never saw this, and I knew that he could come back because he isn't one of the players which make a lot of faults. However, he didn't come back, because my level was very, very high in this final."
Wollmert was reluctant to state that the gold medal in London was more prestigious than the ones he won in Atlanta, Sydney, Athens and Beijing. And it was hard not to believe him as the veteran spoke with more passion for the accolades that followed that special day in the English capital.
"Because of my fair play gestures, I was rewarded with some prizes," he said. "I was honoured to receive the German Fair Play Sportsman, Sportsman with Heart and nominated for the Pierre de Coubertin Award in Paris.
"It is fantastic to get great prizes for fair play, but I hope that we all play fairly in sports but also in life. I am not a star, but it is good that people from my sport are being recognised."
Talk of Rio 2016 further brings out his warm personality as he soon reverts back to his loved ones.
"I would be proud to go to my seventh Paralympics," Wollmert said.
"For me it is not so important to win a medal. To play my best table tennis is important. Perhaps I and Will could meet again in the final. Then I would have played my sixth single final one after other. A wonderful dream, but at this moment I have a beautiful son with my girlfriend Stefi, so many memories and lovely moments. It's a great place for me."