Japan's five-time Paralympian Kunieda says he had the "best" tennis career
Shingo Kunieda announced his retirement from wheelchair tennis in January 2023 while at the top of the men's singles rankings
07 Feb 2023
Imagen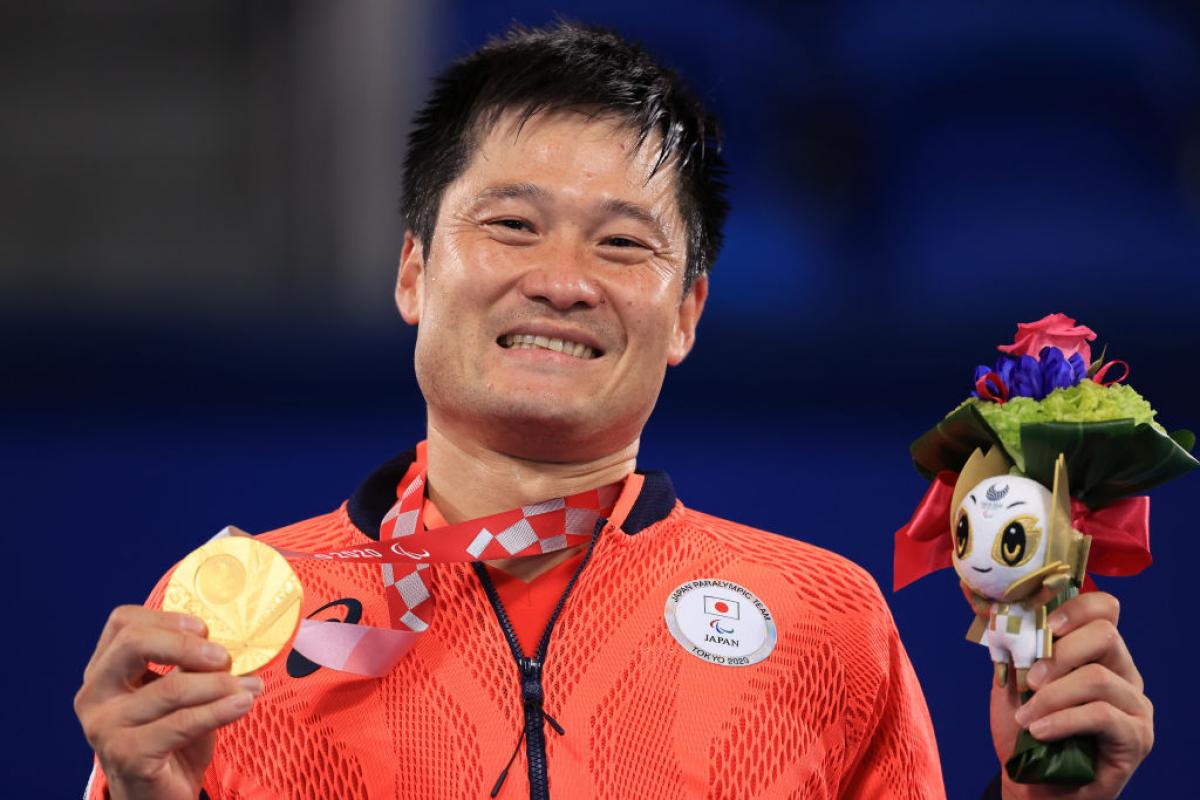 ⒸCarmen Mandato/Getty Images
By Ayano Shimizu | The IPC
Japan's Shingo Kunieda, one of the most successful players in the history of wheelchair tennis, said he retired from the sport without regrets and was confident that he had the best career he could ask for.
Kunieda won four Paralympic gold medals, including three in men's singles, and 50 Grand Slam titles since taking up the sport when he was 11 years old.
"I want to tell all of my fans who supported me along the way that I had the best tennis career," the 38-year-old said at a press conference in Tokyo on 7 February, roughly two weeks after he announced his retirement on social media.
Setting records
After being diagnosed with a tumour at the age of 9, Kunieda started wheelchair tennis with the encouragement of his mother, who discovered a local tennis training centre near their home.
He made his Paralympic debut at Athens 2004, where he won gold in the men's doubles tournament, and went on to become the only wheelchair tennis player to win medals at five consecutive Paralympic Games.
While Kunieda embraces many memories from his 21-year international career, winning his third singles gold medal at the Tokyo 2020 Paralympic Games holds a special place in his heart.
"It had been my dream for eight years since Tokyo was selected (to host the Games)," he said of topping the podium in Japan. "I still remember that moment clearly, and I get very emotional whenever I look at photographs."
Even though Kunieda thought about retiring after Tokyo 2020, he continued to play in the 2022 season.
In July 2022, he became the first men's wheelchair tennis player to complete a career Golden Slam after capturing his long-awaited Wimbledon singles crown.
"After winning Wimbledon, I was hugging my teammates, and the first thing that came out of my mouth was 'now I'm going to retire,'" Kunieda said. "I had enough motivation to play at the US Open (which began in August) but after the tournament, I told myself that I had done enough.
"I wondered after the US Open if I should keep playing tennis, and I thought it might be the time to retire," Kunieda said.
"I am the strongest"
During his incredible career, Kunieda spent 582 weeks as the world's No. 1 player in men's wheelchair singles and retired while at the top of the rankings.
"When I was No. 2 or No. 3 in the world, I was chasing the top-ranked player and built my strategies around how to beat (that player). But as world No. 1, it was difficult not to have somebody to follow," Kunieda said.
"I think the reason why I was able to stay at world No. 1 for so long was that I was never satisfied with myself and I continued to find things that I could improve on."
Since 2006 he had stickers on his racquets displaying the Japanese words for "I am the strongest". Having that sticker motivated him to become a better athlete, even when he struggled with injuries.
"There were times when I would lose confidence while playing tennis, but I was able to chase away that loss of confidence by declaring that 'I am the strongest'," he said.
A little over two weeks since his retirement, Kunieda said he has started to develop a vague idea of what he wants to do next.
"I want more people to know about wheelchair tennis, and I think I will continue to work toward that," he said.