Lillehammer strike inspires Lekomtsev for Beijing
RPC Nordic skier only athlete across all sports to leave Para Snow Sports Worlds with a perfect record of winning every event in his class
09 Feb 2022
Imagen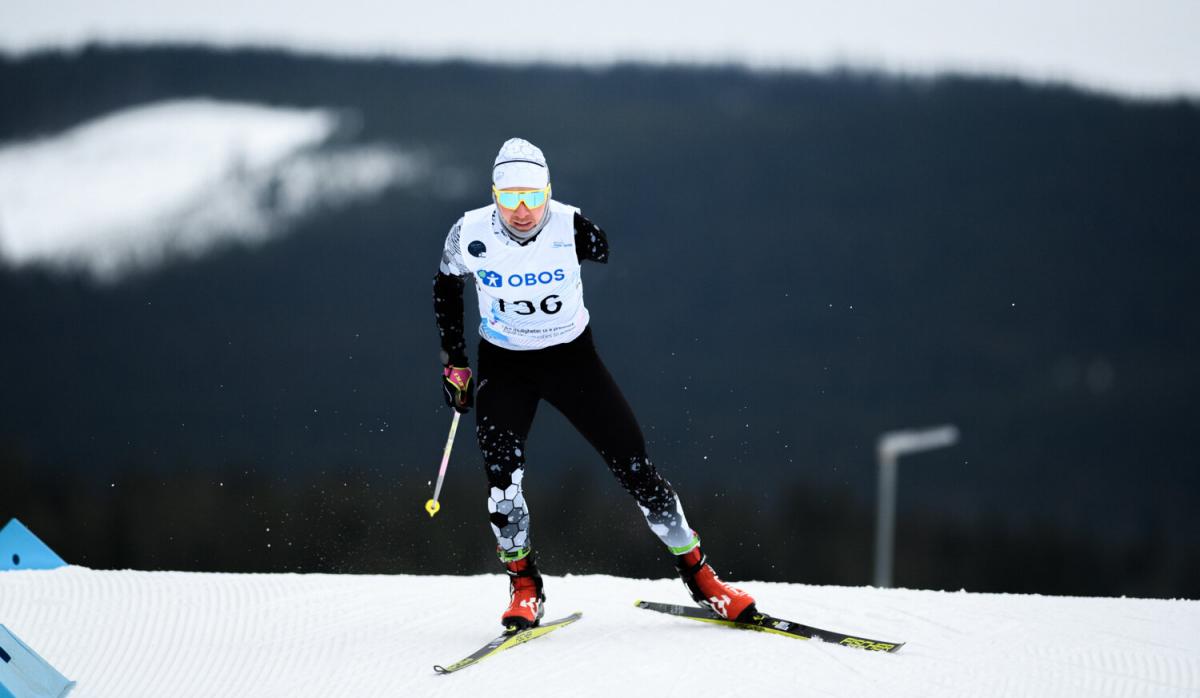 ⒸGisle Johnsen/Lillehammer 2021
By Lena Smirnova | For World Para Snow Sports
If Vladislav Lekomtsev was starting to forget what it felt like to be a world champion, the Lillehammer 2021 World Para Snow Sports Championships were a good reminder.
The RPC Para Nordic skier has not competed at the World Championships or Paralympic Winter Games since 2015, but in his seven races in Norway, he did not leave any doubt that he was a force to reckon with – and a one to watch at the Beijing 2022 Paralympic Winter Games.
Lekomtsev won each of the men's standing biathlon and cross-country races and capped off his perfect record with a gold medal in the open relay.
As the 2021 World Championships came to a close, Lekomtsev was the only athlete across all four sports to win every event in his class.
"It is extraordinary how fast time flies," Lekomtsev said of sweeping seven golds seven years after his last major competition.
"In the time that you have, you want to show everything that you are capable of. I am very happy that I can show good performances and win medals, that I can be useful to my country."
STAYING MOTIVATED
Now a 13-time world champion, Lekomtsev still vividly remembers the moment he won his first world title almost 10 years ago.
"I became a world champion for the first time in 2013 in Sweden. I remember it was a gold in the sprint classic," he said.
"These were unforgettable emotions and there was such a beautiful finish there as well. I snatched the win literally in the final centimetres from the Norwegian," remembered the 27-year-old.
"I can't believe that it's been 10 years since then. It feels as if [that race] was yesterday, as if it were only yesterday that I took up ski racing, went to my first competitions, and won my first medal."
Lekomtsev and the other RPC athletes have been mostly absent from international competitions since 2016 when the Russian Paralympic Committee was suspended.
For Lekomtsev, this meant missing the 2017 and 2019 Para Nordic Skiing Championships and the PyeongChang 2018 Paralympic Winter Games.
But even while his international career prospects remained in doubt, Lekomtsev continued training and competing at home.
"Even in the time when we were sidelined, we continued to train as usual and did not reduce the workload. We found some competitions at home in our own provinces, in our cities, and competed in order to stay in top shape and keep the taste for competition," he explained.
"We travelled to marathons across Russia. We competed in marathons in Kamchatka, on Sakhalin, Khanty-Mantsiysk, Baikal. These were useful experiences."
PERFECT SHOW
Lekomtsev put his home preparations to the test when he made his comeback to the world stage in Norway.
Despite the perfect medal record, Lekomtsev's run at Lillehammer 2021 was far from easy. He won four races with less than a 42-second lead and had to fight for the top spot until the final metres.
These close finishes are also what keeps him in the sport, however.
"I love ski racing and biathlon very much," Lekomtsev said. "I love to train. I love to compete with my rivals. I respect all of them very much and am grateful to them for putting up a good fight in each race. Each race is its own story with its own emotions."
Whatever the drama at the finish line, each of Lekomtsev's races at the Birkebeineren Ski Stadium had two predictable endings: a gold medal and an air kiss the athlete would blow on camera for his wife and six-month-old twins 2,000 kilometres away.
"My family plays an important role in my sporting career. Their support is priceless so after the finish, I blow them air kisses. I hope this makes them happy," Lekomtsev said.
"We are constantly travelling to training camps, we are constantly at competitions, and don't see our families for a long time while they wait for us at home and believe in us. You have to sacrifice your family time. Right now the babies are six months old and in that time I probably spent only two months at home. I really value and treasure the time that we spend together."
Lekomtsev will be away from home a little bit longer as he is soon heading to his second Winter Games, in Beijing, in March 2022.
There he hopes to add more medals to the two gold and three bronze he won at Sochi 2014 and, given his performance at Lillehammer 2021, it could very well be another golden sweep.