No. 23: Freney bags 8th gold in exhilarating relay
The women's 4x100m medley relay 34 points in London could not have been closer, with Australia's Jacqueline Freney touching the wall first for her eighth gold at the Games.
09 Dec 2012
Imagen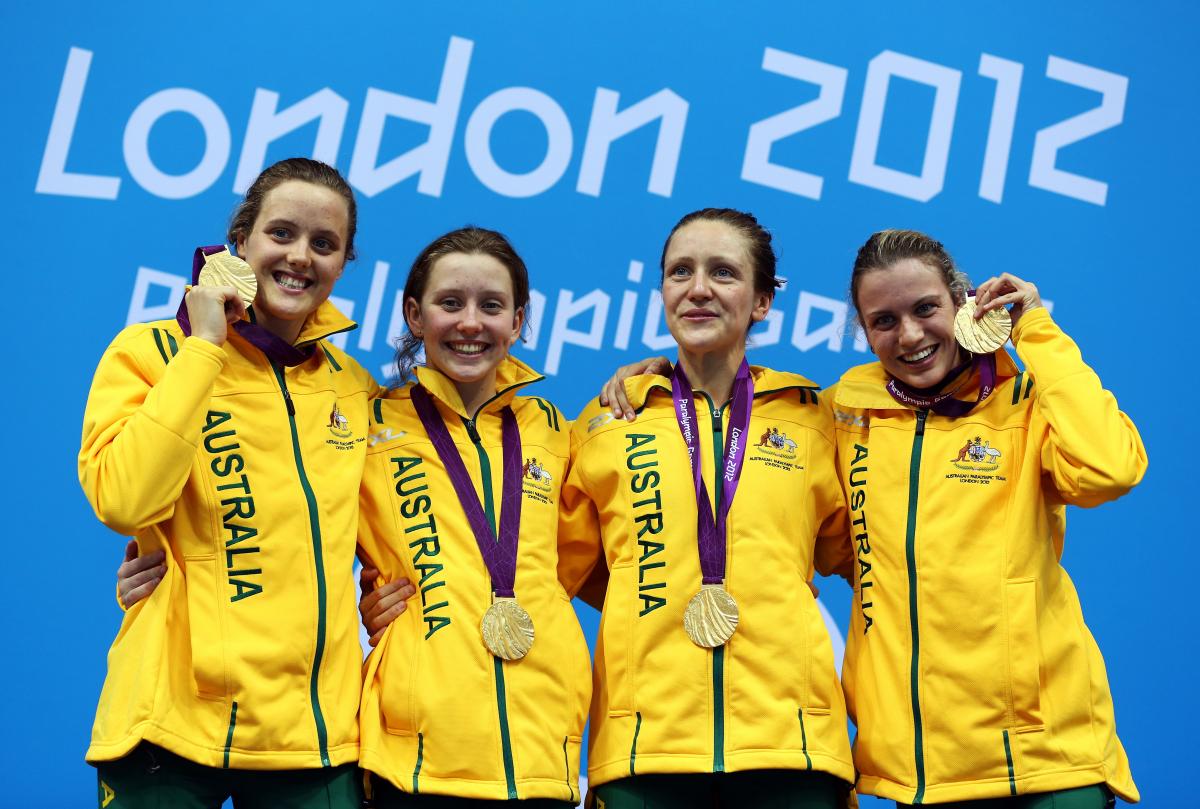 ⒸGetty Images
Find out which other stories made it into the Top 50 Paralympic Moments of 2012.
When Australian swimmer Jacqueline Freney was reclassified from S8 to S7 in 2011, she did not know exactly how she would stack up against her competition at the London 2012 Paralympic Games.
Today, it's safe to say quite well.
In fact, she could not have performed better.
Freney went a perfect eight-for-eight at London 2012, winning gold in all of her events, including a top finish in the women's 4x100m medley relay 34 points with teammates Ellie Cole, Katherine Downie and Annabelle Williams.
In that relay, which Channel 4 announcer Giles Long called one of the most thrilling moments of the Games, the top four teams were neck and neck down the final length of the pool, and all finished within an astounding four seconds of each other.
With just 50m to go, Freney had Australia in third place, but a few metres after the final turn the top four swimmers appeared to be synchronised for the final length.
With the crowd roaring at the close finish, Freney's hand touched the wall first, followed almost simultaneously by Louise Watkin's of Great Britain just three hundredths of a second later.
The USA's Mallory Weggemann and Russia's Oxana Guseva were right there, too.
"I knew that it was going to be close, and I had seven gold medals in the bag already, and I thought I had nothing to lose so I might as well just go out and get the best leg possible for my team and bring it home," Freney said.
"I just dove in, and I was the anchor leg, and I thought to myself I'd just go and give it my all, and I had nothing to lose. I just put my head down and dug in. I think we were all shocked by the outcome, as it was a great moment."
The Australians sat in third or fourth place for the first half of the relay, so nobody was really looking at them to win the race by the middle of it.
The team rewatched the finish on YouTube the next morning, and they were still shocked with how they were able to come back and pull out the victory.
"All the Aussie girls swam out of their skins, and I really think we had super human abilities," Freney said.
The 20-year-old Australian, coached by her father, Michael, was the top individual medallist at London 2012 and broke the Australian record for the most golds in a single Games.
"It's just been an incredible year for me," Freney said.
"Winning eight gold medals is mind boggling, and it's a dream come true. I'm sure every athlete's wildest dream is to win all the events, but for me, it actually came true. Everything went perfectly to plan for me. Everything fell into place at the right time at the London Games."
Freney's constantly been featured in the media and has been attending award galas since her return home to Australia, yet she only took two weeks off before she started training again.
Her future plans include the 2013 IPC Swimming World Championships in Canada next August, as well as the Rio 2016 Games.
She will not participate in the 2014 Commonwealth games, as they don't offer her classification, she said.
The next couple of months, she hopes to sign a manager to help her attract sponsors, as her eight-gold medal performance has yet to do that.
"I'm a little disappointed, but I don't do it for the money or the sponsorship," Freney said. "I do it for the passion of my sport.
"But hopefully something comes around the corner."
For now, though, she's still soaking up the moment.
"My family's still trying to come to grips with the whole thing," Freney said. "It's happened really fast.
"I'm just trying to live it up while I can. I'm just really proud of my achievements because it's taken a long time to get where I am."
Editor's Note: For the final 50 days of the year, the IPC will count down the year's top moments in Paralympic sport, culminating with the year's best moment on 31 December.
The 50 moments were selected by nominations from National Paralympic Committees and International Federations and are based on sport performance, emotional moments, media attraction and athletes' personal stories.
The IPC would also like to call on the public to submit their own nominations for what they believe was the top Paralympic moment of 2012. They can do so by emailing ipc.media@paralympic.org, or by leaving a comment on www.Facebook.com/ParalympicGames or sending a tweet to @Paralympic.
Related Images