No. 34 Brazil's 5-a-side team secure fourth world title
A 1-0 win over arch-rivals Argentina means Brazil have now won four world titles in the last 16 years.
28 Nov 2014
Imagen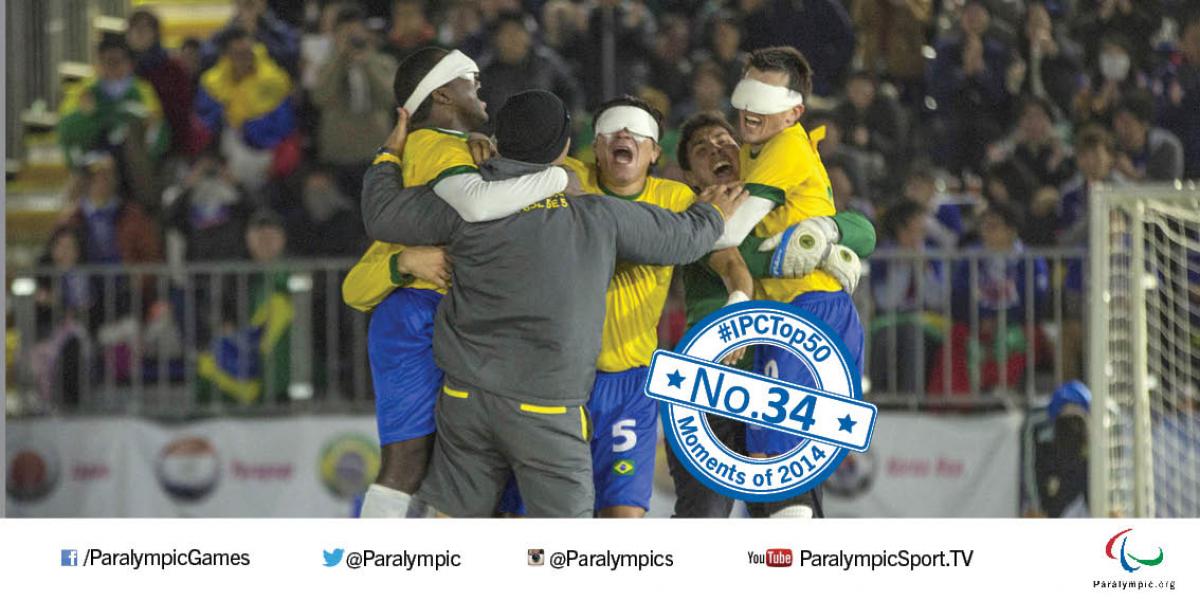 ⒸMarcio Rodrigues CPB MPIX
By IPC
"When I scored, the joy of being decisive and contributing to the title got to me. It was amazing."
After winning their fourth title at the 2014 IBSA Blind Football World Championships in Tokyo, Japan, in November, Brazil's five-a-side football team are now just one world title win behind their able-bodied counterparts and have made it to No. 34 in the IPC's Top 50 Moments of 2014.
Whereas the likes of Pele, Romario and Rivaldo grabbed the headlines when Brazil won the FIFA World Cup in previous years, it is players such as Jefinho and Ricardinho who are currently enjoying the limelight after winning multiple world and Paralympic gold medals.
Facing Argentina
Undefeated all tournament, defending champions Brazil met Argentina in the final, in a repeat of the 2006 decider. Brazil lost the final eight years ago, but there would be no repeat in Tokyo with Jefinho scoring the only goal of the game.
"Our rivalry is huge," explained Jefinho. "When we lost to them in 2006, the sadness was twice as worse as usual. Being able to beat them in the World Championships final made us all twice as happy.
"We worked hard the whole year and had a few difficulties along the way. But we got through everything and reached our goal.
"After reaching the World Championships, it feels like we fulfilled our duty and brought a little joy to the Brazilian people. All of this makes me very happy."
The final was an extremely tense affair and by full-time the game was scoreless. Extra-time was needed before Jefinho stepped in with a spot of his trademark magic.
"An entire movie went through my mind," said the winning goal scorer. "I dedicated myself and worked as hard as I could since the beginning of the year to get to the World Championships 100 per cent prepared.
"Facing Argentina is always hard because of the way they play, with four players defending. So we kept to our game plan, we didn't change anything and kept playing offensively. At the end, we were rewarded for that.
"When I scored, the joy of being decisive and contributing to the title got to me. It was amazing."
Strong favourites
Heading into the tournament in Tokyo, Brazil were hot favourites having won three successive Paralympic gold medals since Athens 2004 and world titles in 1998, 2000 and 2010.
Jefinho was confident of success.
"Everybody was working well: the players, the coaches and the managers of CBDV, who gave us a great environment to get to the competition well prepared. Besides that, the previous results made us very confident."
Although victorious against Argentina in the final, Jefinho does not believe it was Brazil's best game of the Championships.
"To me, the match against China was our best," explained Jefinho of the semi-final contest against the Beijing 2008 Paralympic silver medallists.
"It's always hard to be trailing the score because of their defensive posture, but our experience was very important so that we could keep playing well.
"We talked during half-time and that gave us strength to comeback even better. This victory, the way it happened, made us even more confident for the final."
Secret to Brazil's success
Following their fourth world title win, Brazil head into the Rio 2016 Paralympic Games as even stronger favourites, and Jefinho was happy to reveal what he believes is the secret to Brazil's success in the sport.
"The quality we have in football is amazing," he said. "The passion we feel for the game, the pleasure we have while playing and the love for the game. This is one of our differentials. There's also the quality of our preparation. Brazil's football 5-a-side is well managed, planned and organised. All these factors together make the results to come naturally.
"Rio 2016 will probably be the most important competition of our careers. That's why we're focusing on being ready for it now!
"Each competition we take part in improves our chemistry as a team. It won't be easy to win our fourth Paralympic title in 2016. Teams like China and Argentina are getting better every year and are making us work harder. This is the reason we need to keep improving, so that we are able to make the Brazilian fans happy," he added.
Visit the IPC's Top 50 Moments of 2014 campaign page for more information