No. 38: Belgium's George pulls in double surprise
Equestrian rider Michèle George won two surprise golds at London 2012, making for the No. 38 moment of the year in Paralympic sport.
24 Nov 2012
Imagen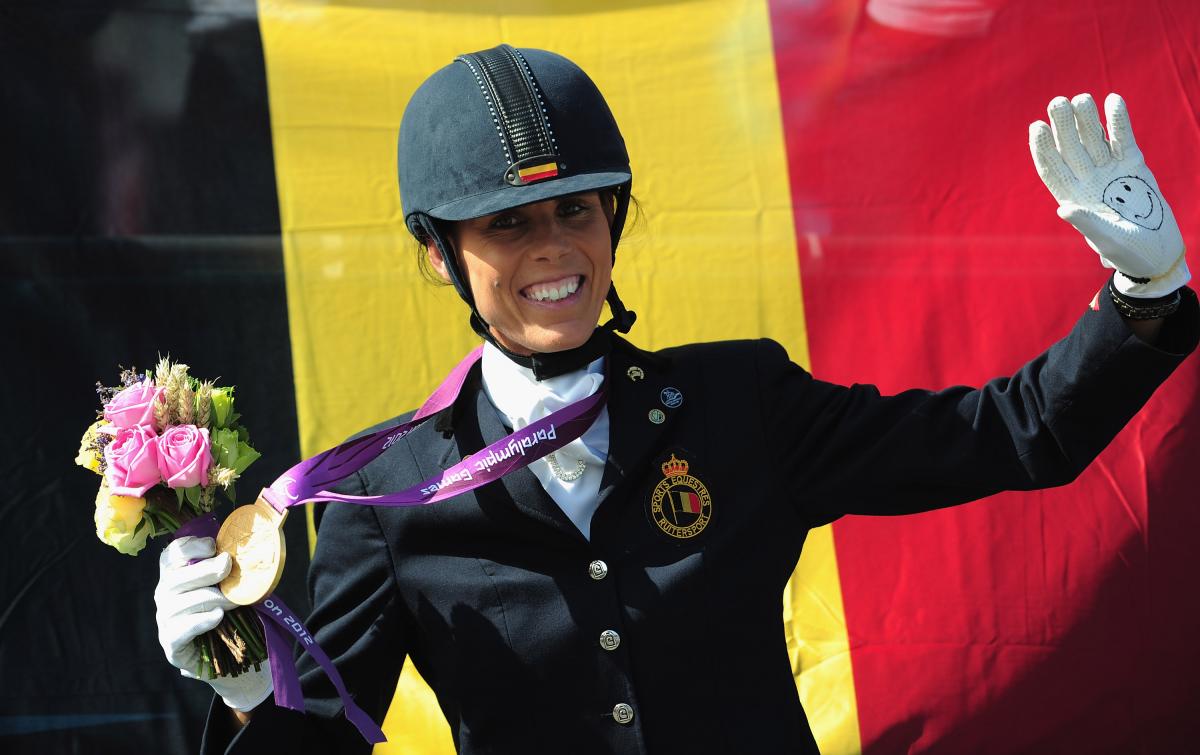 ⒸGetty Images
By IPC
"You can't go twice to the Paralympics in London, so that day in my head was, 'It's now or never.'"
At the London 2012 Paralympic Games, Great Britain were expected to steal the thunder in equestrian at Greenwich Park.
So when Belgium's Michèle George beat British favourite Sophie Wells for gold in both the individual championship and freestyle grade IV events, she could hardly take it in herself.
"I couldn't believe it. I still can't believe it," George said.
"It's not that I'm shocked, but it was unexpected because everybody knows and everybody says Great Britain and Sophie Wells and all other British athletes are always doing the best.
"I was really counting on that if everything went well, I'd get a silver medal. That was my target."
Only four years removed from a life-changing accident, George and her horse Rainman had won Belgium's first Paralympic equestrian gold since the sport was added to the programme at the 1996 Games in Atlanta.
George has hemiplegia in her left leg due to a horse-riding accident in 2008. She spent three months in a wheelchair and more than a year fully recovering before she was able to ride again.
Her horse, she admitted, is very sporadic and alters his attitude from moment to moment. She described him as "spooky," not knowing how he would react to a large Greenwich Park crowd and reporters around the arena.
But after their first London 2012 warm-up ride at the venue, Rainman appeared calm, settling any nerves George may have had.
"You just have to go for it because you can," George said. "Once I was sitting on my horse, I just gave it everything I had and thought I had to take that chance. You can't go twice to the Paralympics in London, so that day in my head was, 'It's now or never.'"
The 38-year-old was delighted when some of her other competitors approached her after the event to compliment her on being the one to finally defeat the British riders, on their home turf, nonetheless.
"It was genius," George said. "Winning against Great Britain in Great Britain wasn't easy."
Returning home with two golds around her neck was just as sweet for George as the competition itself.
"I'm dedicating my medals to Belgium," George said. "I think Belgium was very proud. For the sport, it's a big step forward.
"The crowd when we arrived here by train was huge. So many people were all yelling and screaming, they were so happy."
The same week she arrived back home, George put her feet back in the stirrup, admitting she was already beginning her preparations for Rio 2016.
But she also said the memories she made in London will never go away.
"In my eyes, it was perfect," George said. "The village was perfect. The crowd was perfect. The public was perfect.
"If you ask me if I'd want to go back, I'd just run and get my suitcase and we'd go."
Editor's Note: For the final 50 days of the year, the IPC will count down the year's top moments in Paralympic sport, culminating with the year's best moment on 31 December.
The 50 moments were selected by nominations from National Paralympic Committees and International Federations and are based on sport performance, emotional moments, media attraction and athletes' personal stories.
The IPC would also like to call on the public to submit their own nominations for what they believe was the top Paralympic moment of 2012. They can do so by emailing ipc.media@paralympic.org, or by leaving a comment on www.Facebook.com/ParalympicGames or sending a tweet to @Paralympic.
Related Images