No. 39 Australia's Bellis and Ross retain para-rowing world title
In the race of the 2014 Rowing World Championships, Australia's Gavin Bellis and Kathryn Ross retained their TA mixed doubles sculls world title, making it one of the top moments of 2014
23 Nov 2014
Imagen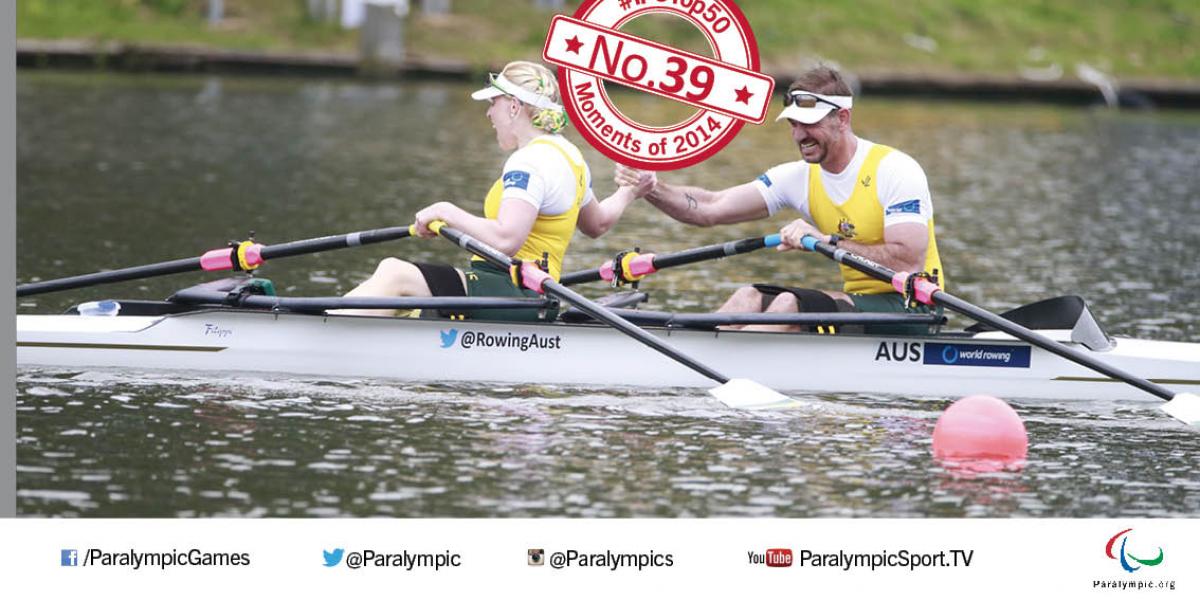 ⒸFISA Igor Meijer
By IPC
"It is very gratifying. To win it once was amazing, but then to be able to back it up was even better again,"
Australian rowers Gavin Bellis and Kathryn Ross were involved in the most climactic defences of their world title at the 2014 Rowing World Championships in Amsterdam, the Netherlands, making it one of the Top 50 moments of the year.
Heading into the TA mixed double sculls (TAMix2x) final, the pressure was on the Australians to retain the title that they had won in Chungju, South Korea, a year previously.
Bellis and Ross once again faced pressure from France's Stephane Tardieu and Perle Bouge, as well as the strong Ukrainian outfit of Iryna Kyrychenko and Dmytro Ivanov.
But they got off to the perfect start, pushing out into an early advantage and forcing their opponents to play catch up.
And despite the mounting pressure from their strong opponents, they managed to maintain their high stroke rate throughout the 1,000m to finish in 4:02:55 and claim their second successive world title, with Tardieu and Bouge forced to settle for silver once more.
Speaking about the final, Ross states that it was one of the most entertaining of her career.
"It was the most enjoyable race I have ever had. We were both blown away by how much we enjoyed it," she said.
"We went in there confident, stuck to our plan and didn't pay attention to anybody else. We were basically very relaxed, which is very uncommon going into the final of a World Championships competition.
"I think we both knew we had done the work, and we put the trust in each other knowing that we had the ability to win it."
These are sentiments that Bellis agrees with, saying that despite being the ones to beat, the only pressure he felt came from within.
"This might sound a bit cliché, but I generally put more pressure on myself than anyone else.
"When on the water, that pressure drops, you just have to trust the training as you have done it."
"It is very gratifying. To win it once was amazing, but then to be able to back it up was even better again," Bellis said.
"I have heard people say that winning the first time was the easy part, it gets harder each time and it certainly did with the amount of training and effort."
The battle for third place was equally as entertaining as that for top spot, with the previously unproven Brazilian duo of Josiana Lima and Michel Gomes Pessanha beating Ukraine to the bronze.
It was one of the first major competitions for the pair, with Gomes Pessanha having only taking up the sport three months previously, after switching from powerlifting.
And Bellis and Ross expect them to be challenging for gold by the Rio 2016 Paralympic Games.
"I think they are going to be extremely strong. They are going to have the home games, and everyone wants to win at home, that is a given," said Bellis.
"They are a new combination and haven't been together for so long, so they can only improve anyway without having the extra drive of competing on home water. They will be a force to be reckoned with."
Ross added: "Seeing them where they were in the final was quite a shock, not just to us, but to many of the other competitors. They have a good fighting spirit and just love getting in and having a good crack, and that is exciting.
"It is nice to know that they are there, that there is somebody else close in the mix."
Visit the IPC's Top 50 Moments of 2014 campaign page for more information.