No. 41: Huang beats Aggar at Eton Dorney
In his first year rowing internationally, China's Cheng Huang upset Great Britain's Tom Aggar in London, which comes in as the No. 41 moment of the year in Paralympic sport.
21 Nov 2012
Imagen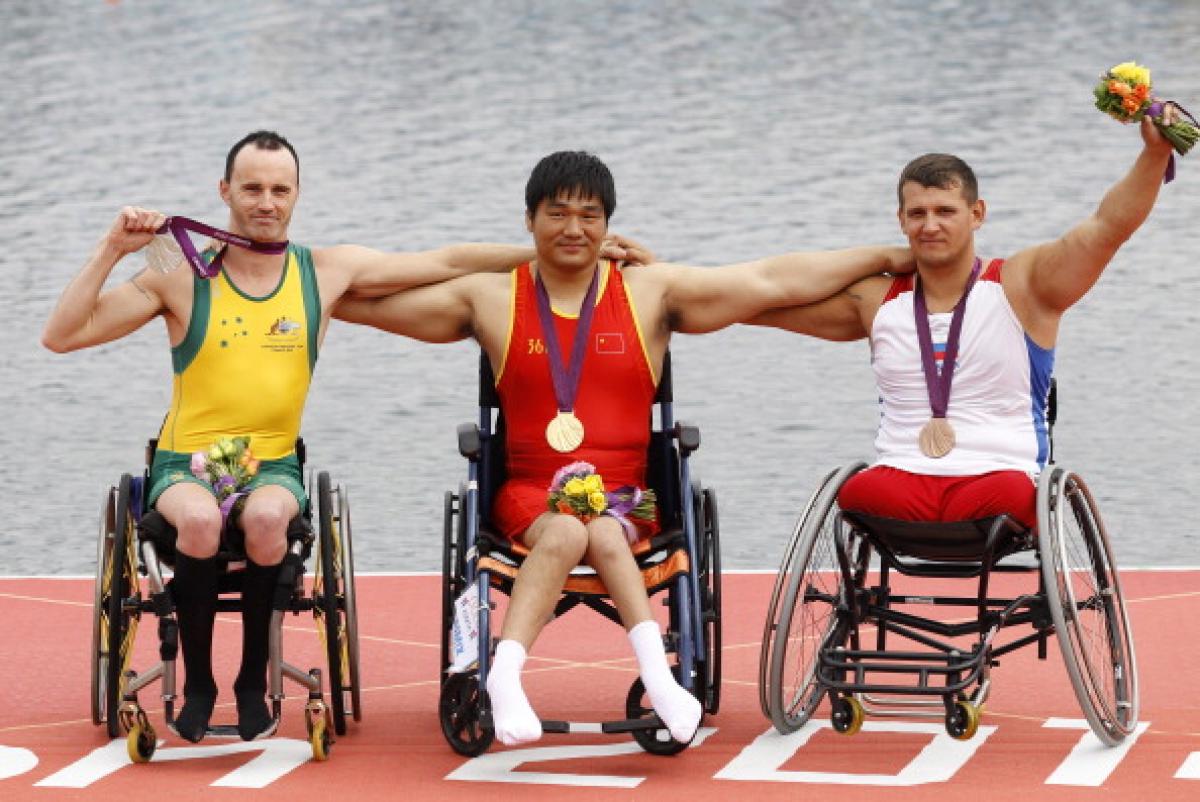 ⒸGetty Images
By IPC
"The top moment for me is the moment that national anthem playing and the flag raising. At that moment, I know I'm the pride of my motherland."
When it came to the London 2012 Paralympic rowing competition, all everybody was talking about was Great Britain's Tom Aggar.
After all, the former able-bodied ruby player had been unbeaten in the men's single sculls ASM1x since 2007.
But nobody was mentioning China's Cheng Huang, who only started competing internationally in rowing at the beginning of 2012.
On 2 September, that changed in less than five minutes.
Huang raced to gold on the final day of the London 2012 Paralympic rowing competition in a top time of 4:52.36, finishing ahead of Australia's Erik Horrie and Russia's Aleksey Chuvashev.
"I and my teammates only knew about rowing for two years, and we trained very hard with strict self-requirements," Huang said.
"I'm very excited that I won the gold during my first Paralympic appearance. I will keep this feeling of excitement and pride as my motivation in future races."
Aggar, meanwhile, finished a shocking and disappointing fourth.
"The arena is a place full of wonders and magic," Huang said.
"I think personally that the winner cannot be determined by the past performances and achievements. I'm not surprised that Tom Aggar did not win a medal."
What makes Huang's London experience even sweeter is that he set a new world record in his classification earlier in the competition during the heats. He won his heat in a world-best time of 4:45.02 – more than four seconds faster than the previous top time set by Aggar in 2010.
Though being on the top place on the podium, for Huang, is better than any time.
"I'm the pride of my family, my coach and my teammates," Huang said. "At the same time, I'm full of pride for being Chinese when the National Anthem playing and the flag raising."
"The top moment for me is the moment that national anthem playing and the flag raising. At that moment, I know I'm the pride of my motherland."
However, Huang said after he returned home to China a Paralympic champion that nothing had changed. Life was the same aside from a brief celebration with his friends.
The 30-year-old's races received coverage from Ningbo Television and the Yinzhou Daily, but that's about it. Nonetheless, he hopes to garner even more coverage for adaptive rowing by continuing on to Rio 2016.
"I just hope to say thanks to all the people who support and concern the cause of sports for the peoples with disabilities," Huang said.
"And I also hope to tell everybody that as long as you struggle, you will be great."
Editor's Note: For the final 50 days of the year, the IPC will count down the year's top moments in Paralympic sport, culminating with the year's best moment on 31 December.
The 50 moments were selected by nominations from National Paralympic Committees and International Federations and are based on sport performance, emotional moments, media attraction and athletes' personal stories.
The IPC would also like to call on the public to submit their own nominations for what they believe was the top Paralympic moment of 2012. They can do so by emailing ipc.media@paralympic.org, or by leaving a comment on www.Facebook.com/ParalympicGames or sending a tweet to @Paralympic.
Related Images