No. 46: Jack-of-all-trades Fernandes
The No. 46 moment in Paralympic sport of 2012 is when Brazilian Fernando Fernandes won his third para-canoe world crown.
16 Nov 2012
Imagen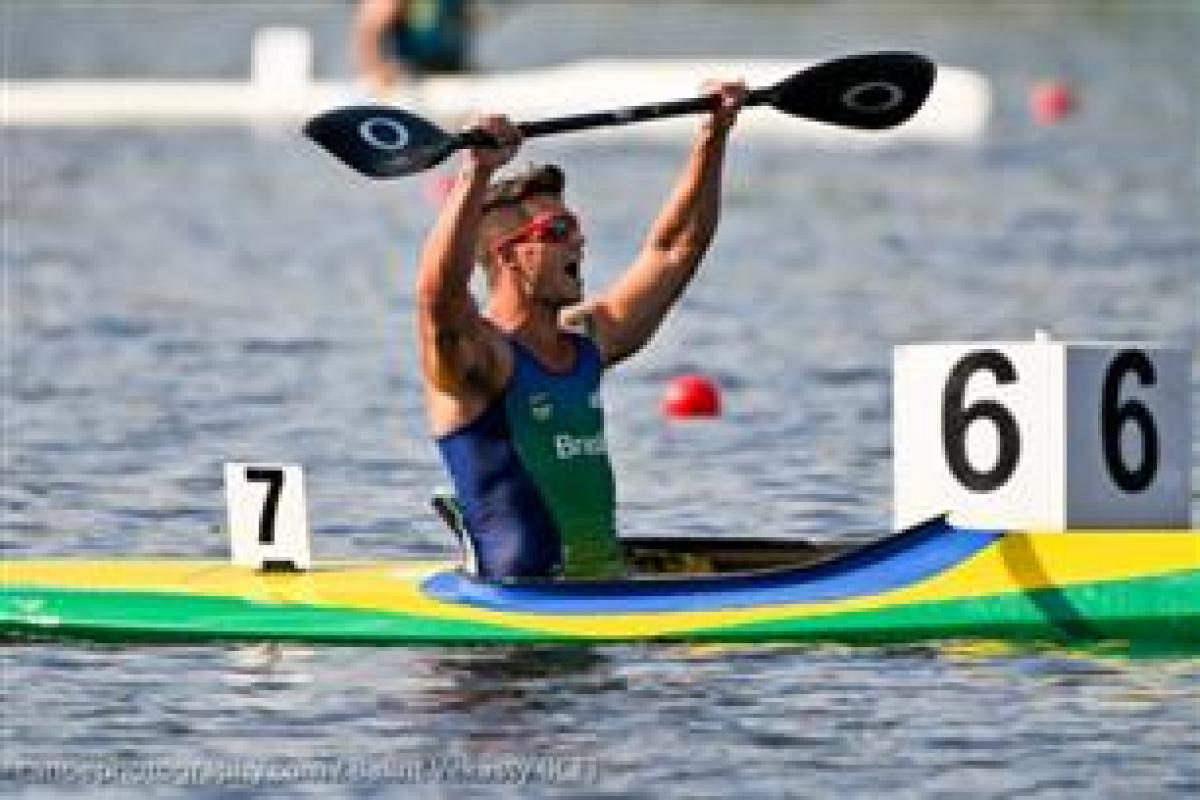 ⒸICF/ Balint Vekassy
By IPC
"Since I had the accident, I have been using sport to communicate to the world, and I want to change the physically fragile image disabled people have."
Although the next Paralympic Summer Games are still almost four years away, Fernando Fernandes is already making a strong case for himself to become one of the host nation's faces of Rio 2016.
On 17 May of this year, Fernandes won his third straight para-canoe world title in the K1 men's A classification in Poznan, Poland, adding another award to his long list of accomplishments.
In his lifetime, Fernandes has been a professional able-bodied football player, a boxer, an international model for the likes of Calvin Klein, Dolce & Gabanna, and Abercrombie & Fitch, and a star on the Brazilian edition of the reality TV show, "Big Brother."
His most recent moment of fame was being atop the podium in Poznan, after he finished the 200m championship course in a time of 53.550 – more than five seconds ahead of second-place finisher Jakub Tokarz of Poland.
But his road to gold this year was not as easy as in years past.
"I had an injury called eschar just before the competition, so I had to deal with the danger of getting infections and other complications it can bring, but I decided I was going to compete anyway," Fernandes said.
"The competition meant a lot to me because I had to face difficulties of my new body and I succeeded even with the not-so-nice weather and the wind."
His drive and willingness to still compete has been something he has showcased for many years.
Fernandes grew up an able-bodied football player and competed on the pitch professionally for one year until he had to leave to serve in the Brazilian army at 18.
A year later, he took up boxing, which he did for 11 years, becoming a state champion in Rio and teaching boxing classes as part of a societal project.
On 4 July 2009, he fell asleep at the wheel and woke up in the hospital a paraplegic.
Just six months after getting injured, he heard about a local canoeing event and immediately got involved.
"Canoeing just popped up in my life a few months after the car crash," Fernandes said. "It was a rehabilitation tool they used at Sara Rehabilitation Centre in Brazil, and it helped me not only physically but also psychologically.
"Before the accident I was a successful model and a frustrated athlete. Now, I feel I am an accomplished athlete. I am really passionate about life and canoeing."
Ever since then, Fernendes has been letting people know nothing can stop him, and that is why he fought through his injury to win another world title this year.
"Since I had the accident, I have been using sport to communicate to the world, and I want to change the physically fragile image disabled people have," Fernandes said.
"I want to push boundaries, break paradigms and show the world that we have deficiency, but we also have efficiency, and the only difference is the way we do things. Now, I do things sitting, but the intensity is exactly the same."
In addition to his canoeing achievements this year, Fernandes also became the first person with a spinal-cord injury to do a solitary skydive. In October, he parachuted more than 4,000 feet in Brazil, landing on his own two feet.
"That was an incredible experience," Fernandes said.
"I thought it would be a nice way to look for extreme freedom and to show the world that everything is possible as long as you find your way. "
Despite that adrenaline rush, his main focus the next four years will be to become the star athlete in canoe's Paralympic Games debut.
"The ultimate goal is to represent my country in 2016, of course," Fernandes said.
"Competing in the Paralympic Games in my country will mean representing my country, my people, my roots, my family, my friends, the people who look up to me. So it will certainly be a very special moment in my life, and I will do all I can to do it well."
Editor's Note: For the final 50 days of the 2012, the IPC will count down the year's top moments in Paralympic sport, culminating with the year's best moment on 31 December.
The 50 moments were selected by nominations from National Paralympic Committees and International Federations and are based on sport performance, emotional moments, media attraction and athletes' personal stories.
The IPC would also like to call on the public to submit their own nominations for what they believe was the top Paralympic moment of 2012. They can do so by emailing ipc.media@paralympic.org, or by leaving a comment on www.Facebook.com/ParalympicGames or sending a tweet to @Paralympic.