No. 48: Alex Zanardi-Ernst Van Dyk rivalry brews up
Italy's Alex Zanardi and South Africa's Ernst Van Dyk got a kick-start this year at the UCI's World Cup and World Championship events.
14 Nov 2013
Imagen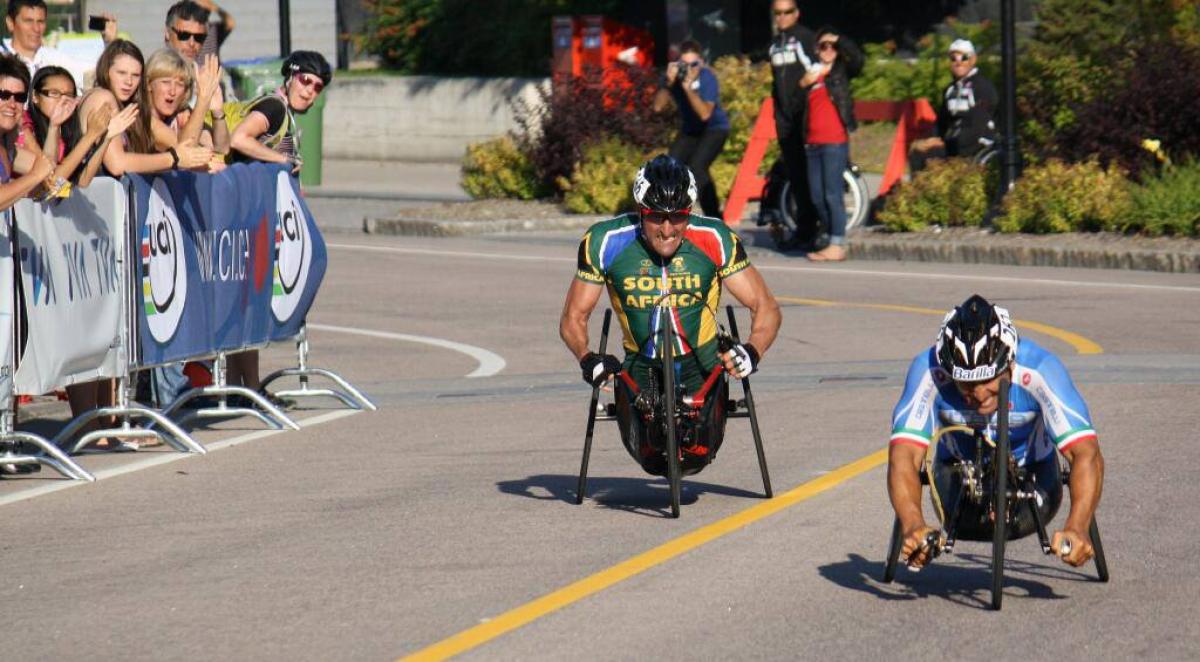 ⒸAndy Wilson | Cycling Canada
By Sean Cartell | For the IPC
"Last year in London, I caught Ernst surprised with my performances. This year in Canada, I knew it was going to be harder to beat all of my opponents, but Ernst was the one I feared the most."
Sport, at its most elite level, is perhaps most often perceived as a vocation of the young.
In the world of men's handcycling, however, the most exciting rivalry in the sport involves two highly talented athletes in their 40s battling regularly for the most coveted victories.
Ernst Van Dyk, an accomplished dual-sport athlete from South Africa, set the standard for the sport throughout its early years before Italian and former standout Formula 1 driver Alex Zanardi turned heads at the London 2012 Paralympic Games by taking home a pair of gold medals.
The sport's top two H4 class athletes, whose individual accomplishments speak for themselves, have captivated audiences with their razor-thin finishes over the past year.
Hittin' the road
The sport's final two major events of the 2013 season lived up to their billing, as the pair split the closely contested victories.
Van Dyk captured the final 2013 UCI Para-Cycling World Cup event in Matane, Canada, over difficult terrain, in his first race using his new aerodynamically optimised cycle.
"I felt very good in the final World Cup in Matane and I did a lot of dictating during the race," Van Dyk said. "The course was hard and technical and I enjoyed it. I timed the sprint perfectly and went for it at the right time, passing Zanardi before the finish. It was very satisfying as all the hard work had paid off."
Zanardi responded by claiming his first career UCI Para-Cycling World Championship title in Baie-Comeau, Canada, edging Van Dyk by 14 seconds, a feat made tougher by the fact that he entered the event as a presumptive favorite.
"I felt great because I've been able to be successful in spite of the fact that I reached Canada as the Paralympic champion," Zanardi said. "Evidently this means I'm really passionate to the activity that I do and that to set an objective is, in fact, just a good excuse to do something I love.
"Last year in London, I caught Ernst surprised with my performances," Zanardi added. "This year in Canada, I knew it was going to be harder to beat all of my opponents, but Ernst was the one I feared the most."
Enhancing their equipment
While the rivalry has been intense over the past year, it has forced each athlete to improve his own performances and optimise his training. While adversaries on the course, Van Dyk and Zanardi have fostered a relationship of immense respect and mutual admiration.
"I rate Ernst Van Dyk a great athlete," Zanardi said. "This is what I carry on fearing him, but also feeling excited in challenging such a guy once more. We're good friends, so, if it'll be my turn to finish behind, better behind him than another."
An element of the preparation for both Van Dyk and Zanardi included technical enhancements to their handcycles to improve performance against a gifted field.
"I unveiled some of the technical discoveries I made and, although I'm proud of the fact that many guys these days have changed their handcycles copying mine a bit, this makes the challenge harder for me," Zanardi said.
Van Dyk ventured to the USA prior to the final World Cup event to improve his cycle for the last two events of the years. While he saw improvements, Van Dyk expects the advancements to pay bigger dividends next season.
"The changes we made in the bike design made a big difference," Van Dyk said. "It allowed me to recruit more muscles and generate more power efficiently. Unfortunately, I needed more time as the new muscles being recruited needed time to develop and get strong, but the short term results were very positive."
As talented and competitive as the two athletes have been their entire careers, they understand that even the smallest factors can have an impact on determining the winner in any given race.
"Given where we both are in our careers, the set-up of the finish is probably going to dictate the results for a while," Van Dyk said.
"Alex is around 12kg lighter than me and he was able to just get that slight jump on me and get to top speed a fraction of a second faster than me, giving him the gold medal. It's something that I will work on this offseason starting now."
A benefit to the sport
With both Van Dyk and Zanardi at the top of their games, improvements are harder to come by, but that will not prevent either athlete from finding a way to enhance their output.
"I know I'm reaching the point where improvements are much possible, but much harder to get," Zanardi said. "When I started my second sportive career in para-cycling, everything was new. I believe this year we've raised the level even more, proving to ourselves it was possible."
Regardless of which athlete takes home the gold medal, both Van Dyk and Zanardi understand their rivalry makes each other better and is a great benefit to the sport.
"Any hesitation, a slight cold few days before the event or simply a different strategic choice from either mine or his side could change it completely," Zanardi said. "We both know that."
Related Images