One year on: Antonio Tenorio targets home Games success
Brazilian judoka Antonio Tenorio lost for the first time in five Paralympic Games in London.
07 Sep 2013
Imagen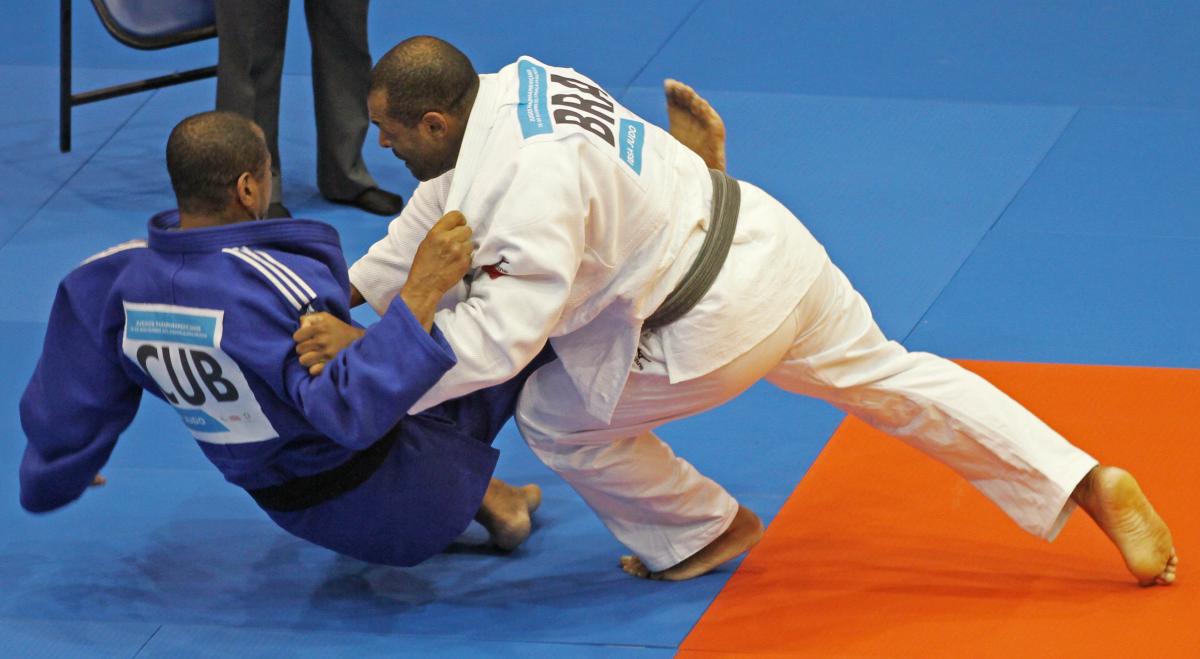 ⒸFotocom.net/CPB
By Nico Goda
"Being a champion is a consequence of hard work."
One year ago, Brazilian judoka Antonio Tenorio experienced something for the first time at a Paralympic Games.
He lost.
Already a judoka legend, Tenorio made history at Beijing 2008, winning his fourth Paralympic gold in as many Games in his third weight class (-86kg, -90kg, -100kg).
Favoured to a fifth gold, pressure would be understandable. Yet Tenorio said it wasn't a factor.
"I don't feel the pressure," he said. "When I walk into the dojo there's no pressure for results."
Tenorio finished with a bronze medal – the first time he hadn't walked away with the gold since Atlanta 1996.
"I think the bronze medal is a really special medal," he said. "I've been in the top three for the past 20 years. I would have been disappointed if I hadn't won any medal at all."
His cousin, Erick Silva Leite is a black belt in judoka, and fully agreed.
"I am by his side for 23 years, always helping in some way," Leite said. "I'm very happy when he wins, as if his victories were mine too."
Back to training
Since London 2012, Tenorio has continued his training, and working with a new coach he has a renewed vigour in his daily routine, as he practices six times per week, two periods per day.
Training, however, is a familiar experience.
"My training is the same for the past 20 years," Tenorio assured. "It's like riding a bicycle, you do the same thing for the rest of your life."
However, familiarity could also work against him.
"His fighting style is very known by other judokas," Leite explained. "He's training new moves to surprise his opponents. He needs to innovate to keep winning."
Focusing on new moves is only part of his mindset, as his mental focus has not shifted one bit.
"Being a champion is a consequence of hard work," Tenorio said. "It's not like in the athletics that you know, more or less, the time you're going to do."
"In judo you have your opponent right in front of you doing his game. Hard work that lasts four years can end in 10 seconds during a fight."
Anything can happen, as seen in London
Tenorio already has an invitation to compete at the Rio 2016 Paralympic Games as a member of the host nation.
Three years away, he isn't focusing on the Games quite yet, though. Tenorio is taking it year by year and tournament by tournament, as anything can happen in three years, so he's focusing on what he can control.
"I can't count on a result that isn't here yet," he said.
Tenorio competes next at the Master World Championships in November in Abu Dahbi – where he won't be heading as the defending Paralympic champion.
But it's one of the first stops en route to working his way back to gold.
"It isn't hard to surprise someone and win," Tenorio said.