One year on: Johnson says attitudes are changing
New Zealand's flag-bearing shooter reflects on his year since London 2012 and thinks that Paralympic athletes are getting more recognition in his home country.
31 Aug 2013
Imagen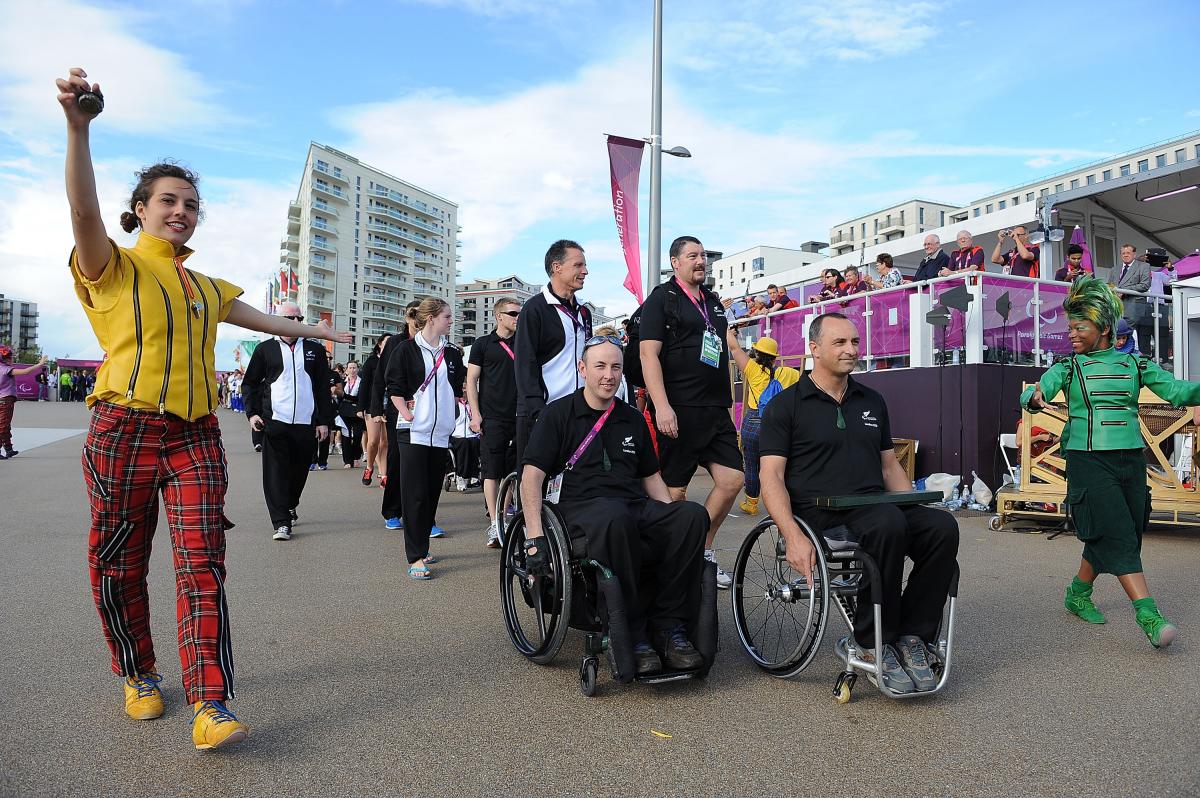 ⒸGetty Images
By Jake Wright | For the IPC
"Even here in New Zealand, our own high performance sports organisations are starting to recognise Paralympic athletes are as equal to the New Zealand able-bodied athlete.
London 2012 was a particularly important milestone in Paralympic history, not only because of unprecedented ticket sales, hype and exposure for disability sport and its elite athletes, but because it poignantly marked the return of the Paralympic movement to the shores of its inception in Great Britain.
When asked to explain his London 2012 Paralympic Games experience New Zealand's Michael Johnson takes a pause for reflection, carefully selecting the words that would give justice to a moment in his life where he flew the flag for New Zealand at the opening ceremony, and 80,000 people gave a welcome he would never forget.
"That was pretty cool - to be cruising into the stadium, leading your New Zealand team and have 80,000 people screaming and yelling for your country – it was a pretty cool experience and probably the only time I'll ever get to do such a big honour at a Paralympic Games," said Johnson.
"It's kind of hard to think about because it [the atmosphere] was so intense. Everyone was just screaming and yelling and you just knew that you felt quite proud, you know? To be representing your country and to be representing your team."
This was the third outing for the 39-year-old Paralympic shooter who left his mark at the Royal Artillery Barracks last summer, scoring 704.7 in the R4 (10m air rifle standing mixed SH2) category, to add a London bronze to his Athens gold and Beijing bronze medals.
"I'd never imagine I'd be shooting at another Paralympics let alone my third – it's almost as each Paralympics goes by, they build on each other, getting better and better. London was pretty spectacular, just the whole feel of everything, the public really got behind it, the atmosphere was quite electric; quite awesome."
Taking some initial time off after the Closing Ceremony, the two-time world champion spent the lion's share of his time, volunteering and coaching future able-bodied and impaired athletes, as well as helping to start a shooting range in his native hometown of Auckland.
"When I first started in the sport I was the only shooter in New Zealand and now we've got more than 20 shooters round the country."
"I actually get more of a kick out of it [coaching] than shooting; when you've got an athlete and they are competing on the line and you're actually able to sit back and help them to get to where you've been – I've really enjoyed it, it's probably what I see in the future, maybe a path that I'll will be going down when I'm no longer a competitive shooter."
Johnson has been using 2013 as a trial year in order to experiment with shooting techniques and positions, whilst limiting the amount of time spent travelling to competitions. Omitting the first two IPC Shooting World Cup instalments, held in Poland and Turkey, Johnson turned his focus towards the third held at Stoke Mandeville Stadium in July - coming away with gold and bronze medals in the R5 and R4 categories respectively.
"They really put on a good competition, each time it's been at Stoke Mandeville it keeps getting better and better. There were way more athletes, probably 40 plus in each of my events; the quality of the equipment and score targets, which are the same set-up as they use in the Paralympics and to shoot at that venue which is so historical, is just great.
"My goal was to win two gold medals, but that first event took a little bit of time to get used to the nerves - I knew I had to hang in there to come away with a medal - I was just ecstatic to come away with two medals."
In October this year the highly anticipated 2013 IPC Shooting European Championships are taking place in Alicante, Spain.
New Zealand situated in the Oceania region does not have an equivalent championship and are allowed to compete at the European championships in the open competition. Without a European medal to his name, Mike is naturally looking forward to competing.
"I'd love to win a gold medal in one of my events; this time around I'm going to be competing in R4 standing, R5 prone and R9 50m prone. The last time I shot the 50m prone was at the last world championships from about three years ago in Croatia where I won the gold medal and set the world record."
The New Zealander, who began target shooting in 2002, suggested prior to games that the unprecedented hype surrounding the London Paralympics was paving the way for further and greater recognition for Paralympic athletes.
A year on, Johnson maintains the view that London was an important moment in cementing that recognition for Paralympic athletes and crosses his fingers that the Paralympics in Rio, less than four years' away will be equal if not better than London.
"I remember sitting on the train going into the City [of London] and people were coming up to me and asking what sport did I do and they were really interested in the Paralympic sports. I think it was a milestone; it does seem that people's hearts and attitudes have changed a lot; people with disabilities seem to be getting a little bit more recognition for the effort we put in as sports people, as we train and compete equally as hard as able-bodied athletes.
"Even here in New Zealand, our own high performance sports organisations are starting to recognise Paralympic athletes are as equal to the New Zealand able-bodied athlete. I do hope that the movement continues moving forward and things continue to get better…I cross my fingers and hope, wait and see that Rio is equal to London if not better."
"I try not to look too far ahead, but before I know it, it's going to be 2014…I am looking and training towards Rio so that will be a goal, but I've just got to see how it goes and see if my scores still stack up."
Related Images