One year on: Pat Anderson won't rule out Rio 2016
The world's top wheelchair basketball player reflects on London 2012, saying he could come back for a final hurrah.
04 Sep 2013
Imagen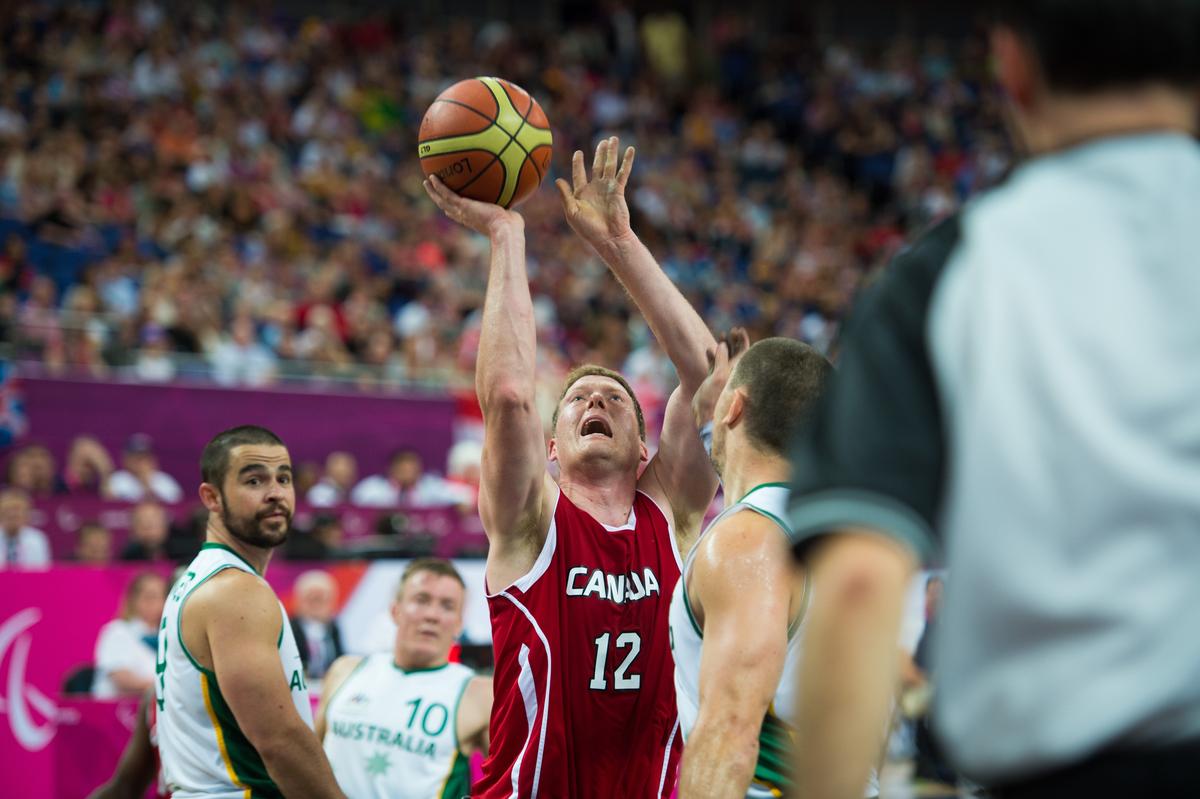 ⒸLieven Coudenys
By Nate Williams | For the IPC
"Leading up to London, it wasn't always fun, so it was really satisfying to end up winning. Now, I'm in the same spot and missing it again, so we'll see."
Canada's Patrick Anderson has hinted that he may return to help the Canadian wheelchair basketball team compete for a fourth gold medal at the Rio 2016 Paralympic Games.
The three-time Paralympic gold medallist and 2006 world champion is currently on a break from the international game after helping Canada to the top of the podium in London just one year ago.
However, Anderson insists he is still playing, and at this early stage, he refused to completely rule out a return to Rio.
"I won't deny that it is on my mind but it's too early to say for me," he said "It's something I have to think about and discuss with my wife but it's on the table.
"I was really excited about London, and I've been to Rio a few times and it's a cool place, but London had drawn itself to me. I just wanted to go there and play. That aside, I'll be playing for the next few years but whether it's with the national team or not, I don't know."
Anderson vs. Jordan
Canada will try to qualify for the Rio Games in front of a Toronto home crowd in 2015 at the Parapan American Games.
Anderson, who will play for the New York Rolling Knickerbockers this season, said it will be great for the development of wheelchair basketball in Canada and is drawn to the idea of playing on a home court in a major event.
"This is a great opportunity for Wheelchair Basketball Canada to showcase the game at a national level and blow the roof off in terms of expectations.
"It's not often in your career that you're lucky enough to be able to play at home in a major event. It's not quite the Paralympics but it's the next biggest thing for us. To play in front of family and friends with the spotlight of media attention on you is special. When the spotlight comes, you want to be ready but we'll see."
The 34-year-old has achieved everything the game has to offer and is widely considered by many in the sport as the "Michael Jordan of wheelchair basketball."
Anderson is honoured by this great compliment but he thinks wheelchair basketball's "Michael Jordan" is still on his way.
"I have a tough time taking those comparisons but there was a one and only Michael Jordan," he said.
"I suppose it's meant as a compliment and I take it as such and it's a very high compliment.
"To be quite honest, I think the Michael Jordan of our sport is still coming at some point. He will be someone who just takes the game to a new level and I'm looking forward to watching that player play or maybe even playing against him."
Missing the court
Anderson's first taste of international glory was back-to-back junior world titles in 1997 and 2001, which earned him a scholarship on the world famous wheelchair basketball programme at the University of Illinois.
He was coached under the watchful eye of Mike Frogley, who reckons there won't be another player like Anderson.
Frogley runs a development centre for top Canadian talent in Toronto and he said: "Pat is one of those rare individuals that makes everybody on the court better through his play on the court. What Pat has done is help to make wheelchair basketball a targeted and important sport in Canada. I always tell people not to compare young players to Pat. Comparisons are by their very nature, unequal."
After his days at Illinois, Anderson led Canada to Paralympic gold in 2000 and 2004. He took a brief hiatus after the 2008 Games before returning to win a third title with Canada in London.
He was the top scorer at the London 2012 tournament, and on Wednesday (4 September), it was announced that he has been shortlisted for Best Male Athlete at the 2013 Paralympic Sport Awards.
Meanwhile, Anderson said he is now missing the world stage again after Canada's amazing triumph over Australia in the final at this time last year in London.
"It felt great to win," he said. "In 2000 and 2004, I kind of expected to win but with 2012 I just didn't know so it was a different experience when we did win.
"Leading up to London, it wasn't always fun, so it was really satisfying to end up winning. Now, I'm in the same spot and missing it again, so we'll see."
Related Images