One year on: Rowing gold a blur for China's Chen Huang
China's Chen Huang would prefer to look ahead to his new Rio 2016 rivalry with Tom Aggar rather than back at London 2012.
01 Sep 2013
Imagen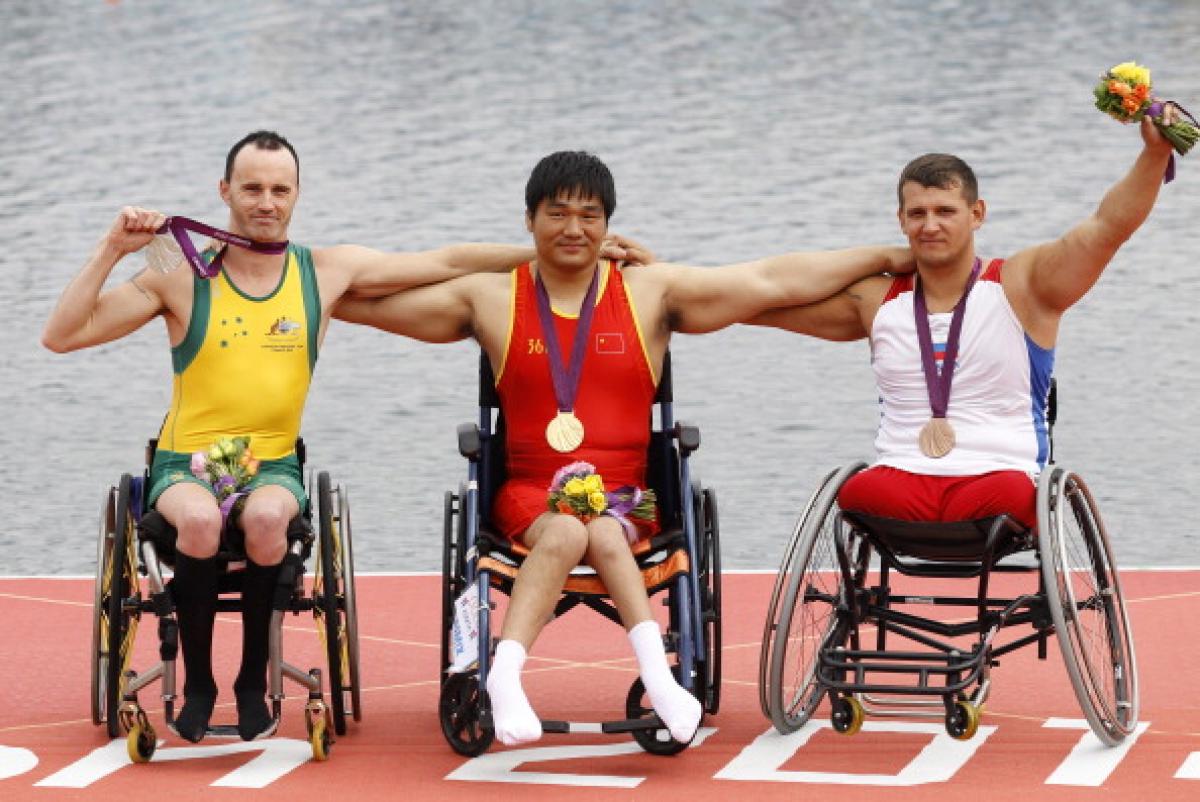 ⒸGetty Images
By Justin A. Rice | For the IPC
"Competitive Games are full of unknowns, there is no absolute winner. What I can do is to follow the guidance of the coach and constantly improve myself. I have no feelings about defeating someone."
There wouldn't seem to be much room for improvement after setting a world record in your first time out on the water at the Paralympics.
Especially when that race unseats the Paralympic and four-time defending world champion and snaps his five-year unbeaten streak like a bamboo stick.
Unless, of course, you win a gold medal in your second time out on the water in the Paralympics.
That exact scenario played out in real life for Chen Huang at the London 2012 Paralympic Games just one year ago.
Looking back
First, the Chinese adaptive rower bested the Beijing 2008 Paralympic gold medallist, Tom Aggar of Great Britain in the second heat of the ASM1x boat class at the 2012 Paralympics.
His world-record time of 4:45.02 beat the previous world best (4:49.80), which was set by the former able-bodied rugby player Aggar in 2010.
Then, in the finals of the Paralympics, Huang outpaced Australia's Erik Horrie and Russia's Aleksey Chuvashev with a time of 4:58.01. Aggar finished fourth.
One year later it all seems like a blur to Huang.
"It's so fast," he said. "And I am used to looking forward; letting the past go."
But, when prodded by a string of questions about last year's Paralympics, Huang did allow himself to reminisce a little bit about that prominent period in his young racing career.
The 31-year-old who only started racing in 2010 said he was nervous in the run-up to the race because it was his first Paralympics. But he said he didn't pay any attention to his opponents and instead headed his coaches advice to remain even keeled.
When asked about what it was like to end his opponent's unbeaten streak he said:
"Competitive Games are full of unknowns, there is no absolute winner. What I can do is to follow the guidance of the coach and constantly improve myself. I have no feelings about defeating someone."
He did concede, however, that the victory made him "very excited" and that being an underdog going into the Paralympics gave him an advantage.
"I didn't have much pressure about the result," he allowed.
Fast forward
About two months after the race, Huang was quoted extensively anointing his Paralympic gold-medal performance as the No. 41 most memorial moment of the year in para-sport. He said that he was not surprised Aggar didn't win a medal because races aren't "determined by past performances and achievements."
Huang reiterated that he wasn't surprised Aggar didn't medal because "unknowns" such as "physical conditions" and the race-day "environment" affect the ultimate winner of any given race. But Huang also alluded to the fact that he knows Aggar is going to be gunning hard for him and the podium at the Rio 2016 Paraylmpics.
"I believe he will be better," he said.
In the end, perhaps the most enduring memory of that 2 September day at Eton Dorney for Huang was hearing his national anthem play on the podium.
"I just wanted to cry at that time," he said.
The thundering applause from the crowd during the race is surely a close second when he allows himself the satisfaction of recalling the events of that day in his minds eye.
"I'm so excited to hear their loud cheering," he said, "and thanks so much for that, they are the soul on the competition field."
And just as all eyes were on Aggar in the 2012 Paralympics, there's no doubt that the favor will be returned to Huang at the 2016 Games.
While that kind of pressure proved in London that great expectations can unnerve even the best of rowers, Huang only hopes that he can harness that nervous energy when the crowd roars along the banks of the Lagoa Rodrigo de Freitas in 2016.
"Firstly I should calm down and then improve," he said. "I will exchange the pressure into power."