Petushkov to give Zaripov run for his money
After a glittering performance at Vancouver 2010, Russia's Irek Zaripov will have to fight hard – mainly against fellow teammates – to maintain his top position.
05 Feb 2013
Imagen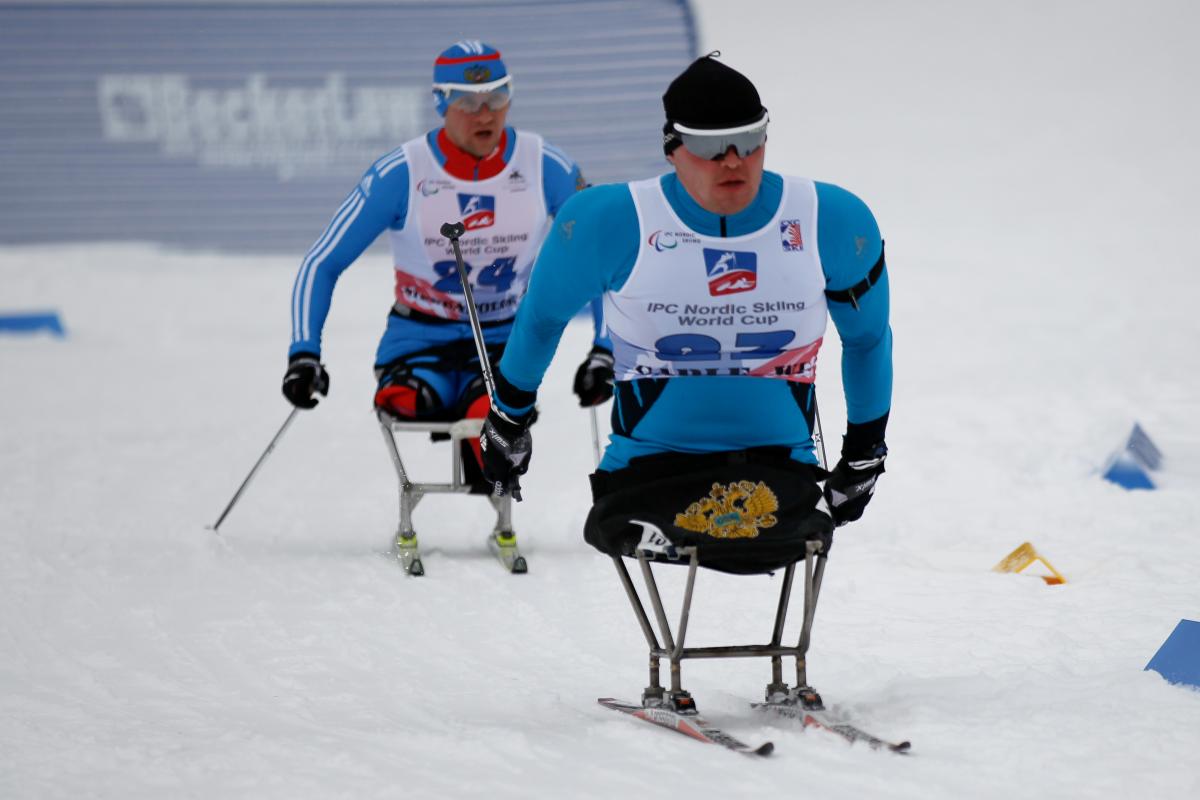 ⒸJames Netz
Check out a more in-depth look at the Zaripov-Petushkov rivalry.
Russian Nordic sit skier Irek Zaripov was one of the stars of the Vancouver 2010 Paralympic Winter Games, taking home four gold medals and one silver and carrying his country's flag at the Closing Ceremony.
His present focus is on this month's 2013 IPC Nordic Skiing World Championships in Solleftea, Sweden, which will be one of the last major events before the Sochi 2014 Games.
This season, several fellow Russians have emerged as the strongest contesters for his Paralympic titles, including Ramil Ilalutdinov, who leads this season's World Cup rankings, and Roman Petushkov, who won last season's.
"We will see in Solleftea who is capable of what," Zaripov said. "And also during this time, new competitors will appear.
"During competitions there are no friends or enemies, just fellow sporting competitors. I do not single out anyone in particular. All are strong and worthy and I have respect for every participant in competition."
As a Sochi 2014 ambassador and finalist for last year's Laureus World Sportsperson of the Year with a Disability award, Zaripov has all the Russian hype surrounding him on the home front.
"The whole of Russia is in awe of the courage and commitment demonstrated by Irek, who won five medals for the Russian team in Vancouver," Sochi 2014 President Dmitry Chernyshenko said after he was named a Sochi 2014 ambassador.
"His achievement is difficult to believe and I think his success will be hard to repeat. I am proud to present him with a Sochi 2014 ambassador diploma and hope that he will help promote the Paralympic values in our country just as assuredly as he carried the Russian flag at the Closing Ceremony of the 2010 Paralympic Games."
But 29-year-old Zaripov admits Petushkov, who is five years his senior, is one of the most worthy opponents and will also attract a large Russian fan base.
"He is very patient and goal-oriented," he said.
At this point in the season, Petushkov sits in first place on the IPC Alpine Skiing points list and seventh in the World Cup rankings, while Zaripov is third on the overall points list and eighth in the World Cup rankings.
Zaripov has watched Petushkov grow in strength from the moment he joined the national team. After Petushkov lost both of his legs in a car accident in February 2006, he began biathlon and cross-country skiing a few months later.
Especially in the cross-country races, Petushkov has proven to be head and shoulders above the rest.
"I don't consider Zaripov as my only sporting rival," Petushkov said of his teammate. "Time is my main rivalry."
Both Zaripov and Petushkov have one thing in common, though, and that's a steely determination.
"We both have the common goal to win medals for Russia during competitions," Zaripov said.
Related Images