Portugal's Talented Youngster Dreams of London 2012
Swimmer Emanuel Gonçalves claimed silver in the 5,000m Open Water event at the European Championships this year.
25 Oct 2011
Imagen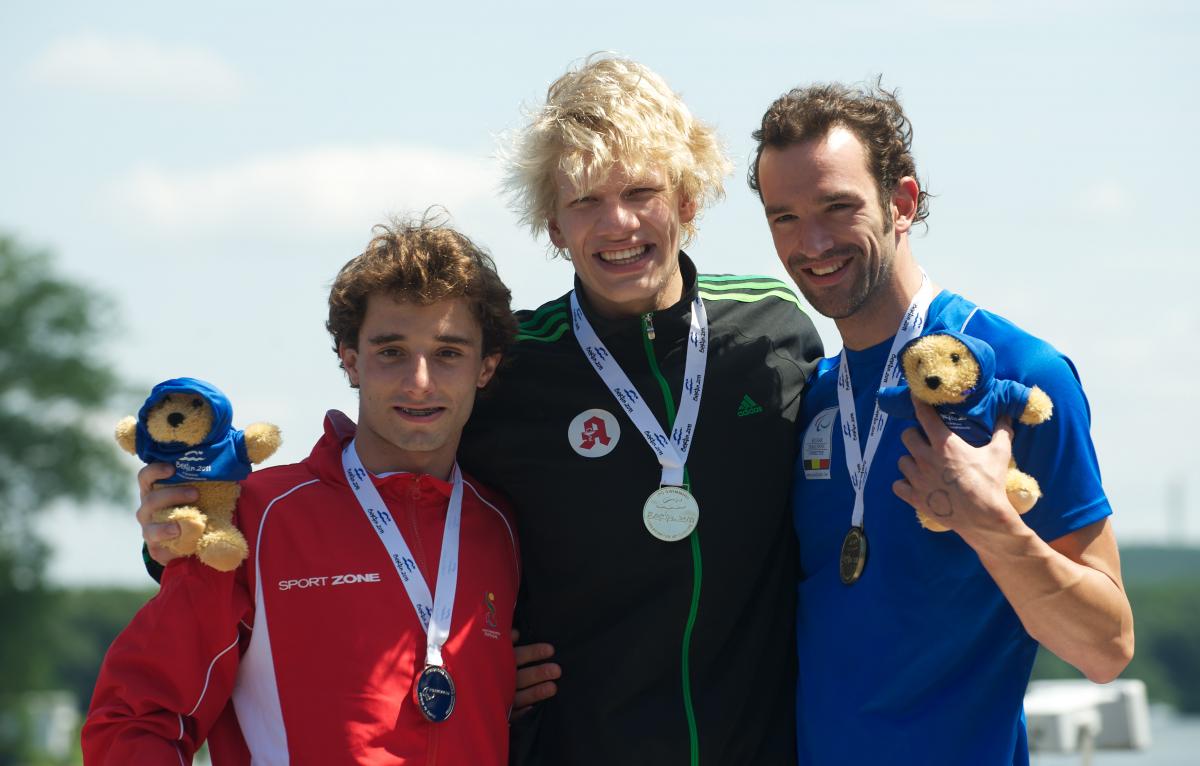 ⒸCamera4
By IPC
At July's 2011 International Paralympic Committee (IPC) Swimming European Championship, held in Berlin, Germany, Emanuel Gonçalves showed why he is one of Portugal's main medal hopes for London 2012.
Despite a bout of tonsillitis in the week leading up to the event, which resulted in him losing 3kg and not been able to train, the 21-year-old claimed silver in the 5,000m Open Water event, a race he also came second in at last year's IPC Swimming World Championships.
Speaking to Paralympic News, the monthly publication of the Portuguese National Paralympic Committee, Gonçalves said he should not be judged on his Berlin performances.
"I had a high fever and couldn't leave home. I only started training on the day of my arrival in Berlin.
"I was still under medication and feeling weak. My performance in the pool was below my real capacity but the Open Water silver came as reward for all my effort", said the Open Water specialist, who also competes in 100m and 400m Freestyle and 100m Butterfly events in the S10 class.
Born and raised in Funchal, a city on the island of Madeira, Gonçalves started swimming at 13 as a way to overcome the symptoms of Guillian-Barre syndrome, a rare disease that affects the nervous system and can leave serious consequences to the breathing muscles.
However, significant achievements at the national level motivated him to turn a medical recommendation into a successful sporting career. At the 2006 IPC Swimming World Championships in South Africa, his international debut, he won bronze in the 5,000m Open Water.
After success at regional and international level, Gonçalves's thoughts have now turned to London 2012.
"My major objective now is qualifying for the Paralympic Games. Competitors of my class have a minimal disability index. They have top marks so, to be at their level, I have to train very hard", said Gonçalves who is currently training twice a day to be in the shape of his life for next year.
Due to his tough training regime, O Sarganto (The Sergeant) as his teammates call him, has been putting aside one of his favorite activities: hanging out with friends. But he believes participation at London 2012 will be well worth the sacrifice.
"I know that's the only way I will attain my objectives. Besides, the Paralympic Games are a once in life opportunity."
For this reason, when not training, Emanuel is remaining close to the water.
"As I am always surrounded by the ocean, in my spare time I practice underwater hunting, fishing, diving. I simply love everything related to the sea."
Should he qualify for London 2012, then Emanuel Gonçalves will be one of 4,200 athletes taking part in the Paralympic Games which will take place between 29 August and 9 September 2012.