Role reversal for mother-daughter Para Alpine Skiing duo in Beijing
Ulla Gilot guided her mother Linda Le Bon on her Paralympic debut
18 Mar 2022
Imagen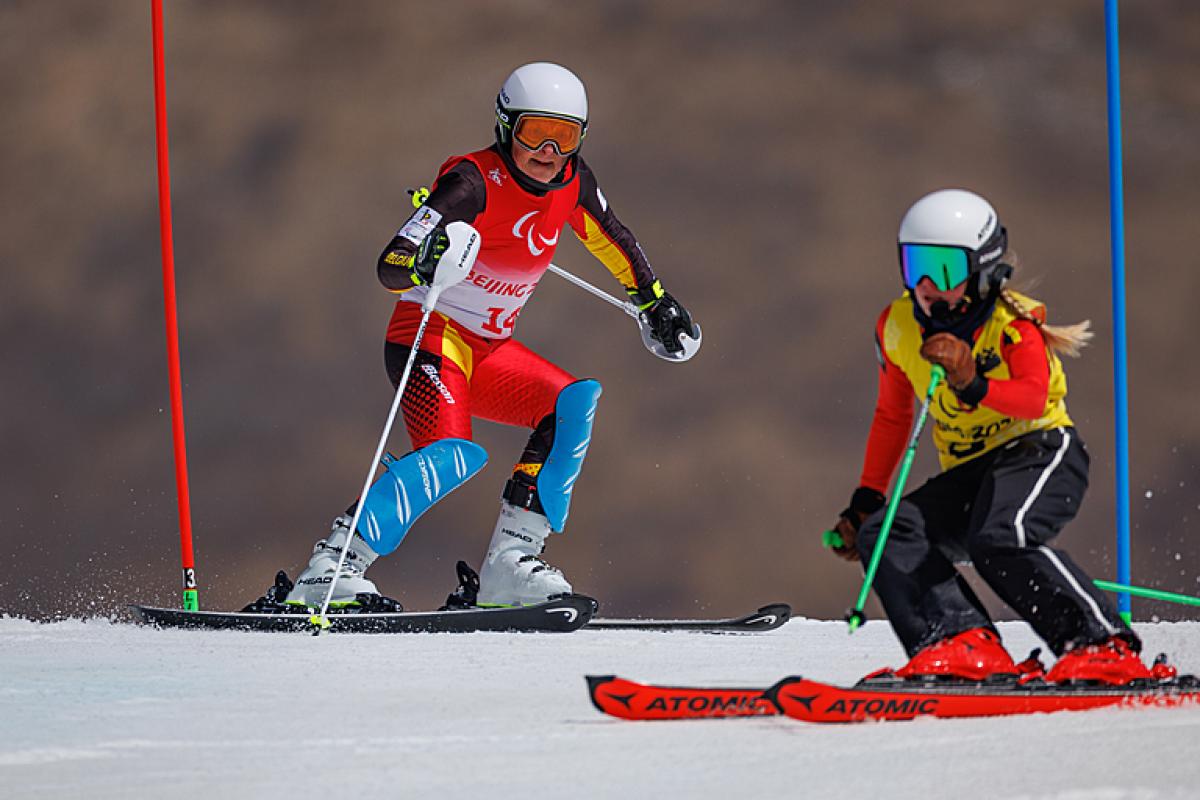 ⒸOIS Photos
By OIS
Belgium's Ulla Gilot found the perfect way to get back at her mother Linda Le Bon after years of being told to clean her room and eat her vegetables.
Gilot yelled as she guided her down the steep Para Alpine Skiing slopes in the women's vision impaired at the Beijing 2022 Paralympic Winter Games.
"She's screaming all the way down," said Le Bon, who has less than 10 per cent vision due to macular degeneration.
"I guess I do scream, maybe a little," Gilot said. "I tell her to look at me and to listen to me, which is not easy for her as my mum."
Gilot stepped into the role at the last minute when Le Bon's regular guide Pierre Couquelet could not attend the Paralympics.
"I changed my guide a week ago," Le Bon said, speaking during Beijing 2022.
"We knew before on paper that she was my reserve guide, but we've never skied together because she's always away. She's also studying at university, but here we are.
"It's not always easy. I have to switch off the 'mum'. She's the guide."
For Gilot, shifting from being a daughter to giving her mum orders has meant significant changes too.
"It's a big responsibility," Gilot said. "I have to bring her down [the course] and if she makes a big mistake, it's probably because I didn't tell her to go left or right or to go on the outside ski because she doesn't see it."
Le Bon made her Paralympic debut at the age of 57 after a whirlwind season that included two silver medals at the World Championships in Lillehammer, Norway, just two months ago.
"It's the summit. It's very nice to be here. I don't have words," Le Bon said of her Paralympic journey.  Being able to share the experience with her daughter made it all the more memorable.
"It's something very special to be here with my daughter," Le Bon said. "I couldn't imagine it 16 months ago because I only started competing in skiing then. 
"With my daughter, each time it's better."
There are limits however, and for all the love the pair have shared in their Beijing 2022 journey there is one thing the two refuse to share.
"We are actually not," Gilot said when asked whether they were roommates in the Village.
"I live away from home so to live in a room with mum is a bit odd. We decided it's better to be apart. We're in the same compound, but in two different rooms."