Take nothing for granted
US Navy hero Bradley Snyder, who lost his vision one year ago today (7 September), has already won Paralympic gold in London.
09 Sep 2012
Imagen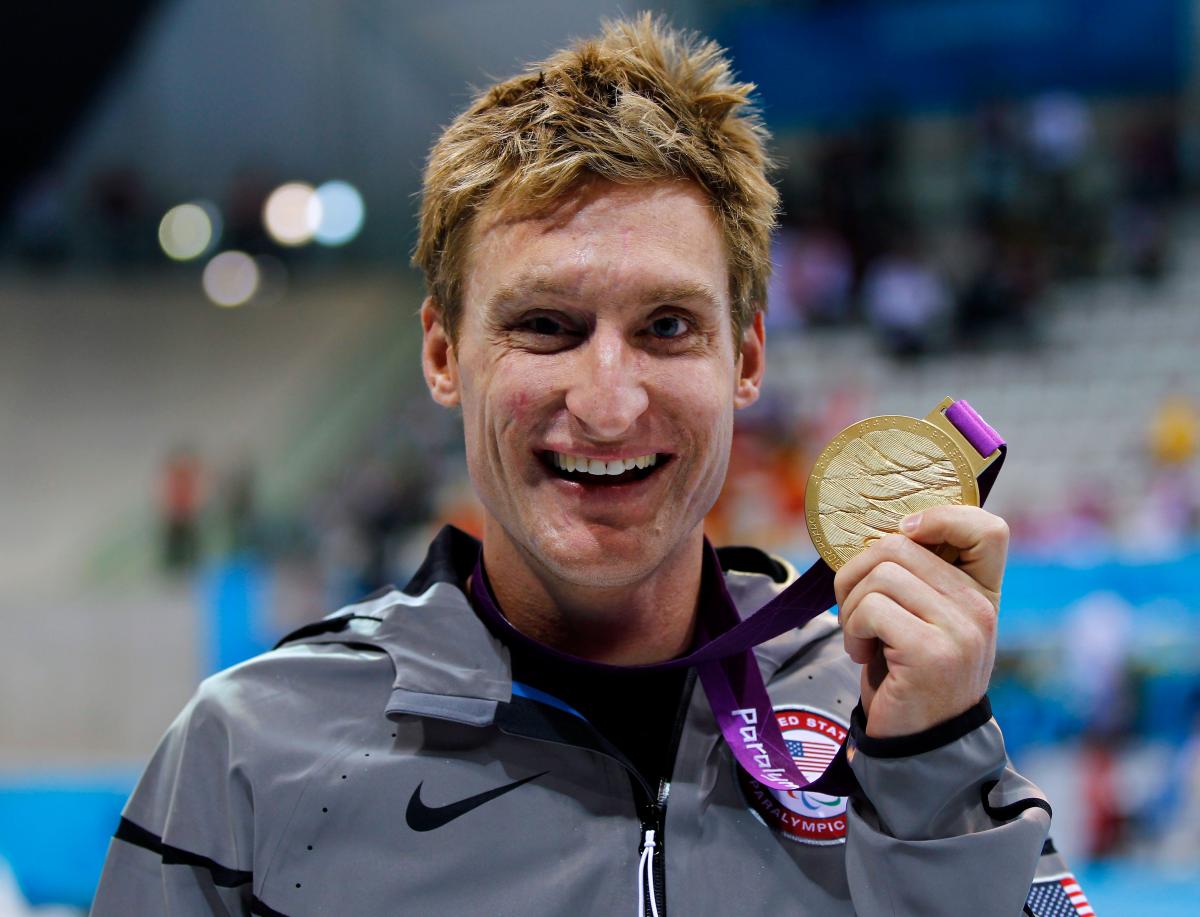 ⒸGetty Images
"I am not buried in Arlington. I am here in London competing, so I get lots of motivation from that."
The seventh of September holds little importance to many people, but to former US Navy hero Bradley Snyder, it marks the anniversary of his tragic accident in Afghanistan when he lost his eyesight.
The Paralympic Games are full of incredible stories of the will-power of humans who not only beat adversity, but laugh in its face.
But, as Brad told his own life-changing tale to reporters - blissfully unaware of the faces staring in astonishment back at him - it was hard not to be simply amazed.
Eyesight is something we all take for granted.
It gifts us the ability to navigate our way through the world in front of us, as step-by-step we see life's beautiful things along the way.
A year ago today (7 September), Snyder was courageously helping another injured soldier to safety when he took what were to be his last steps of vision onto a buried explosive.
As his story continued, it become so quickly apparent that swimmer knew blindness would not change his gritty attitude and stop him succeeding in life.
"I remember the sound of the blast and then I remember looking as I could see out of my left eye originally that I had both my legs and both my arms. While I was in shock and scared of the extent of the damage, there was a whole bunch of optimism that I looked down and I was largely OK," said the former US Naval Diver.
It is quite astonishing to have such levels of sanguinity in a moment so life-defining, but as Snyder's infectious positivity rapidly transferred to those listening, it become swiftly apparent that it stems from his "lucky-to-be-alive" feeling.
"The way I got through it was gaining motivation by putting things into perspective," he said. "I am still here and I have a lot of friends that didn't make it back, a lot of friends who we boarded up to be buried in Arlington.
"I am not buried in Arlington. I am here in London competing, so I get lots of motivation from that."
He isn't just competing in London, far from it in fact, he is excelling – smiling at his restrictions that seem so redundant once he enters the pool.
Winning gold in the men's 100m freestyle S11, and silver in the men's 50m freestyle S11, Snyder has quickly rose to stardom back in the USA, including a feature on the front page of the Washington Post.
It has been quite a meteoric rise to fame for the 28-year-old, who captained his Naval Academy swim team before the accident, and he is looking to use this success to inspire those who walk in similar shoes to his own.
Although he lost his eyesight, his vision of legacy is clear.
"Another thing is that (my success) has become is a platform for inspiration. I have the ability to reach out to people and to get them to do things that they might not otherwise have done," he said.
"I take a lot of solace in that and I really look forward to the opportunity to give back to the community I am part of and that is the wounded warrior community.
"I know there are a lot of guys and girls out there who are struggling with a tough hand and hopefully my success here at the Paralympics will reach out to them people and show there is a way forward and there is a way you can go out and get that relevance and success again."
One hollowing sentiment from Snyder that echoed and imprinted on the minds of those lucky to be in attendance showed the toughness of the new-found situation that is forced upon him.
"Still to this day, every time I go to sleep I dream that I can still see, and I actually have dreams where in my mind I am blind but I can see and I am walking around thinking "this blindness thing really isn't that hard and I can see just fine," and then I wake up to darkness and that's tough."
Every day he starts with this obstacle as rudimentary tasks of yesteryear now becoming challenges that must be overcome – but overcome them he does.
And the fighting, determined personality that sparkles from Snyder as he comes to terms with the dichotomy of his new lifestyle as a Paralympic champion shows that America has a strong ambassador in its possession.
And his Paralympic journey has only just begun.
Related Images