Ukrainian Pair Looks to Dominate Pool
Maksym Veraksa will try to repeat as the fastest Paralympian in the pool, while 18-year-old Yevheniy Bohodayko could swim nine events.
25 Aug 2012
Imagen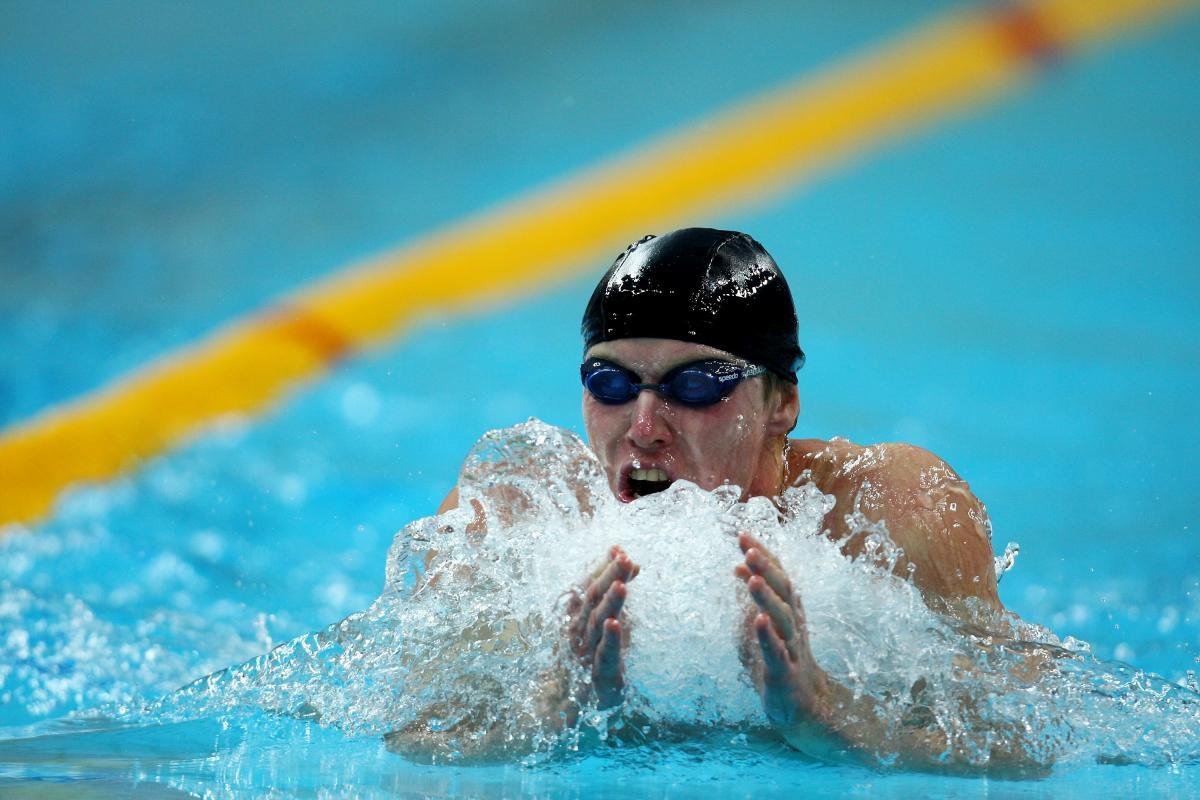 ⒸGetty Images
"I am grateful for such a definition but I must say that a lot of young swimmers are growing up and they are very good."
When the swimming competition starts on the opening morning of the London 2012 Paralympic Games, a pair of Ukrainians will be out to create history.
One of whom, Maksym Veraksa, is widely regarded as the world's fastest Paralympic swimmer.
The visually impaired athlete holds four world records (men's 50m freestyle S12, men's 100m freestyle S12, men's 100m breaststroke SB12, men's 100m individual medley SM12) and won a gold medal in each of these events at the Beijing 2008 Paralympic Games.
Veraksa also won a bronze medal at Beijing in the men's 100 backstroke S12, an event he will again compete in at London 2012.
Veraksa said he is pleased to be known as the fastest Paralympic swimmer, something his mother discovered while reading about his success on the internet, but he remains focused on what he needs to do to succeed.
"I am grateful for such a definition but I must say that a lot of young swimmers are growing up and they are very good," he said.
"Everything is in a normal regime now, we have training camps away from home, we have trainings at home," he said. "The only issue now is that I can feel more pressure inside of me. This is what happens before a Paralympic Games."
While Veraksa is aware of the impact of his younger rivals, it is a youthful teammate of his who is also making headlines in the sport.
Yevheniy Bohodayko is only 18, but what he may lack in age he makes up for in ambition.
Bohodayko is scheduled to compete in nine events at London 2012 and if he competes in all nine, this will be the most of any swimmer at the Games.
Such a programme will not daunt the man from Poltava, however, as he won 10 medals at the 2011 IPC European Swimming Championships, eight of them gold.
Despite such success, Bohodayko is also approaching the Games with focus and determination.
"Everyone is working hard and improving results and this event is of the highest level," he said.
"Everyone is strong and will be competing for 100 per cent. This is the greatest event in the world."
Bohodayko is scheduled to swim in the first event in the pool – the men's 100m backstroke S6 heats – next Thursday (30 August).
The men's 100m backstroke S6 final will see the first medal awarded in swimming of the Games later that day, and despite his success in other major swimming competitions, Bohodayko said the Paralympic Games present a different level of expectation.
"Do I feel pressure?" Bohodayko asked.
"I would like to say yes, everyone is awaiting a lot from me and I am afraid to let people down."
If ever in search of encouragement and leadership, Bohodayko needs to go no further than his Ukrainian teammate, Veraksa.
With the experience of having already achieved much success at a Paralympic Games, Veraksa is one of the best on paper going into the competition.
"I now have records in all events," Veraksa said.
"Now it will be more difficult to set up new records. I am becoming older and I think it will be more difficult to repeat my success at Beijing.
"I will do my best and I would like to repeat my success of the Beijing Paralympics. But only God knows what can happen. And what can I say - stopwatch will show."
Related Images