USA Sitting Volleyball Aims to be World's Best
With Katie Holloway and Kendra Lancaster leading the team, the Americans hope to best China for gold at London 2012.
18 Aug 2012
Imagen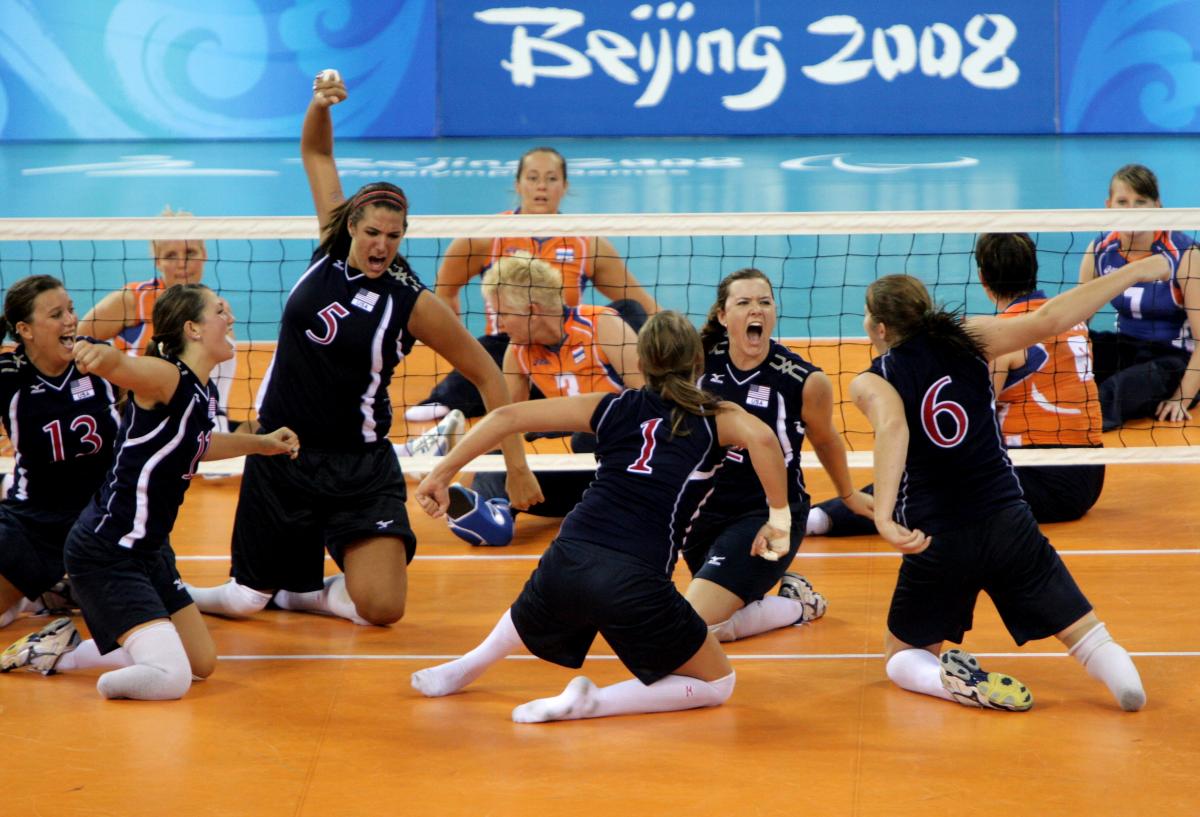 ⒸGetty Images
"The biggest thing this year is going to be being comfortable playing China and comfortable at beating them."
Editor's Note: This article was originally published earlier in 2012 in the IPC's magazine, The Paralympian.
USA's women's Sitting Volleyball team is tired of finishing as runners-up.
Following a bronze medal at the Athens 2004 Paralympics, the squad improved with silvers at the Beijing 2008 Games and 2010 World Championships.
A silver at the World Championships qualified the team for London 2012, but none of the athletes were completely satisfied with their performance.
"While silver is great, it's not the gold medal," team captain Kendra Lancaster said.
Rounding into form
The American squad has become known around the world for its deep bench and experienced outside hitters. Several players train together as part of a residency programme at the University of Central Oklahoma.
Head coach Bill Hamiter officially named the London 2012 roster in May, selecting 11 players from the 16 who typically train together with the national squad.
Hamiter only took the national team reigns in June 2009, but his work has already shown on the court.
Team captain Katie Holloway insists the squad's movement, shot selection and technique have noticeably improved under Hamiter, and that the team is peaking just in time for London.
"We're more focused now than ever because we are training together and have a good dynamic," Holloway said.
"We have a lot more riding on this one. Going into Beijing, we weren't expecting to win gold because many of us were still new. But now, we are."
Holloway, who was born without a fibula in her right leg and had her foot amputated as a baby, has quickly established herself as a veteran setter in the face of her teammates, and has the numbers and awards to prove it.
The former college basketball star was named the Most Valuable Player at last year's Continental Cup in Ukraine and at the Parapan American Zonal Championships in Brazil, where USA finished undefeated.
Fellow team captain Lancaster, born without a left arm, was out of action for nine months last year following a car accident.
But with team depth and Lancaster now back on board, fielding a top squad on the court should not be a problem for USA in 2012.
"Nobody has a perfect game every day," Lancaster said. "Not necessarily everybody lights up the stat board, but we have several emotional rocks on the team who keep us stable while playing."
Besting the competition
There has only been one nation standing in the way of USA's Sitting Volleyball dominance: China
The Chinese have never dropped a set in an international match against the Americans, beating them for gold at the last Paralympics and World Championships.
"The biggest thing this year is going to be being comfortable playing China and comfortable at beating them," Holloway said. "I like being the underdog because I think it's better for us when we play the Chinese."
While Team USA is known for high passes and a prolific offense, China is notorious for its great ball control, fast play and never getting rattled on the court.
In London, libero Kari Miller and server Heather Erickson will provide plenty of experienced support to their team captains, and the up-and-coming players will lean on an enthused Lancaster for help.
"You'll still find me hanging out with the 18-year-olds a lot," a now 25-year-old Lancaster joked, hungry for gold.
Related Images