Van Rhijn set to take on the world over one lap
After medalling in the 100m and 200m T44 at the London 2012 Paralympic Games, the Netherlands' Marlou van Rhijn is setting her sights on the 400m for the 2013 IPC Athletics World Championships.
15 Apr 2013
Imagen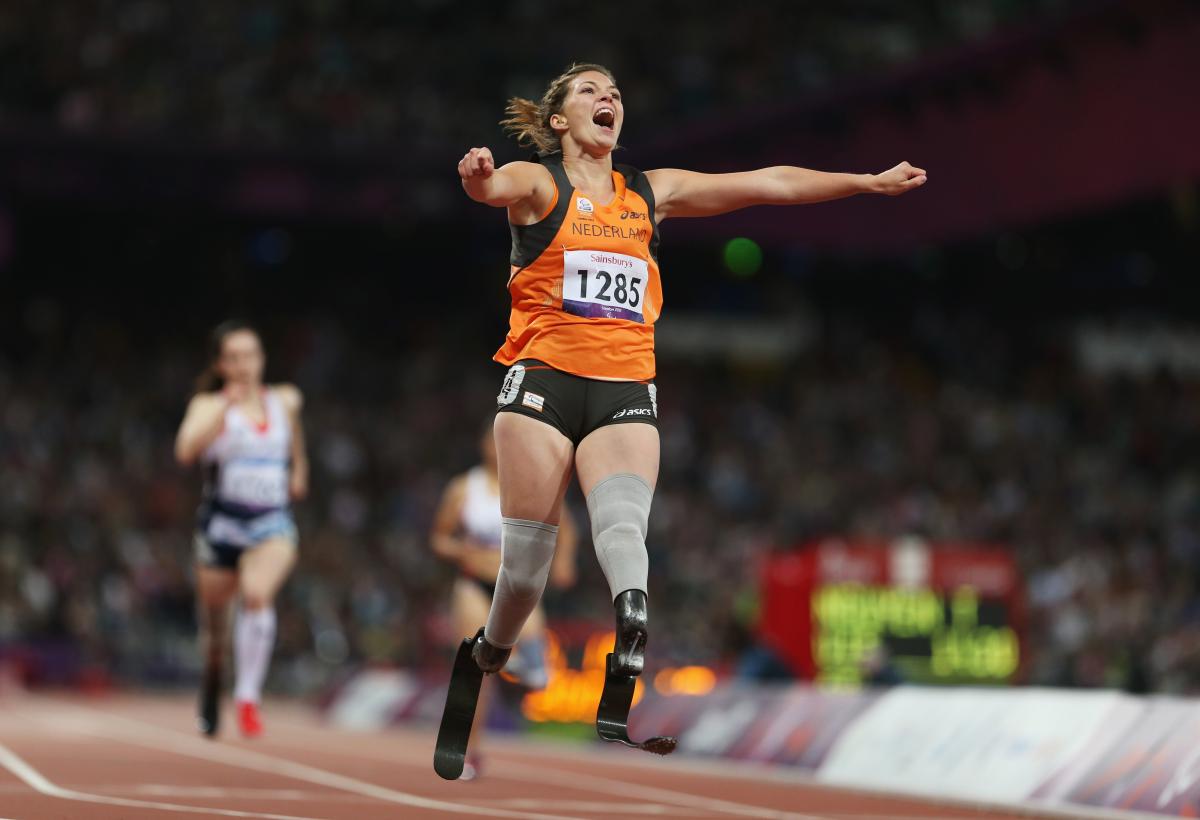 ⒸGetty images
By Lewis Wood-Thompson
"It was kind of hard to get back into practice with all the thoughts of London and all the people who knew you and all the invites you would get."
Dutch golden girl Marlou van Rhijn is aiming to elevate herself into the bracket of Paralympic world stars at the upcoming IPC Athletics World Championships in July.
During the Paralympic Games in London last year, the 21-year-old broke two world records on her way to Paralympic gold and silver in the 200m and 100m T44 respectively.
Not content with dominating the field over the shorter distances, van Rhijn – who also won double-sprint gold at the IPC Athletics European Championships last summer – wants to add to that success with the 400m T44 title in Lyon.
"Training is going really well," she said.
"But what is interesting is the 400m is a new event for me, so I am really training for the 400m and also I want to improve my 100m and 200m.
"It is really nice to train for something new, but at the same time trying to improve your speed, so it is a really cool challenge."
For van Rhijn, nicknamed 'Blade Babe', her success on the Olympic Park track in London brought with it unprecedented fame and recognition in her home country.
"In Holland, it was a bit crazy after London because the Paralympics were very big in 2012," she said. "It was bigger than ever and that was reflected in Holland, so that was crazy. Almost everybody saw my race and that was really strange to come back to.
"It was kind of hard to get back into practice with all the thoughts of London and all the people who knew you and all the invites you would get. I really had to say to myself that enough was enough and I was going back to training and that went well."
Now with the World Championships on the horizon, van Rhijn is determined to make her mark over 400m, despite the challenges she faces as she learns the techniques required to succeed over the longer distance, as well as adapting to her newfound celebrity.
"I have to improve my endurance," she explained. "The 400m has two rounds so it is difficult because I have to learn not to sprint the whole 400m.
"You have to think more in this event – in the 100m and 200m you just have to sprint your hardest and see where you come. But the 400m is different and that is the greatest thing of all that you have to improve a lot more skills than you need for the 100m and 200m."
Whilst van Rhijn has yet to run a competitive 400m race, she believes she has what it takes to succeed at the highest level and be the best in the world.
"I haven't raced over 400m yet, so I cannot say whether I am suitable for the distance," she explained. "But I hope that it will turn out fine and that I will run a good 400m, and if that will be a world record then we will have to see."
To aid her preparations in the run-up to Lyon, van Rhijn plans to race in a number of domestic meetings.
"I will do a few events here in Holland where I will practice the 400m and will hopefully get the right flow," she said.
"The World Championships is the event that counts this year, but in Holland we have a national competition as well, so I will use that competition before the World Championships."
And if hard work brings its own rewards, van Rhijn can expect another haul of medals in Lyon in three months' time. And there's bound to be a few more eyes following her progress.