2nd day of wheelchair rugby provides thrills
Both Australia and USA remain unbeaten after two days of the wheelchair rugby competition.
07 Sep 2012
Imagen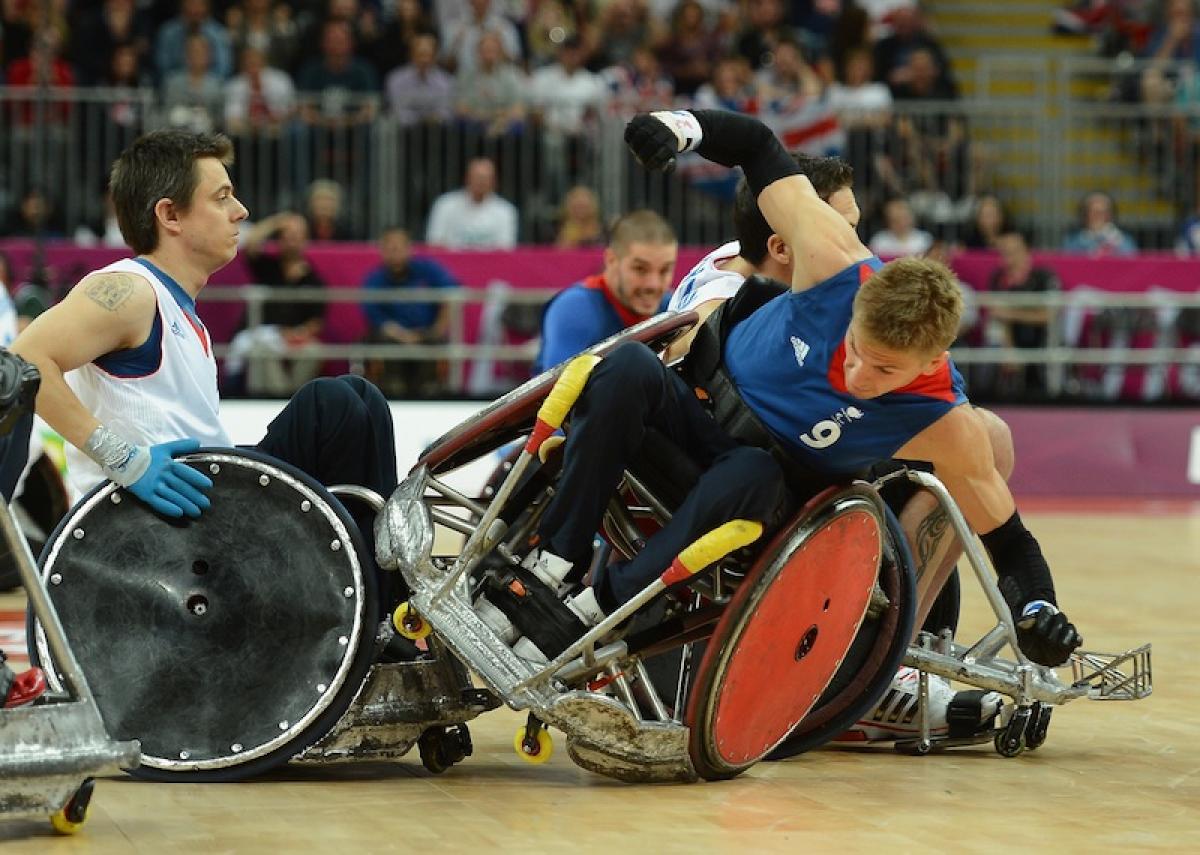 ⒸGetty
"We've come to this Paralympics hoping to be successful and that was a great win for us."
Australia and the USA both kept their unbeaten records intact on the second day of the wheelchair rugby competition on Thursday (6 September).
Australia continued in a similar fashion to the way they left off against Canada. Ryley Batt scored 30 times during their 60-47 victory against Sweden.
The Australians led from the front and the win never looked in doubt. Chris Bond produced another good performance, adding 14 points.
"We've come to this Paralympics hoping to be successful and that was a great win for us," Bond said.
"Our guys led from the front and we just developed on that.
"We didn't come here for nothing. We're going to try our hardest and hopefully go home with the gold medal."
The defeat for Sweden means they have it all to play for in the final group fixture against Canada -who defeated Belgium 58-50.
Canadian veteran Garrett Hickling believes his side produced a positive team performance in their victory over the Europeans.
"Our boys played with intensity," he said.
"We were slow to start the last game [against Australia], and this was a fine example of how good we can play when we are at our full potential."
Canada held a narrow four-point lead heading into the final quarter, however Hickling never doubted his team-mates abilities.
"We always have a strong finish," he said.
"The guys were really motivated coming into the game and the preparation was good.
"You could see they wanted to win before the match in their faces and eyes."
Youngster Zak Madell was the pick of the Canadians scoring 18 points. The 18-year-old started his first Paralympic match and was worthy of his selection.
"We played out there today with our heads held high and a positive attitude," he said.
"If we play like that, we've got a really good chance in beating Sweden.
"They have a limited number of line-ups, so if we can get out there and tire them out early then we should be OK."
Both Sweden and Canada sit with two points in Group B, with the winner advancing to the semi-finals.
In Group A, the two victorious teams from the first day met, with the USA advancing with a 64-48 victory over Japan.
Japan's Daisuke Ikezaki and USA's Chuck Aoki both scored 20 points, however it was Aoki's side that came out on top.
The defeat for Japan means they have it all to play for against Great Britain, who defeated France 57-50.
With just a solitary point separating the sides heading into the final quarter, David Anthony produced an inspiring eight minutes to lead his team to victory. Coach Tom O'Connor praised the Welshman's performance at full-time.
"We needed to lift the game in the final quarter and David does that," he said.
"You saw the players around him also lift their game and I was pleased with that.
"Some people are saying that it's a great win, but it's not. It's just a win. France gave us a lot more opposition than we thought they would.
"Tonight was their final, whoever lost knew that they were going home."
Anthony was pleased with his performance and recognises the importance of more than just an individual pulling their weight.
"I'm glad I could come on in the 4th quarter and change everything," he said.
"I wasn't sure whether we were going to get the job done, but the whole team seemed to respond and we got there in the end."