Age not slowing Kosmala down
The 72-year-old Australian is not hanging up her rifle just yet as she aims for Rio 2016.
07 Jun 2015
Imagen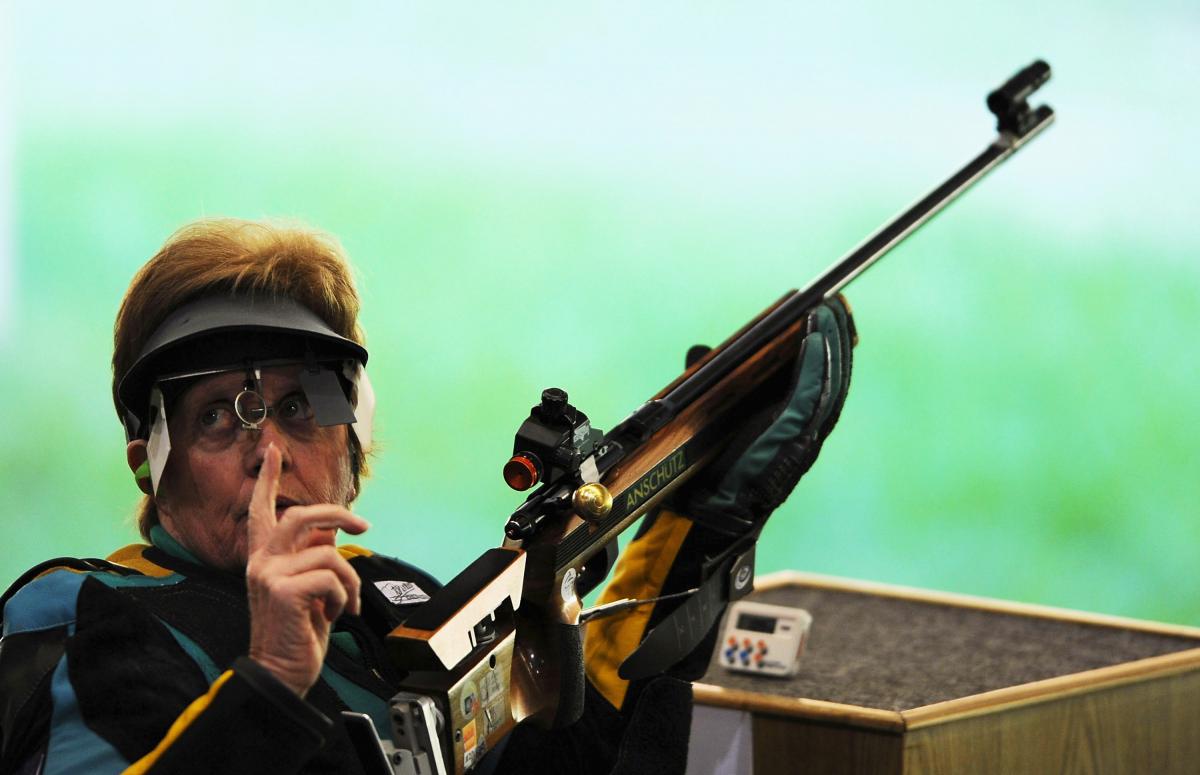 ⒸGetty Images
By By IPC
"I think I am very lucky to be able to keep shooting very well. And I do have good health."
Editor's note: On the first Sunday of each month, Paralympic.org will publish a series of features, in which we interview some of the top figures in the Paralympic Movement. For the first part of the series, we spoke with 11-time shooting Paralympian Libby Kosmala.
Libby Kosmala is 72 years old.
She knows her age will draw attention come Rio 2016.
But that does not bother her.
"I accept it," Kosmala said. "I think I am very lucky to be able to keep shooting very well. And I do have good health."
The Australian shooter is aiming for her 12th Paralympic appearance. Initially tabbing London 2012 as her last Games, Kosmala still found herself returning to the local shooting ranges in South Australia.
Eventually, the grandmother of two got a call from Australia's Paralympic national team coach Miro Sipek.
"He said, 'You are shooting well. Would you like to join the international scene again?'" Kosmala recalled. "I said, 'Yes, I would, I would.'"
"I am right back into it and thoroughly enjoying it."
Kosmala did take a nine-month break after London 2012 to look after her two grandsons, a time she called a "great joy."
Then, after Sipek invited her back, she picked up her rifle and travelled to her first international competition in March 2014 at Stoke Mandeville, Great Britain, for a World Cup event.
"A lot of people cannot believe that a woman in her 70s can still be competing in international Olympic or Paralympic Games," Kosmala said. "But rifle shooting is a sport where if you are still able to hold the rifle without any tremor, and you can still see well, you can still shoot very well."
"It is a sport that you can keep doing longer than a lot of other sports," Kosmala said. "There is not a lot of physical strain on your body, as wheelchair basketball is or track and field are; those are real physical sports."
She is gearing up for the IPC Shooting World Cup in Osijek, Croatia, in July, when National Paralympic Committees (NPCs) can obtain direct qualification slots for Rio 2016. Currently, Kosmala is in a three-way tie for second in the world rankings in the R2 women's 10m air rifle standing SH1. She also competes in the R3 mixed 10m air rifle prone SH1.
Kosmala has not won a Paralympic medal since 1988. But she was close in Beijing 2008, when she came in fourth in the women's 10 m air rifle standing SH1.
And there is still a long ways to go before she can secure her spot in Rio 2016. But having competed in the Games since 1972, the veteran knows what to expect.
This, however, was different in years past.
"I would put a lot more pressure on myself in the earlier years when I was going to the Paralympics," Kosmala said.
"I find there is not a lot of difference between this year and next year — I did have a lot of contacts from the media because of my age and the number of Paralympics I have been to. The media really got to me in a big way for 2012 before the Games. I expect a similar thing will happen this year if I am chosen for Rio."
Even so, Kosmala takes the attention as a sign of good health.
Twice a week, she swims 20 laps in a 20-metre pool. A recent trip to the eye doctor re-assured her ability to keep shooting.
"I asked how are they? He said, 'They're like the eyes of a 30-year-old,'" she said.
And when she looks back at her time in the Paralympic Movement, she has seen huge growth.
"[In South Australia], we used to be called Wheelchair Sport in Australia, but now we are now called Recreation Sport for Disabled," Kosmala said.
"We changed our name because we include various people with disabilities. … And when I went to the Paralympics in 1972, there were only wheelchair people. No blind. No cerebral palsy, no amputees. So it was a very different Games. And now, we have people competing in various [classifications]."