Alana Nichols targets Paralympic gold in third sport
After winning gold in wheelchair basketball and alpine skiing, Nichols is now trying to make the US para-canoe team for Rio 2016.
13 Dec 2014
Imagen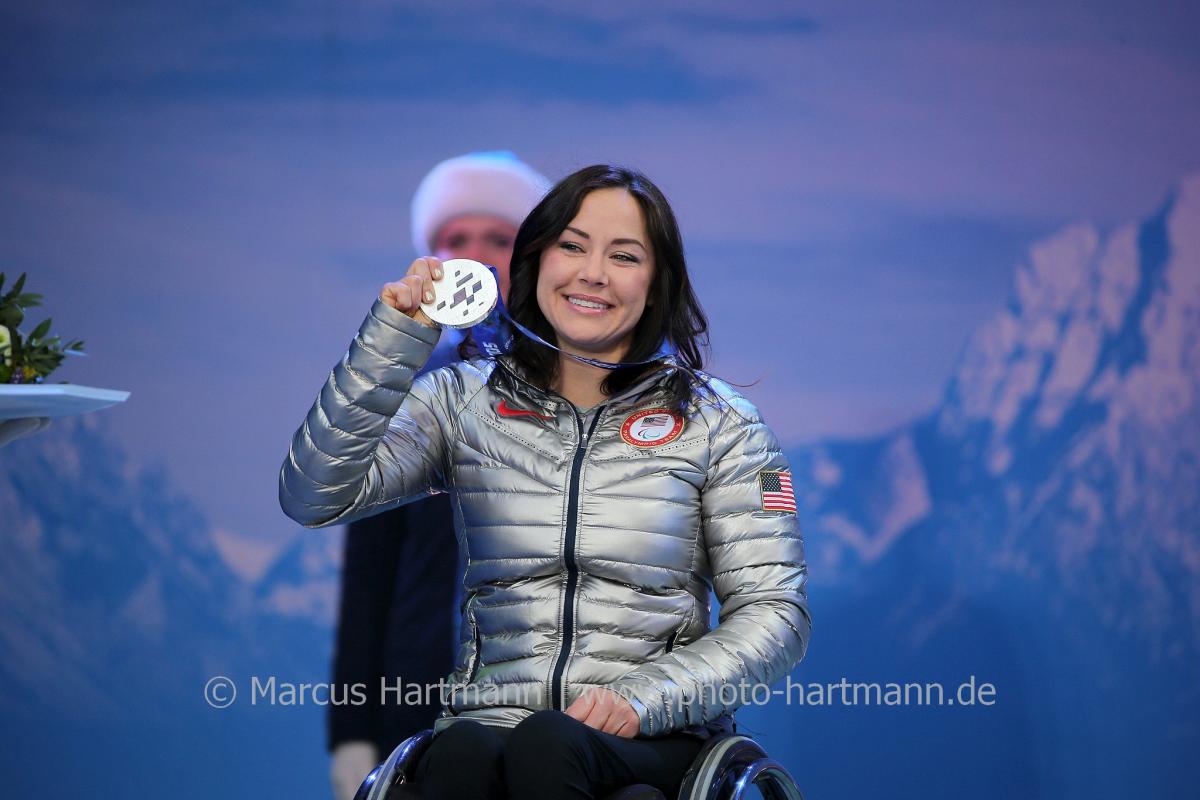 Ⓒ© Marcus Hartmann
By Nicolaas Harding | For the IPC
"I am happy to promote the idea that 'anything is possible' including being a three-sport Paralympic athlete."
Alana Nichols, who has won gold medals at the summer and winter Paralympic Games, is targeting a unique place in sporting history by attempting to qualify for the US para-canoe team for the Rio 2016 Paralympic Games.
Nichols, 31, won gold on her Paralympic debut in 2008 in Beijing as part of the US women's wheelchair basketball team. Two years later she won downhill and giant slalom gold at the Vancouver 2010 Paralympic Winter Games.
Now she is aiming for success in a third sport at what would be her fifth Paralympic Games.
"I am very humbled to have the opportunity to do what makes me happy, and that is to train and race," said Nichols who in March won downhill silver at the Sochi 2014 Paralympic Winter Games.
"I am happy to promote the idea that 'anything is possible' including being a three-sport Paralympic athlete.
"With that said, I have not made the para-canoe team yet but am going to do everything I can to make it to Rio in 2016."
This winter Nichols has swapped the ski slopes for the water and will be working hard before jetting off to Australia in January for more training before team selection for the 2015 season.
New challenge
Nichols is enjoying the challenge of trying a new sport, even if it does mean her getting a little soaked every now and again.
"It's interesting for me to learn a new sport and it's exciting to see how hard I can push myself. I had a chance to try K1 this summer along with adaptive surfing and fell in love!" said Nichols of the sport which will make its Paralympic Games debut in Rio, along with para-triathlon.
"I have an incredible coach and friend named Spike Kane who has taught me everything I know at this point. He really encourages me to have fun and enjoy the experience which keeps me in a good head space for training.
"I am still developing an ideal workout for para-canoe and am working closely with my personal coach to fine tune my paddle stroke. A lot of what I am focused on at the moment is shoulder stability, flexibility and strength.
"Learning to paddle a kayak [paracanoe], I was doing really well and concentrating hard. Then said, 'hi' to someone paddling past and ended up swimming! I got back in the boat and lost concentration for a split second and went swimming again! I had to laugh at that happening twice, back to back."
Golden mindest
Should she qualify for Rio 2016 then Nichols only has one thing on her mind: to top the podium.
"I have always had a gritty toughness about me as an athlete and if I want to accomplish something I'll do anything I can to reach my goals.
"I wouldn't be a competitor if I didn't want to win but it is really important for me to enjoy this process and take it as it comes. My first goal is to qualify and then if I make it to Rio, you better believe I am going for the gold!"
Alana's ambitions do not end there with para-canoe gold. She also has plans in a fourth sport.
"My long term goal is to help grow the adaptive surf movement. I would love to help develop more competitions for the sport and one day see an all women's competition with five heats and over 25 women competing!
"An even bigger dream would be to have surfing in the Paralympic Games."
Para-canoe will be one of 22 sports included in the Rio 2016 Paralympic Games. Taking place between 7-18 September 2016, the Games are set to attract 4,300 athletes from around 170 countries.
Related Images