Arendz focused on 'extremely deep' biathlon field
Canadian biathlon world champion has not committed to competing in cross-country competitions when January's Nordic skiing World Championships come to Cable, USA.
26 Oct 2014
Imagen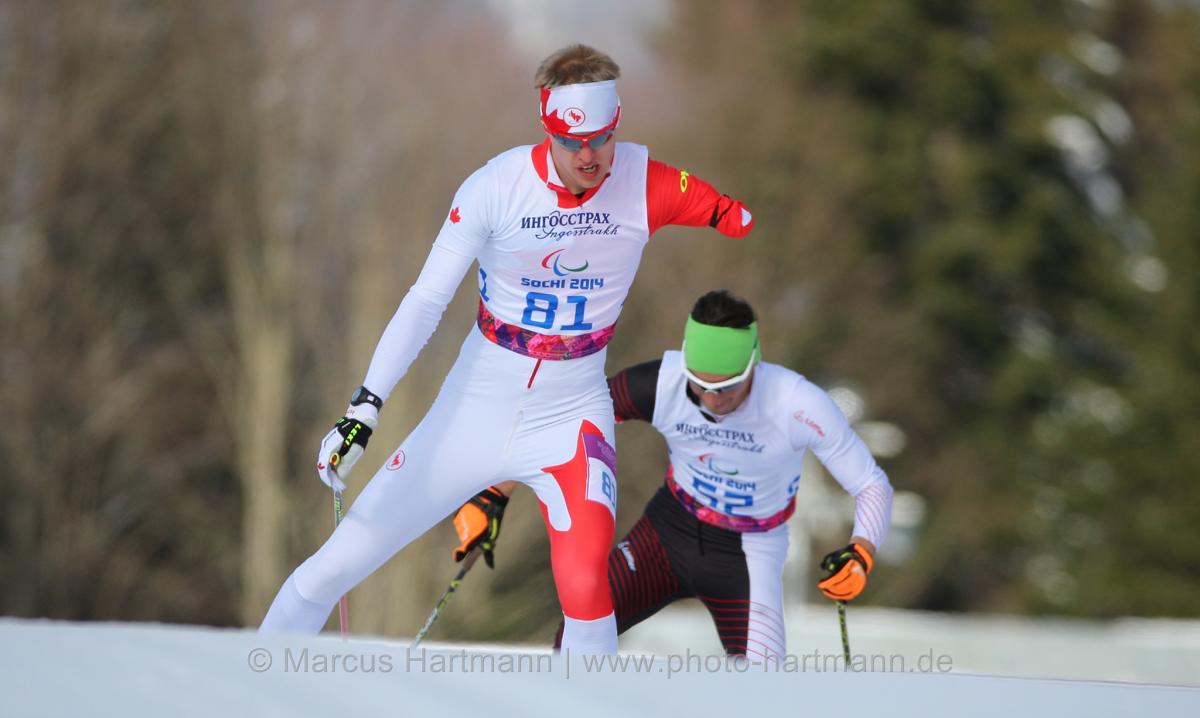 Ⓒwww.photo-hartmann.de
By Richard Waterhouse | For the IPC
"What the Paralympic Games proved is that there is no longer a single challenger"
Canadian world champion Mark Arendz has spoken of his focus on biathlon events at January's IPC Nordic Skiing World Championships in Cable, USA, following a surge in the standard of competition he believes was demonstrated at Sochi 2014.
"What the Paralympic Games proved is that there is no longer a single challenger," he said.
"The biathlon standing men's field is extremely deep. There are several athletes with the ability to win a race. In Sochi, in the sprint race, the top three were separated by 1.2 seconds, the top five by 14 seconds and the top 10 within 30 seconds. The challenge is to cross the finish line with the least amount of mistakes. The skier with the least mistakes wins!"
The 24 year-old claimed a gold medal in the men's 7.5km biathlon standing event at the last IPC Nordic Skiing World Championships in Solleftea, Sweden, two years ago as well as two bronze medals in the 12.5km and 15km events.
That was followed by a silver medal in 7.5km at Sochi 2014 and bronze again in the 12.5km, and a top three world rankings finish in men's standing biathlon for 2013-14.
He revealed he will be competing in all three events at Cable 2015 again but hasn't decided whether or not he will compete in the cross country events, where he has enjoyed less success since he began competing in 2003.
"As for the cross country races, I'm not sure. Depending on the schedule and what I need to accomplish in the biathlon, I will pick and choose which cross country races to compete in."
Arendz currently resides in Canmore, Canada, and he is looking forward to competing at the major Championships located on his doorstep but says the preparation remains the same.
"It is always nice to have major events such as World Championships close to home. The preparation leading up to the World Championships will be the same whether they are in North America or on the opposite side of the world.
"The advantage is being able to remain at home those few extra days. Therefore long travels will not hinder training or performance."
The Canadian, who lost his lower left arm in a farm accident at the age of seven, has been travelling to numerous locations to train in preparation for Cable 2015. This includes places such as the USA, New Zealand and Austria. He returned to Austria recently after five years away but enjoys a mix of fresh surroundings and familiarity.
"It was great to return to Austria after nearly five years since the last time I was there. The camp consisted of a lot of skiing up on the Dachstein Glacier and roller skiing lower down in the town of Ramsau.
"It is interesting to try new places and I love doing that. But it is easier to have consistent training in familiar surroundings. Trying one fresh location a year is plenty - anymore and you begin to jeopardise training."
As for his medal targets for biathlon at Cable 2015, Arendz remains tight-lipped.
"My goal is to make the least amount of mistakes in each of the three biathlon races," he said. "If I cross the finish line, knowing I could not have done anything else better, I will be satisfied.
The 2015 IPC Nordic Skiing World Championships in Cable, Wisconsin, USA, will feature over 150 athletes from 20 countries and will run from 23 January-1 February in the biggest gathering of international skiers since Sochi 2014.