Athlete content during Rio 2016 showcased on Facebook and Instagram
Behind the scenes, 360 video, live Q&As and select events from the 2016 Paralympic Games will be available on Facebook and Instagram.
08 Sep 2016
Imagen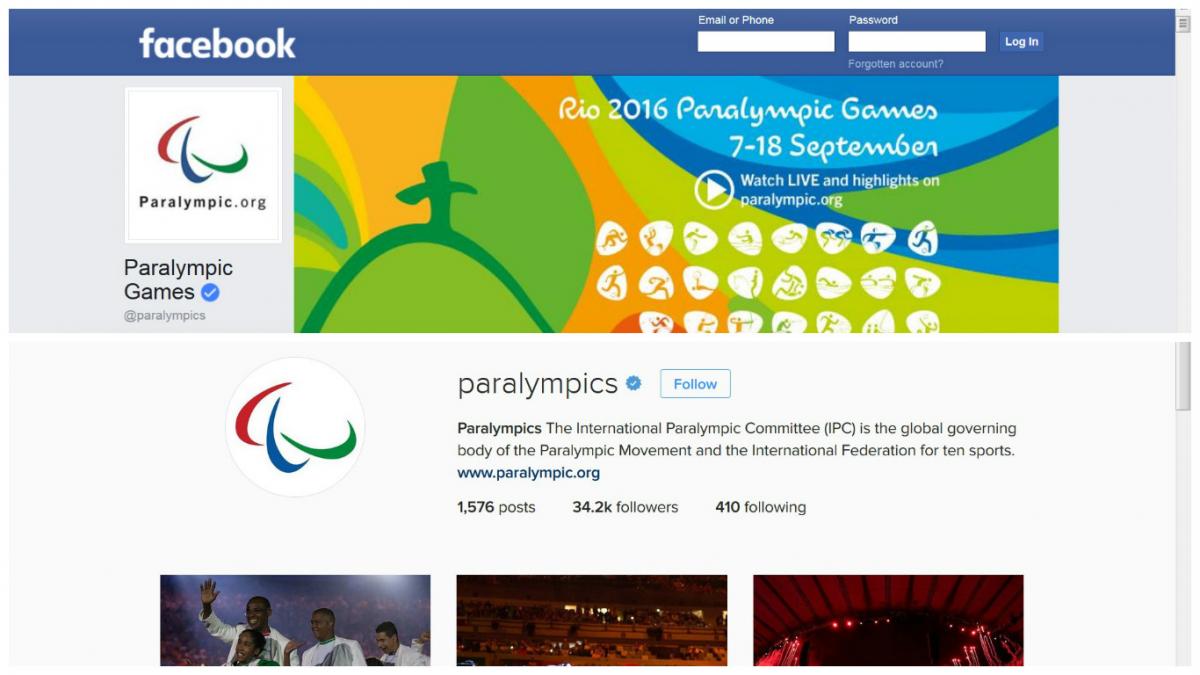 By IPC
The International Paralympic Committee (IPC) will enable athletes to connect with fans and broadcasters through a mix of live, interactive and behind-the-scenes video content through Facebook and Instagram.
Facebook Live Q&As and behind-the-scenes tours will allow fans to get even closer to the action, and select events will be livestreamed on the Paralympic Games Facebook page each day.
Fans will be able to engage with the action by updating their Facebook profile picture with a frame to show support for their Paralympic team (https://www.facebook.com/profilepicframes) and learn about the Games through an explainer video series featured on the Paralympic Games Page (https://www.facebook.com/paralympics).
There will also be Facebook 360 videos posted to the Paralympics page each day to give viewers further access to the Games.
The Paralympics had a Cultural Moment on Facebook to celebrate the Opening Ceremony and the Sports on Facebook Page (https://www.facebook.com/sportsonfb/) will have a Paralympics takeover featuring select content.
"The partnership with Facebook and Instagram is very much about multi-media content and bringing fans closer to the action," said Craig Spence, IPC Director of Communications. "The Paralympic community on Facebook and Instagram is really engaged and committed to promoting equality and spreading the Paralympic message of inclusion."
Throughout the Games, Paralympians will be able to take photos and portraits for their Instagram accounts at a custom photo booth in the athlete dining hall – right in the heart of the Paralympic Village – as well as go live from a Facebook Live Station.
The athletes can post these photos and lives to their Instagram accounts and Facebook pages using the hashtag #proudparalympian.
The dining hall – as well as sporting venues – will also feature Instawalls on which photos from the #proudparalympian hashtag will be projected. In addition, the Proud Paralympian Facebook page (https://www.facebook.com/ProudParalympian) will feature the photos and gifs athletes have taken in the photo booth. Instagram also plans to feature Paralympians on @Instagram, its own account.
Facebook has also played a key role in the #FillTheSeats crowdfunding campaign, which was initiated by former London 2012 Director of Marketing, Greg Nugent, and US Paralympians Hannah and Tatyana McFadden.
Tatyana's initial Facebook post about the campaign was shared almost 1,000 times with 12,000 likes, and the campaign has now raised over USD 200,000 including corporate sponsors like Allianz.
Rio 2016 runs from 7-18 September and will feature 4,350 athletes from 159 countries, as well as an Independent Paralympic Athletes Team, competing in 22 sports.