Australia, Canada, USA, Japan progress to semi-finals
Australia and the USA remain undefeated after the final pool matches at the 2014 IWRF Wheelchair Rugby World Championships
08 Aug 2014
Imagen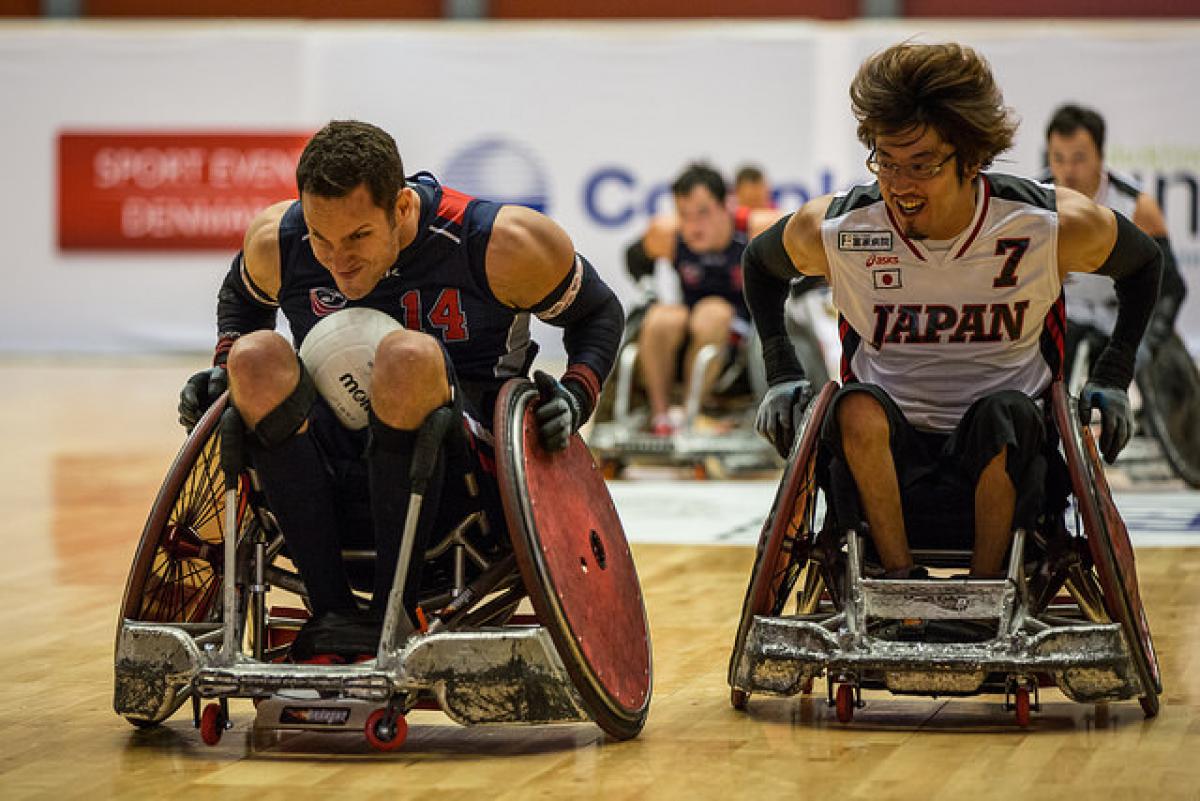 ⒸBrian Mouridsen
By Beau Greenway
"Our big thing is just coming out on fire, playing our brand of rugby whoever we play. We run line after line after line and it wears down guys who are normally on the court for four quarters at a time."
Canada, the USA, Australia and Japan have progressed to the semi-finals after the final day of pool matches at the 2014 IWRF Wheelchair Rugby World Championship concluded on Friday (8 August) at the Arena Fyn in Odense, Denmark.
Everything went according to plan for the world's top ranked nations, Australia and the USA, who remained undefeated and finished on top of their respective pools.
USA made world No.4 Japan look second rate in fabulous display of team rugby. The final score was 65-45.
The defending world champions are eager for the crossover matches on Saturday (9 August).
"This kind of started off the weekend which was good and Japan is a good team," USA Captain Joe Delagrave said.
"Our big thing is just coming out on fire, playing our brand of rugby whoever we play. We run line after line after line and it wears down guys who are normally on the court for four quarters at a time."
Australia did not have it as easy against Canada but they still produced an impressive 68-61 victory without relying solely on their full strength lineup.
"In previous years we weren't able to get our bench out there at all and had to keep going back to Ryley [Batt] and our main lineup," said Australia's Ryan Scott.
"Now it has been really good, we are getting to the finals a lot fresher and it is a very exciting time for Australia."
France may not be amongst the top teams for the weekend but they got their second win on the board on Friday against European champions, Sweden.
French captain Adrien Chalmin was ecstatic with the spirit within the team: "It was just magic, we won against the European champions which is awesome for us because we will improve our ranking.
"It is the first time for us at the World Championship so it is great experience for us."
Full results can be found on the 2014 IWRF Wheelchair Rugby World Championships website.
Eight matches are to be played on Saturday as positions 9-12 will be determined. The semi-finals begin from 15:00 CEST.
Matches as per usual will be streamed from the World Championship website.
Photos of the World Championships are also available on Flickr.