Australia's Daniel Fox sets new world record
The S14 swimmer, who also holds the 200m freestyle world record, set a new 100m best time on the third day of the Pan Pacific Para-Swimming Championships
09 Aug 2014
Imagen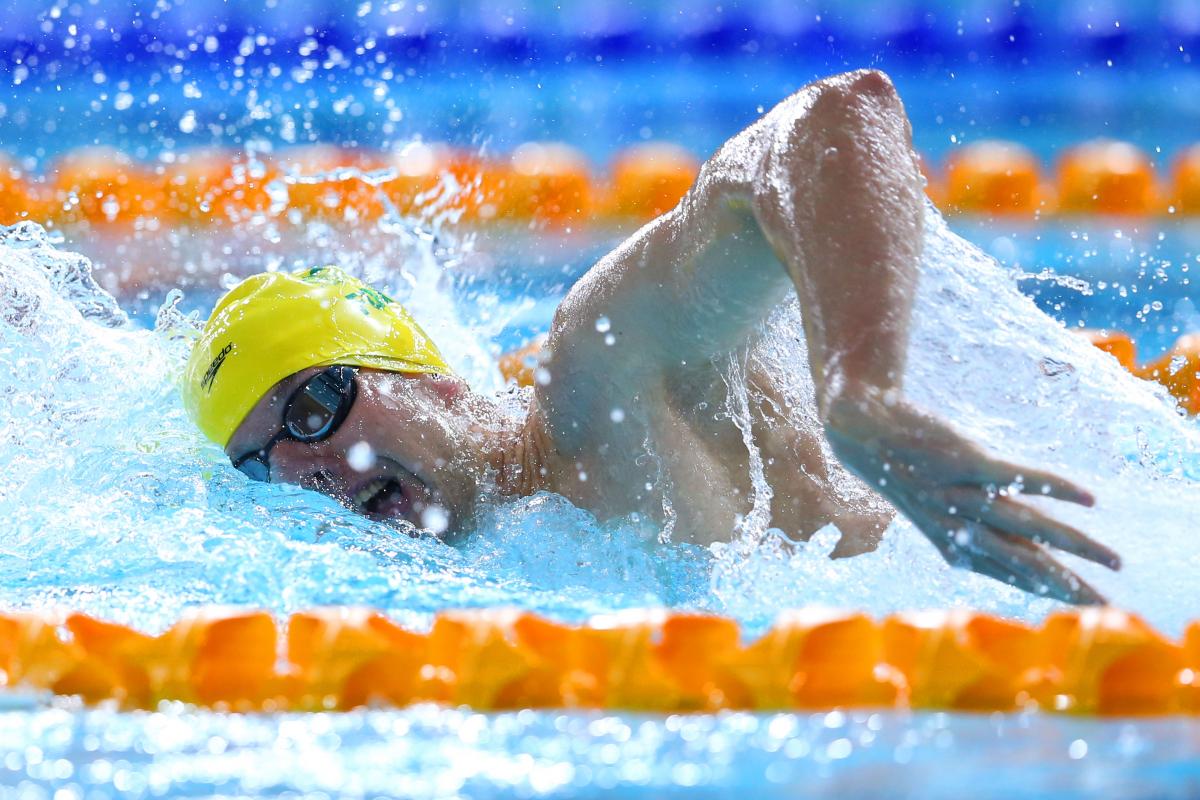 ⒸQuinn Rooney/Getty Images
By US Paralympics
"I am surprised to win but at the same time, I did come into this with a lot of confidence."
Australia's Daniel Fox set a new world record in the 100m freestyle S14 in the heats (54.80), only to improve on it in the final (54.69) at the Pan Pacific Para-Swimming Championships in California, USA, on Friday (9 August), the third day of competition.
His teammate Mitchell Kilduff came in second (56.38), whilst Canada's Dalton Boon took bronze.
Team USA leads the medal count with 76, including 18 gold medals, while Australia (59) and Canada (37) follow.
The US success was highlighted by five gold-medal performances, including from rookie Roderick Sewell, who won the men's 100m breaststroke SB6 with a 1:40.68, easily topping Mexico's Enrique Perez (1:49.52).
"I am surprised to win but at the same time, I did come into this with a lot of confidence," he said. "I was worried that I would not win gold or that I would not medal at all but I knew what could happen if I swam my best."
Sewell is making his debut appearance with the US team.
"I'm feeling blessed," Sewell said. "This is my first international meet so to come here, and win gold, it's an honour. It's a true honour to be here with this gold medal around my neck."
Five-time US Paralympian Curtis Lovejoy won a gold medal in the men's 50m backstroke S2, easily beating Russia's Ivan Konovalov (2:45.54).
In the 50m backstroke S5, two-time US Paralympian Roy Perkins won the gold medal then picked up a silver medal in the 100m freestyle.
"I've had a pretty good meet so far," Perkins said. "The 50 back has been kind of a struggle for me over the years so it was nice to get a best time in that today. I was a little tired when it came to the 100 free but it felt pretty good. No complaints."
He was far ahead of Canada's Andrew Cooke (53.96) and Daniel Murphy (55.77).
Retired US Navy Lieutenant Brad Snyder won his fourth title of the championships, winning the men's 100m freestyle S11 (57.31), ahead of Brazil's Matheus Souza (1:00.30) and South Africa's Hendrik Herbst (1:00.43).
But the two-time 2012 Paralympic gold medallist, competing at a major international event for the first time since the Paralympic Games, later suffered his first defeat in the meet at the hands Japan's Keiichi Kimura and US teammate Tharon Drake, placing third in the men's 100m breast.
"Tharon is one of the young swimmers who makes me really excited for the next two years," said Snyder, a team captain. "We have a lot of really talented up-and-coming swimmers in this program and I'm just excited, honoured really, to be a part of this experience with them. The young swimmers are really going to make everything leading up to Rio really exciting."
Drake, 21, is a resident athlete at the US Olympic Training Center. In the morning heats, he set the American record in the event, swimming 1:13.98. He swam 1:15.78 in the final, behind Kimura's 1:14.39. Snyder swam 1:21.15.
"This morning in the preliminary, I had a great swim, it was very smooth," Drake said. "Tonight in the final, I added some time with a 1:15.78. It felt smooth but in the first 50, I got off and hit the lane rope. But in the second 50, I felt great. I was coming back hard but I just wasn't there at the beginning. I can't be disappointed whatsoever. I'm happy with the swim overall."
An alternate for the 2012 US Paralympic Team, Drake had complications with routine vaccinations at age 14, resulting in severe memory loss and permanent loss of eyesight.
On the women's side, Colleen Young (1:14.06) won a gold medal in the women's 100m back S13 ahead of teammate Martha Ruether (1:25.16)
Brazil won the women's 4x50m 20 point medley relay, with USA in second and Mexico third.
Australia came top in the women's 4x100m 34 point relay, with USA taking silver again and Canada winning bronze.
The 2014 Pan Pacific Para-Swimming Championships is the largest competition of the year for US swimmers. Other top events on the road to Rio 2016 include the 2015 world championships in Glasgow and the 2015 Parapan American Games in Toronto.
The competition continues until Sunday (10 August). Live results are available with the Meet Mobile app.