Australia works with Vanuatu to grow Para rowing
Vanuatu's George Langa showed promising potential after his first ever regatta.
07 Apr 2017
Imagen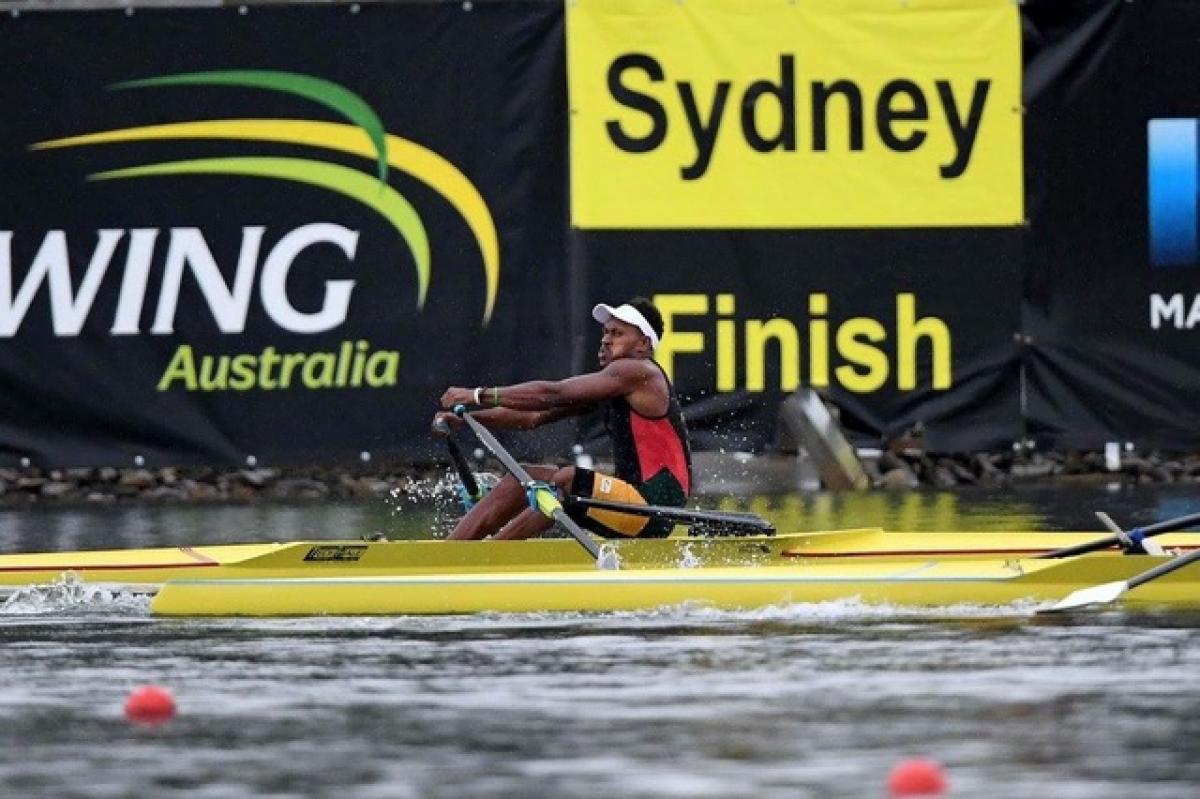 By Rowing Australia and IPC
"The support from the Para rowing community has been amazing and we are very thankful. It's like a big family."
With a strong relationship with Rowing Australia, Para rowing in Vanuatu saw a big step forward as the Pacific Island nation had the opportunity compete at the 2017 Sydney International Rowing Regatta (SIRR) that concluded on 31 March.
Tara Huntly, Rowing Australia's Para rowing Talent Development Coordinator, was influential in progressing Vanuatu's programme, and ensuring the Vanuatu athletes were given every chance to improve.
Huntly explained how a casual chance meeting with Vanuatu team officials turned into a strong relationship between two rowing nations.
"Two years ago, almost to the day, I met with the Vanuatu rowing team competing in the 2015 Sydney International Rowing Regatta. I floated the idea of including Para rowing in their programme, and they were very open to it," said Huntly.
That was when the seeds were planted for a Vanuatu Para rowing programme, and soon after Port Villa local George Langa was recruited to be Vanuatu's first ever official Para rowing athlete.
He came to the sport after being stopped on the street by Margaret MacFarlane, Vanuatu Para rowing Programme Coordinator, who convinced him that he would be the perfect fit for Vanuatu's new programme.
Huntly was eager to keep liaising with the upcoming programme, so she linked up with MacFarlane and a number of others.
"In February 2016 I was awarded a Layne Beachley 'Aim for the Stars' Foundation Scholarship, which provided financial assistance for me to travel to Vanuatu to meet key people and gain a good understanding of the club set up," stated Huntly.
"Without this scholarship, I wouldn't have been able to make the key visits that I did," continued Huntly.
Funding was an obstacle.
Langa has an impairment of his left leg, resulting in it being shorter than the other. That proved a challenge walk to and from training each day.
In order to combat this, Huntly collaborated with Australian Para rower Steve Knott, and also set up a GoFundMe account.
"Steve Knott took a bike over for him [Langa] to use instead of walking, and the GoFundMe raised enough money to purchase some multifunction gym equipment and covered all of Langa's travel costs to compete at SIRR," explained Huntly.
Langa said: "This is my first official regatta on a course with lanes. The thing I've enjoyed most is having people in lanes next to me. This made it very competitive and made me race all the way down the course."
Langa also explained that the Sydney International Regatta Centre course is a polar opposite to what he usually rows on.
"My training lagoon has crystal clear water, I can see all the fish and sand at the bottom. When I first got on the water I was a little frightened because I couldn't see what was in the water, and I heard there were crocodiles in Australia," said Langa.
After Langa made the A-final at his first ever regatta, Huntly knows that the future of Para rowing in Vanuatu is looking bright.
"The end goal is for Vanuatu to be represented at the [Tokyo 2020] Paralympics. We also want to find more LTA [legs, trunk and arms] Para athletes to join their programme. I'll be travelling to Vanuatu in April to conduct a 'come and try' rowing session for people with a disability," added Huntly.
"The support from the Para rowing community has been amazing and we are very thankful. It's like a big family."