Australian para-triathlon trio move closer to team nomination
Bill Chaffey, Kate Doughty and Brant Garvey all found success at the World Para-Triathlon Event in Penrith.
25 Apr 2016
Imagen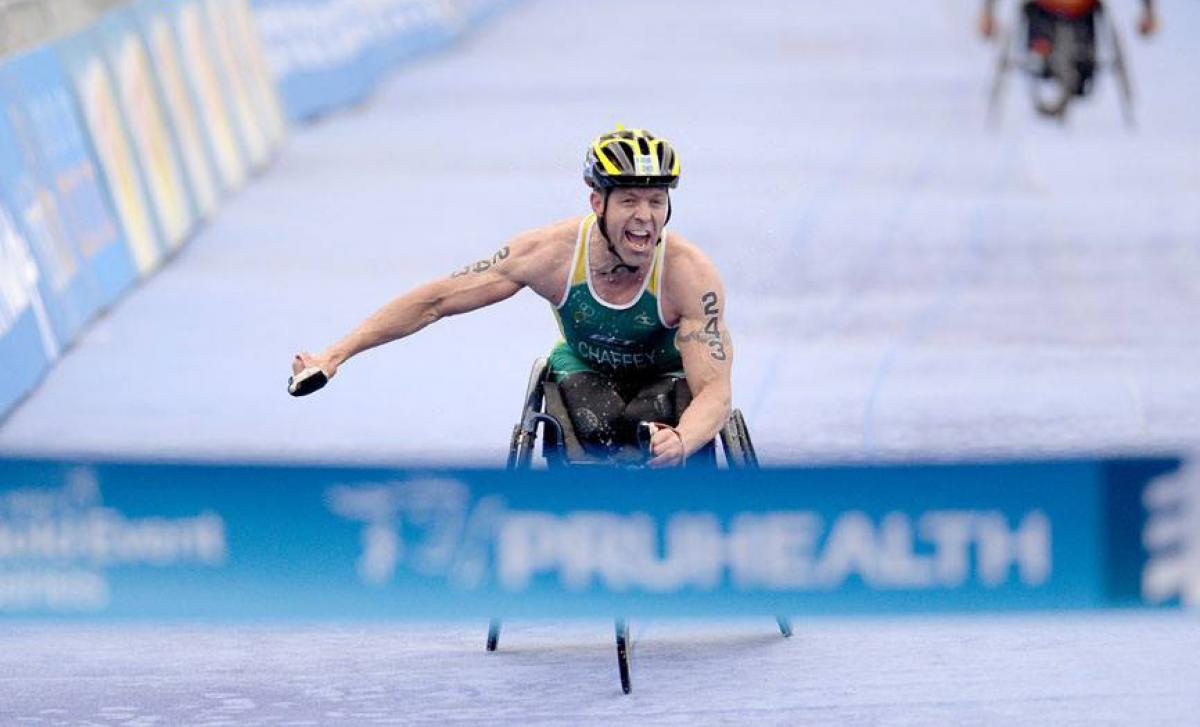 ⒸDelly Carr | ITU
By Megan Mindel | For the IPC; Australia Triathlon; Australian Paralympic Committee
Bill Chaffey will maintain his No. 1 spot among Australian PT1 athletes heading into team selections this May, thanks to his win at the 2016 Penrith International Triathlon Union (ITU) World Para-Triathlon Event (WPE) on Sunday (24 April) in Castlereagh, Australia.
Chaffey (58:53), a four-time ITU world champion, beat Great Britain's Joseph Townsend (1:00:43) and Germany's Benjamin Laviatz (1:08:11).
Overall, Australian athletes won in six of the 10 featured races: Justin Godfrey (1:10:41) triumphed in the men's PT3 over Krygyzstan's Nurbek Toichubaev (1:26:39) in the two-man race. Jonathan Goerlach (1:04:17) finished first in the men's PT5 race, followed by Spain's Jose Luis Garcia Serrano (1:09:18) and then Japan's Ryu Nakazawa (1:17:45).
In the women's races, Australians Emily Tapp, Kerryn Harvey and Kate Doughty took titles in the PT1, 3, and 4 classes, respectively. With her victory, Doughty, bronze medallist from the 2015 World Championships, also ticked a box in completing the selection criteria for the first round of Australia's nomination criteria for Rio 2016.
Doughty (1:12:10) had a two-minute finish ahead of Great Britain's Clare Cunningham, who was followed by Australian Claire Mclean (1:15:47). Tapp (1:15:33) beat out teammate Sarah Tait (1:40:39) for the second time in 2016. Harvey was the lone racer in her class.
"The swim was rough, we had the biggest wave of 24, and I got pulled under the first 100m," Doughty told Australia Triathlon. "It was a bit of an adjustment trying to find my rhythm and spot.
"I couldn't get my good arm out of my wetsuit, I dropped my goggle's and swim cap so [I] couldn't pick them because my good arm was stuck in my wetsuit. All the little minor things happened, so it was a good practice run.
"Claire and I were on the bike and she's a solid racer, I got in front of her and there was a bit of a headwind but the bike felt awesome… The run today was about sitting in the hurt box and being comfortable staying there and I think I executed that today," said Doughty.
Great Britain saw victories from Andrew Lewis and George Peasgood in the men's PT2 and 4; both were selected to the British elite para-triathlon squad last March. Lewis (1:10:47) defeated Australian Brant Garvey (1:14:08), and Spaniard Lionel Morales (1:14:54) crossed the finish line shortly after. However Garvey's podium finish was good enough to complete the first round of Australia's nomination process.
Peasgood (1:02:33) bested Russia's Alexander Yalchik (1:03:56) and Brazil's Carlos Rafael Viana (1:04:56).
The USA's Elizabeth Baker and Sarah Reinersten brought home wins as well. Reinersten (1:29:44) won in the women's PT2 race, followed by Japan's Yakuza Hata (1:29:44) and then Russia's Veronika Gabitova (1:40:08). Baker, who met Team USA qualification standards with a win at the 2016 Sarasota CAMTRI American Championship, beat Japan's Atsuko Yamada in the women's PT5 race, with finishing times of 1:15:10 and 1:17:42, respectively.
There are only four more WPE races after Penrith and before 30 June (the deadline for athletes to attain performance toward Rio qualification): Aguilas (Spain) and Yokohama (Japan) on 14 May, Strathclyde (Great Britain) on 4 June and Besancon (France) on 19 June.
Para-triathlon will make its debut at the Rio 2016 Paralympic Games. Races are scheduled for 10-11 September, with medal events in the men's PT1, 2, and 4 and women's PT 2, 4, and 5.
Complete results from the 2016 Penrith ITU World Para-Triathlon Event can be found on the ITU's website. More information on Australia's para-triathlon qualification process can be found on the Australian Paralympic Committee's website.