Para-triathlon nominations on the line in Penrith WPE
The World Para-Triathlon Event in Australia will allow athletes to collect qualification points toward the Paralympic Games.
22 Apr 2016
Imagen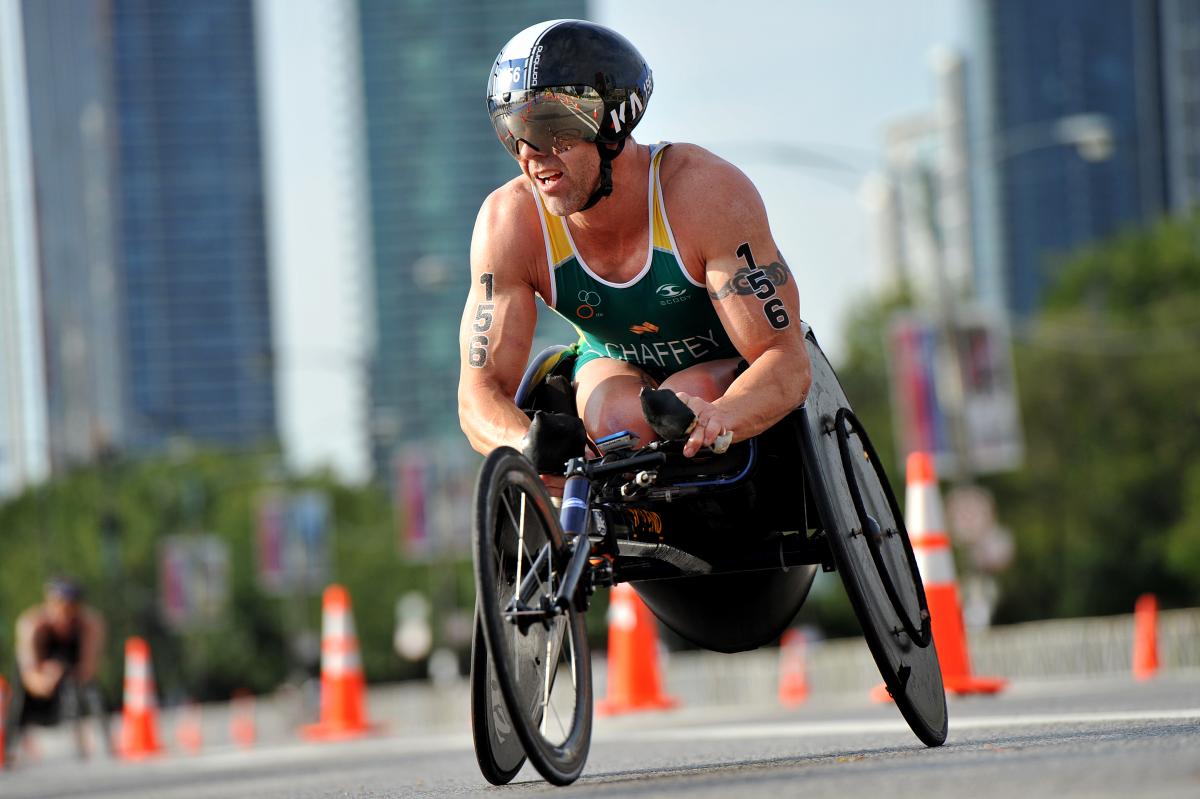 ⒸITU
By Megan Mindel | For the IPC
The chase for qualifications points toward September's Paralympic Games continues for para-triathletes at the 2016 Penrith International Triathlon Union (ITU) World Para-Triathlon Event (WPE). The race is set for Sunday (24 April) in Castlereagh, Australia, and will be especially important for the Australian racers, as their selections will take place in May.
PT1
Five-time world champion Bill Chaffey earned a quota place for Team Australia last year with his win at the 2015 World Championships in Chicago, USA. However he will need to maintain his No. 1 position in overall points heading into selections. Chaffey has done well so far in 2016 to keep his spot, with wins at the Devonport Oceania Triathlon Union (OUT) Para-Triathlon Oceania Championships and the Australian Para-Triathlon National Championships.
Chaffey will be challenged by fellow Australian Nic Beveridge and Great Britain's Joseph Townsend. Beveridge will be seeking top qualifications points after finishing third at the Devonport race and fourth at the National Championships. Townsend was named to the British elite squad in March, and will be looking for his first win of 2016.
The women's race will be one of homegrown favourites. Emily Tapp and Sarah Tait each have a first place win under their belts for 2016. Tapp finished first at the Oceania Championships while Tait won at the National Championships.
PT2
Australians Brant Garvey and Glen Jarvis highlight the field, and will challenged by Brazil's Andre Barbieri, Great Britain's Andrew Lewis and the USA's Brian Norberg.
Norberg and Barbieri, who finished second and third at the 2016 Sarasota CAMTRI Para-triathlon American Championship, will search for points before their team selections this summer. With his finish at that Continental Championship, Norberg met the qualification standards for USA Triathlon to provisionally earn a spot in Rio. However quota spots will not be confirmed until the end of the ITU season on 30 June. Brazilian selections will take place in July.
Lewis was selected for the British elite para-triathlon squad in March.
Kimberly Fawcett-Smith will be looking for her second win of the season after finishing first at the Canadian Para-Triathlon National Championships. She will be challenged by Russia's Veronika Gabitova, Japan's Yakuza Hata, and the USA's Sarah Reinersten.
PT3
Australian national champion Justin Godfrey will take on Brazil's Leonardo Curvelo. Highlights of Curvelo's 2016 season include a third-place finish at the American Continental Championship.
Australia's Kerryn Harvey, who finished second in the 2015 World Championships and 2016 Oceania Championships, is the lone racer in the women's race.
PT4
Hungary's Peter Boronkay has the highest world ranking in the men's. He will be racing against Brazil's Marcelo Collet, Great Britain's George Peasgood, Japan's Keiichi Sato, Australia's Jack Swift and Russia's Alexander Yalchik.
Lauren Steadman will be the one to beat in the women's side. Steadman, who won every race she completed in 2015 including the World Championships, was announced as a member of the British team in March that will head to Rio.
Those challenging Steadman for the win include Canada's Chantal Givens, Australia's Kate Doughty and Great British teammate Clare Cunningham.
PT5
Australian and Asian national champions Jonathan Goerlach and Japan's Ryu Nakazawa, respectively, will battle for the podium.
The USA's Elizabeth Baker earned a provisional spot on Team USA by winning the Sarasota CAMTRI American Championship. She will be looking for more qualification points heading into team selections this summer. Baker will be challenged by Japan's Atsuko Yamada.
Visit the ITU's website for more information on the 2016 Penrith ITU World Para-Triathlon Event.
The Rio 2016 Paralympics will feature races in men's PT1, 2 and 4 and women's PT2, 4, and 5. Races are scheduled for 10-11 September 2016 at Copa Cabana Beach in Rio de Janeiro, Brazil.