Australian triathletes reflect on dynamic duo
Katie Kelly targets third Para triathlon title but first without Michellie Jones
15 Jul 2018
Imagen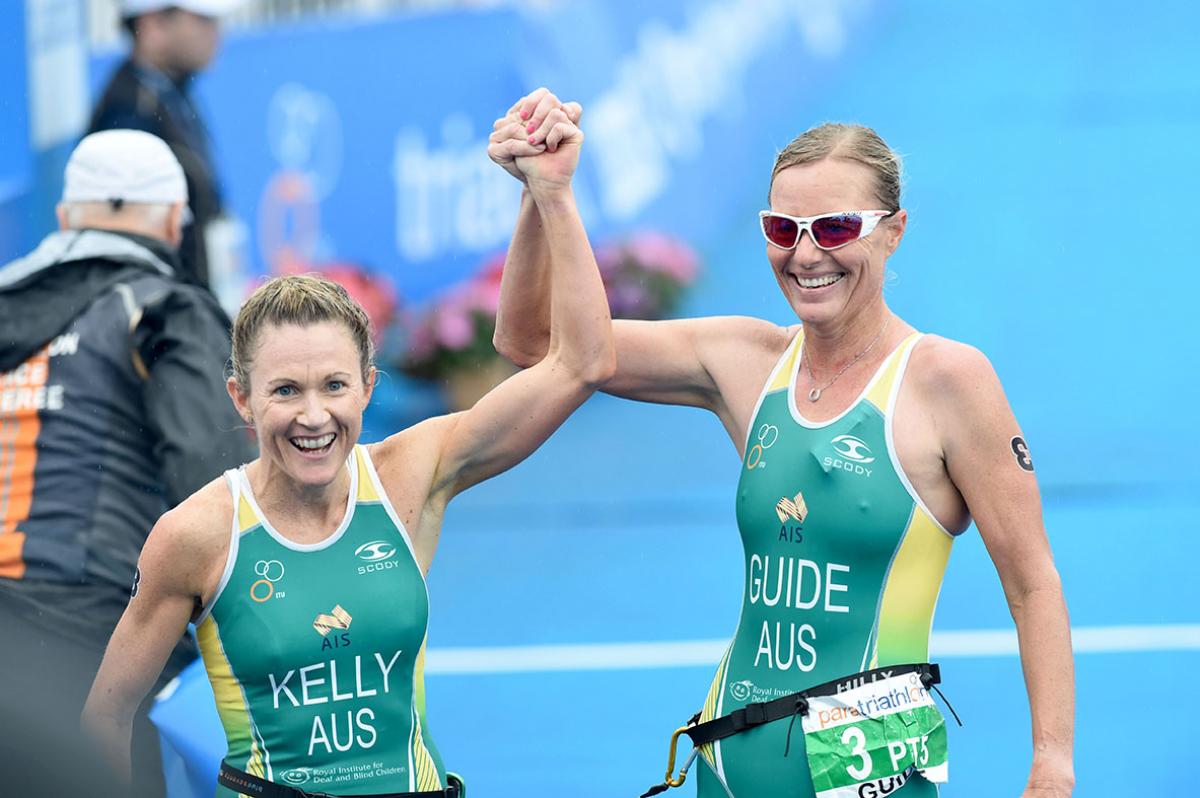 ⒸITU
By Adam Bailey | For the IPC
When Australia's Katie Kelly goes for a third straight gold at the International Triathlon Union (ITU) Para Triathlon World Championships in September, the vision impaired athlete will do it with a new guide.
In 2015 Kelly formed one of the sport's most successful partnerships with Olympian Michellie Jones acting as her guide. Together they won gold in the sport's Paralympic debut at Rio 2016, plus the 2015 and 2017 world titles.
At the end of 2017, it was time to move on, and for Kelly that meant working with two new guides.
Based on her success however with Jones, she knows what it takes to win at her home Worlds in Gold Coast on 15 September.
"Our partnership was extraordinary on many levels. It was challenging, but undoubtedly it was our dual commitment to develop a sync that we could transfer to our racing," Kelly said.
Bond like no other
Encouraged by Australia's Para triathlon coach to team up, the pair first met four days before their first event together at the 2015 Yokohama World Series.
"It was like two worlds coming together," Kelly said. "At the time, I had just finished my Masters degree and I was focussed on my professional career in sport marketing. And there I was competing alongside Michellie; an absolute force in triathlon and one of Australia's most celebrated and respected female athletes."
"It (our first event) was terrifying. We hadn't met, let alone trained or ridden a tandem bike together. … It is the only time I thought we were going to crash and that's the biggest responsibility you have as a guide is ensuring you navigate each discipline safely and as fast as the athlete can go."
Jones celebrated a silver medal from the Sydney 2000 Olympics and two world titles. But she enjoyed a different type of success in Rio.
"As much as I achieved during my career, it is definitely way more rewarding helping someone else achieve their sporting goal," Jones said. "As a guide it's all about your partner and ensuring you do everything that gives them the best possible chance for success.
"You would think after 30 years as an able-bodied athlete you wouldn't have much left to learn. But even though Para [triathlon] is still a triathlon, it's like a totally different sport."
Overcoming obstacles
The pair formed a dominating bond, winning all but one of their races – the exception was when Kelly suffered with injury at the Gold Coast World Series in April 2017.
There were also challenges.
Kelly has Usher Syndrome, a degenerative condition, causing not only vision loss, but also hearing loss.
"I obviously can't wear my hearing aids during racing and some training sessions, so this required a real collaboration to work together to overcome these challenges," Kelly said. "We always kept communication concise and precise. We keep it minimal, partially due to the fact I can't hear much. But we became so in sync, we almost developed another sense with where the other was at."
Kelly and Jones also lived on opposite sides of the world: Kelly in Australia and Jones in the USA.
They would meet up just a few days before each race.
"Just getting on and off the bike takes a huge amount of communication and training," Jones said. "We have to co-ordinate our pedalling because if she keeps pedalling when we make a turn I have no control."
"I think the biggest myth on the tandem is that the guide does all the work but that's not the case - you can feel when someone isn't pushing it's like having a break on. You have to also ensure you aren't going to push them to the point of no return.
"On top of that, I am also figuring out our race plan based on where the other athletes are. The same happens on the run I not only am keeping track of how hard Katie's is breathing but also where the competition is and determine pacing."
While their partnership ended, Kelly, 43, had a special motivation to keep going.
"To compete in a World Championship in my hometown of Gold Coast is definitely one of those 'once in a lifetime' opportunities," Kelly said.
The 2018 ITU World Triathlon Grand Final includes the Para Triathlon World Championships on 15 September. More information can be found on the event website