Australian Wheelchair Rugby Team Announced for London 2012
04 May 2012
Imagen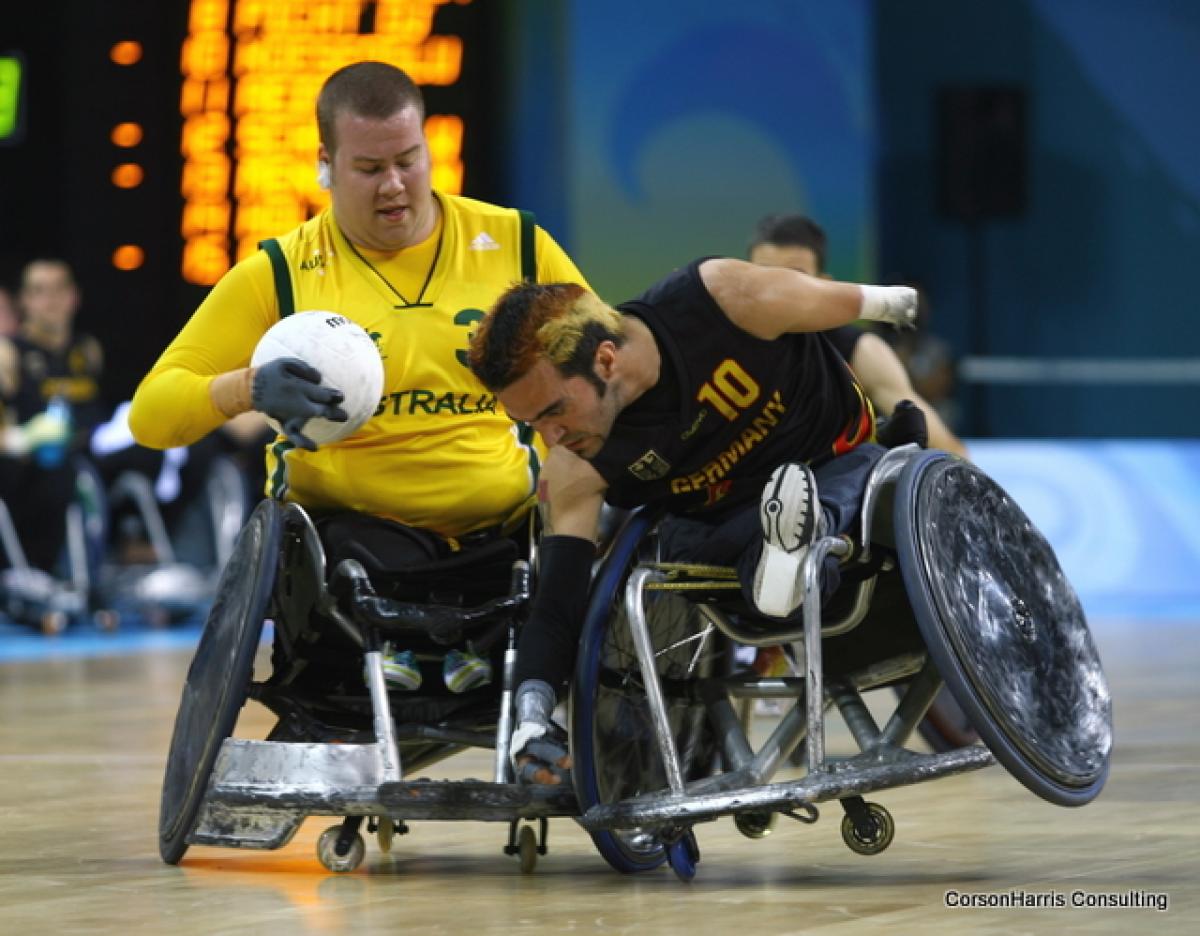 ⒸCorson Harris Consulting
Six Paralympic debutants have been named in the Australian wheelchair rugby team aiming to win that elusive gold medal at the London 2012 Paralympic Games.
The Australian Paralympic Committee (APC) announced the 11-strong Australian team for London 2012 at Friday's (4 May) Opening Ceremony of the five-test series against Japan held at Sydney Olympic Park this weekend.
The Paralympic team is again headlined by Ryley Batt, widely regarded as the world's best, and captains Ryan Scott and Cameron Carr, but includes an exciting batch of newcomers led by Victorian Jason Lees and Queenslanders Ben Newton and Chris Bond.
Australia has won two silver medals in wheelchair rugby at the Paralympic Games since it was introduced as a Paralympic sport in 2000. Currently ranked second in the world behind the USA, the Australians lost the gold medal game at both the 2008 Beijing Paralympics and 2010 World Championships to the USA.
At London 2012, Australia is aiming for nothing less than gold.
"The Australian wheelchair rugby team has sat just behind the USA for a number of years now and it's time things changed," said Jason Hellwig, Australian Paralympic Committee CEO and Chef de Mission of the 2012 Australian Paralympic Team.
"The Australian wheelchair rugby programme is managed by the APC and we have really focused on bringing our national team up to the level needed to win the gold medal in London. Wheelchair rugby will certainly be one of the sports not to be missed at the Games and I'm confident Australia can go all the way.
"While some athletes have plenty of Games experience like Greg Smith, Nazim Erdem and Ryan Scott, others are fresh-faced and chomping at the bit to get to London. It makes for an explosive and dynamic team."
It will be the third Paralympic Games for 22-year-old Ryley Batt, who was just 15 when he competed at his first Games in Athens in 2004. Voted the tournament's Most Valuable Player at the 2010 World Championships, Batt said the thrill of making a Paralympic team has not diminished over the years.
"After playing for a decade I still get nervous," Batt said.
"I'm pretty excited but we're still not there yet. We still have work to do before the Games so at the moment I'm just sitting back watching the younger guys get excited about it.
"It's going to be an amazing experience. We have set our sights very high.
"But we can't afford to look too far ahead; the competition is going to be extremely tough. First of all we have to get through to the final, we have got a pretty tough pool with Canada in our group," he said.
"We want to get through the pool as number one so that makes the semi-final easier for us. Hopefully we can get through to the gold medal game where we're likely to face the US once again. That would be awesome."
Wheelchair rugby is a team sport for people with a disability that affects all four limbs and is most commonly played by athletes with quadriplegia. Players are assigned a point value from 0.5 to 3.5 according to their level of functional ability. The four players on the court cannot exceed a combined total of eight points at any time.
The London 2012 Paralympic Games begin 29 August through to 9 September, 2012.
2012 Australian Wheelchair Rugby Team
Nazim Erdem – Roxburgh Park, VIC
Ryan Scott – Zillmere, QLD
Jason Lees – Hoppers Crossing, VIC
Cameron Carr – Wellington Point, QLD
Andrew Harrison – Bayswater North
Greg Smith – Buninyong, VIC
Cody Meakin – Newstead, QLD
Josh Hose – Footscray, VIC
Ben Newton – Fitzgibbon, QLD
Ryley Batt – Port Macquarie, NSW
Chris Bond – Fitzgibbon, QLD