Barrera one of Colombia's brightest stars
The 14-year-old dreams of representing Colombia at a Paralympic Games and winning a medal, and features in a new Agitos Foundation film series.
01 Jul 2016
Imagen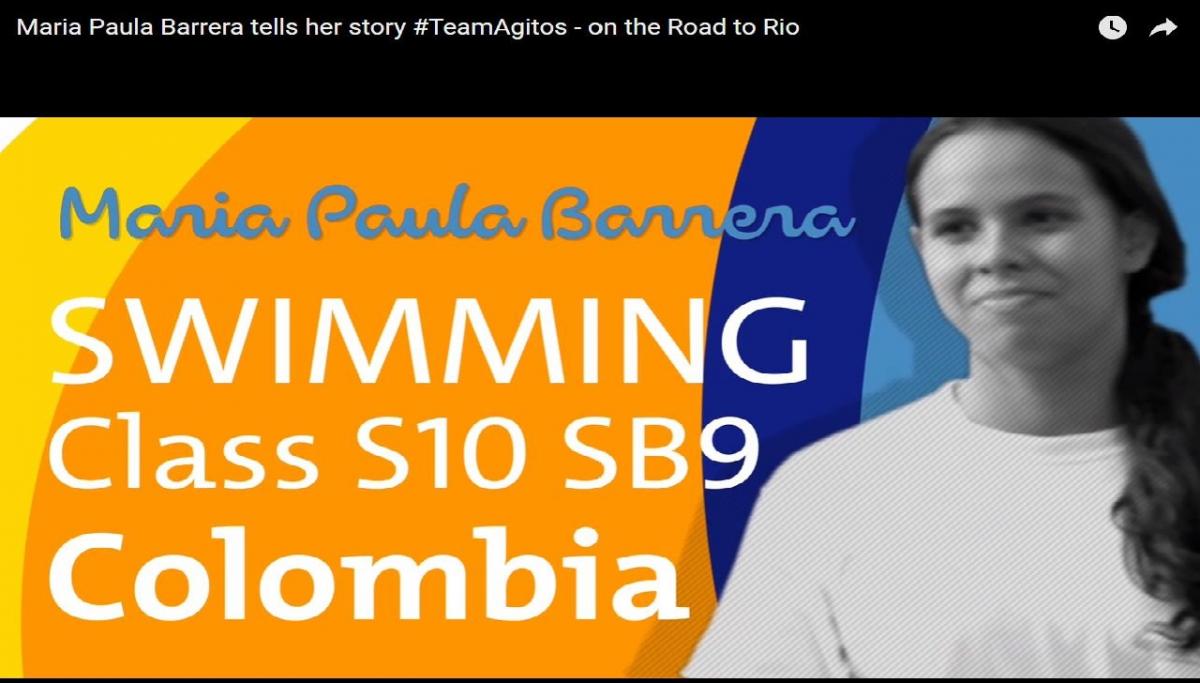 ⒸIPC
Colombian teenager Maria Paula Barrera may not be competing at the Rio 2016 Paralympic Games, but she is looking forward to an exciting future filled with promise.
The 14-year-old began her career two years ago, winning two golds and one bronze at the Santiago 2014 Para South American Games.
Then in the lead up to the Toronto 2015 Parapan American Games, Barrera took part in a training camp in Brazil run by the Agitos Foundation, the development arm of the International Paralympic Committee (IPC), and supported by the Brazilian Paralympic Committee and Rio 2016.
There she learned new techniques, going on to reach six finals at the Toronto 2015 Parapan American Games and is widely considered one of Colombia's most promising prospects.
Over the last 18 months, 155 athletes, coaches and classifiers from 23 countries, including Barrera, have benefitted from expert training provided during the Road to Rio 2016: Agitos Foundation Sessions. Organised in partnership with the Rio 2016 Organising Committee and Brazilian Paralympic Committee, the sessions aimed to improve coaching and Para sport standards as part of the legacy of Latin America's first Paralympic Games.
Barrera is one of eight athletes from Latin America whose remarkable stories are being told in a series of powerful short road to Rio 2016 films produced by the Agitos Foundation.
Despite not qualifying for Rio 2016, the S10 athlete is determined to take her progress forward into her long term future.
"I hope to represent my country at Tokyo 2020 and win a Paralympic medal," Barrera said.
"Santiago 2014 was my first international competition and it showed me what I am capable of achieving. No one expected a 12-year-old to climb onto the podium three times.
"I also exceeded my expectations at Toronto 2015, where I could rub shoulders with some of the best swimmers in the continent and learn from them ahead of future competitions."
Barerra is also grateful for the support she received through the camp.
"The Agitos Foundation has supported me in my swimming training, has followed me in different international competitions and has recognised my hard work, which I deeply appreciate," she said.
Barrera has a congenital absence of the tibia in her left leg and started swimming as a way of rehabilitation. She had a leg brace fitted and underwent surgery, meaning she could not regularly attend school.
"My brother used to swim at a club close to where I was doing my rehab exercises and I decided to join him. Since then, swimming has been an important part of my life," she said.
"I have lived a normal life, have never been bullied because of my disability and have always had the support of my family and friends. There are always people that look at you in a strange way in the streets, but I really do not care."
Currently, Barrera is studying for her high school diploma and describes herself as "disciplined and efficient." After that, she aims to start college and continue with swimming.
"For the time being, I want to keep growing as a person and as an athlete. Over the years, I need to find out what my purpose in life is and to discover more exciting things," she said.
"Sometimes it might not be easy, but I believe people without impairment also go through difficult moments. We just have to accept ourselves as we are and need to learn to live with what life has given us."
Barerra's father, German, says there have been times where he has had to step-in: "The truth is, the only time I notice anyone looking at my daughter is when she competes in able-bodied competitions where people don't know her.
"People look at her leg and she turns to me and says she doesn't want to swim.
"I tell her not to worry. Get in the water and you will see that once you get out people will look at you differently."
Clean, broadcast quality versions of Barrera's videos are available free of charge to all media. Requests should be submitted to footage@paralympic.org. The Agitos Foundation must be credited for all use of footage.
The Agitos Foundation road to Rio 2016 videos will feature at least one athlete per week until the 4 August, to show the compelling stories that exist in Para sport development as part of #TeamAgitos. A final video for each athlete will then be published the week before the Rio 2016 Paralympics begin.
Anyone can use #TeamAgitos on social media to show they are part of the team, whether they are fans, athletes, coaches, part of the Paralympic Movement or a partner organisation.
Spanish version
La joven nadadora colombiana María Paula Barrera quizás no compita en los Juegos Paralímpicos Río 2016, pero aún así sueña con un futuro repleto de ilusiones.
Barrera, de 14 años, comenzó su carrera hace dos años, cuando obtuvo dos oros y un bronce en los Juegos Parasuramericanos Santiago 2014.
Luego, en el camino rumbo a los Juegos Parapanamericanos Toronto 2015, participó de un campo de entrenamiento en Brasil organizado por la Fundación Agitos, el brazo de desarrollo del Comité Paralímpico Internacional, y apoyado por el Comité Paralímpico Brasileño y Río 2016.
Allí, aprendió nuevas técnicas que la ayudaron a alcanzar seis finales en los Juegos Parapanamericanos Toronto 2015, siendo ahora considerada una de las promesas del deporte colombiano.
Durante los últimos 18 meses, 155 atletas, entrenadores y clasificadores de 23 países, entre ellos Barrera, se han capacitado en las sesiones 'Road to Rio 2016': Agitos Foundation´. Este proyecto, organizado en colaboración con el Comité Organizador de Río 2016 y el Comité Paralímpico Brasileño, tuvo el propósito de mejorar los estándares de entrenamiento y deportivos como parte del legado de los primeros Juegos Paralímpicos en América Latina.
Barrera es una de ocho atletas de América Latina cuyas destacadas historias están siendo contadas en una serie de videos cortos ´Road to Rio 2016´, producidos por la Fundación Agitos.
Pese a no haber clasificado para Río 2016, la nadadora S10 se planteó continuar progresando pensando a futuro.
"Espero representar a mi país en Tokio 2020 y ganar una medalla Paralímpica", dijo Barrera.
"Santiago 2014 fue mi primera competencia internacional y me demostró de lo que soy capaz de lograr. Nadie esperaba que una joven de 12 años trepara al podio en tres ocasiones".
"También superé mis expectativas en Toronto 2015, donde pude codearme con algunos de las mejores nadadores del continente y aprender de ellas con miras a futuras competencias".
Barrera está agradecida al apoyo que recibió a través del campo de entrenamiento en Brasil.
"Aprecio profundamente el apoyo que me ha brindado la Fundación Agitos en mi entrenamiento, que además me ha seguido en diferentes competencias y reconocido el trabajo duro que vengo realizando", dijo.
Barrera tiene una enfermedad congénita en la tibia de su pierna izquierda y comenzó a nadar como parte de la rehabilitación. Se le colocó una férula y fue sometida a cirugía, por lo que no podía asistir a la escuela regularmente.
"Mi hermano solía nadar en un club cercano a donde yo realizaba mis ejercicios de rehabilitación y decidí unirme a él. Desde entonces, la natación ha sido una importante parte de mi vida", dijo.
"He vivido una vida normal, nunca fui discriminada por mi discapacidad y siempre he tenido el apoyo de mi familia y amigos. Siempre hay personas que te miran de una manera extraña en la calle, pero realmente no me importa".
Actualmente, Barrera se encuentra estudiando para obtener su diploma de educación secundaria y se describe a sí misma como "disciplinada y eficiente". Después, planea estudiar en la universidad y continuar con la natación.
"Por el momento, quiero continuar creciendo como persona y como atleta. A través de los años, debo encontrar mi propósito en la vida y descubrir nuevos sueños", dijo.
"A veces no es fácil, pero creo que las personas sin discapacidad también atraviesan momentos difíciles. Simplemente debemos aceptarnos tal como somos y aprender a vivir con lo que la vida nos ha dado".
Su padre Germán dijo que hay momentos en que ha tenido que intervenir. "La verdad es que los únicos momentos en que noto a alguien mirando a mi hija es cuando compite en eventos con atletas convencionales, donde la gente no la conoce", dijo.
"Las personas observan su pierna, ella me mira a mí y dice que no quiere nadar más".
"Le digo que no se preocupe, que se meta en el agua y verá que una vez que salga de la pileta, las personas la mirarán distinto".
La versión final del video de Barrera está disponible libre de costo para todos los medios. Las solicitudes deben ser remitidas a footage@paralympic.org. La Fundación Agitos debe ser citada para cualquier uso del material.
La serie de videos ´Road to Rio 2016´de la Fundación Agitos presentarán al menos un atleta por semana hasta el 4 de agosto, mostrando las atractivas historias que existen en el desarrollo del Para deporte como parte del #TeamAgitos. El video final de cada atleta va a ser publicado la semana anterior al inicio de los Juegos Paralímpicos Río 2016.
Cualquiera puede utilizar #TeamAgitos en las redes sociales para mostrar que son parte del equipo, ya sean fans, atletas, entrenadores, parte del Movimiento Paralímpico o de una organización asociada.