Berlin World Series: Ihar Boki in unstoppable form
Belarusian breaks world record in the men´s 50m backstroke twice
09 Jun 2018
Imagen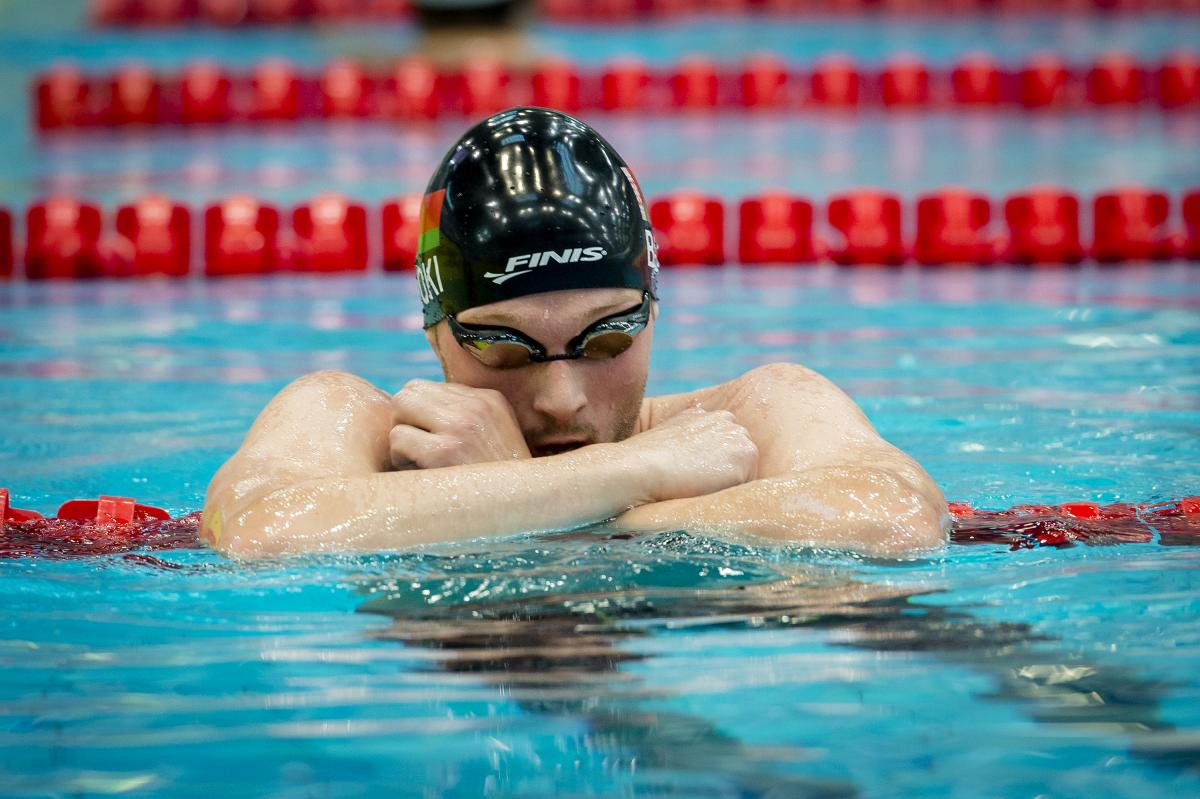 ⒸRalf Kuckuck
"I am happy but want to continue improving"
Ihar Boki broke two world records again on the second day (8 June) of competition at the final World Para Swimming World Series in Berlin, Germany.
Belarus´ S13 swimmer first set a new mark of 26.36 in the heats of the men´s 50m backstroke, before going on to break the world record again in the final with a time of 26.21.
On 7 June, Boki had set two world records in the 200m backstroke and 200m freestyle.
Despite his achievements, Belarus´ most decorated Paralympian ever remains hungry for more. "I have to compete again here in Berlin, so I want to focus now on my next races. I am happy but want to continue improving," he said.
The World Series features multi-class races, with winners decided by a standardised points system.
Boki also scored 1,002 points in the 50m backstroke to secure gold ahead of Great Britain´s Stephen Clegg (883) and Mexico´s Diego Diaz (842).
More world records fall
Three-time Paralympic champion McKenzie Coan delivered a glittering performance in the women´s 800m freestyle, breaking a seven-year old world record for the S7 class with a time of 10:37.70.
"I am super excited. I felt really good going into today but I am really shocked at how it went. I felt really good from the start and it was one of those races that you want to live in forever because it is so much fun."
The USA´s swimmer also took gold in the competition after scoring 896 points. She was followed by Spain´s Ariadna Edo (758) and Sweden´s Pernilla Lindberg (691).
Two world records were set in the men´s 800m freestyle; Uzbekistan´s Dmitriy Horlin clocked 8:38.56 to lower the record in the S12 class, while Japan´s Uchu Tomita (S11) set a time of 9:36.61.
However, it was not enough for them to win gold in the event as Argentina´s Facundo Arregui (897 points) topped the podium. Horlin (847) ended second and Spain´s Antoni Ponce (827) took third.
Rio 2016 two-time gold medallist Liesette Bruinsma was another standout of the day, as she set a new world record of 1:05.81 for the S11 class in the women´s 100m freestyle. "This is so wonderful, I cannot believe it. I trained very hard to achieve this in Berlin," she said.
The Dutch swimmer also took gold in the event after scoring 1,065 points ahead of Italy´s Carlotta Gilli (891) and Canada´s Aurelie Rivard (890).
Great Britain´s Hannah Russell (S12) was exultant after breaking the world record in the women´s 50m backstroke with a time of 31.61. "I am really happy. I really wanted to go to that swim," she assured.
Russell (921 points) also claimed gold ahead of Canada´s Shelby Newkirk (869), who set a world record of 38.00 for the S7 class. Japan´s Chikako Ono (818) secured bronze.
Two gold medallists and team relays
There were two gold medallists in the men´s 100m freestyle as Uzbekistan´s Islam Aslanov and the Netherlands´ Michiel Jorink both scored 901 points. Ukraine´s Ievgenii Bogodaiko (891) collected bronze.
Coan won her second gold medal of the day as part of the US women´s 4x100m freestyle team. She joined forces with 14-year-old Madelyn White, Summer Schmit and Jessica Long to lead her country to victory with 635 points.
They finished ahead of the Kazakhstan (473) and Germany (236).
In the men´s equivalent, Kazakhstan (626) came in first. Poland (588) and Iran (565) collected silver and bronze, respectively.
The men´s and women´s 150m individual medley were the last two events of the day. Japan´s Takayuki Suzuki (792) took gold in the former ahead of Israel´s Ami Omer Dadaon (767) and Ukraine´s Dmytro Vynohradets (610).
Germany´s Gina Bottcher was the winner among women with 626 points. She was followed into the podium by Spain´s Ines Rodriguez Martinez (425) and Iceland´s Sonja Sigurdardottir (259).
Competition continues on Saturday (9 June) with 30 medals up for grabs.
The scores for the overall rankings are calculated by adding up the swimmer´s two best point scores achieved in two different World Series events.
The World Para Swimming World Series in Berlin, Germany is being live streamed on World Para Swimming's website. Full results can be found online.