BPA's commercial partners commit to new 'Supercharge' campaign
The campaign is a major fundraising campaign to excite Paralympic sport fans and engage the public in Paralympics GB.
09 Jan 2016
Imagen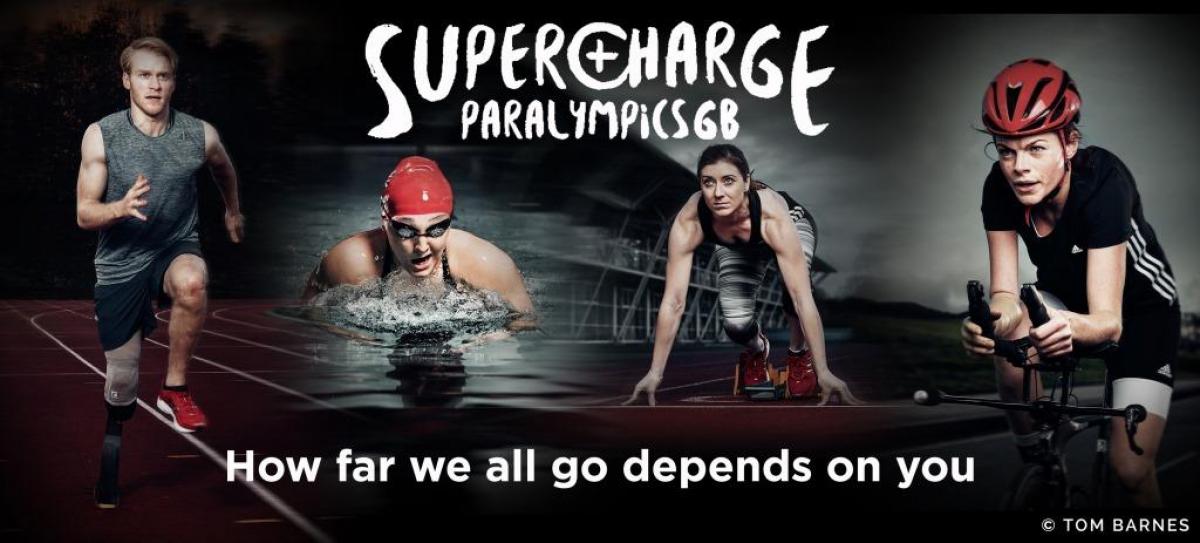 ⒸBritish Paralympic Association
By British Paralympic Association
The commercial partners of the British Paralympic Association have pledged their support to help 'Supercharge ParalympicsGB', building on their existing commitments to support the British Paralympic team over the course of 2016.
Supercharge ParalympicsGB is the first time that the British Paralympic Association (BPA) has created a major public facing campaign to excite fans of Paralympic sport and raise funds for ParalympicsGB. Funds raised will help best prepare the team in the crucial final days before Rio and lay the ground for future success.
The BPA's commercial partners, including some of Britain's biggest businesses, have thrown the weight of their support behind the brand new fundraising campaign.
David Radford, UK Brand Director, Allianz Insurance PLC said: "We are very proud of our official partnership with the British Paralympic Association and look forward to supporting the Supercharge ParalympicsGB campaign. This relationship inspires us to become an even more inclusive and diverse organisation.
"Our employees are passionate about our partnership and the idea of making sport accessible to everybody. We are very much looking forward to supporting the ParalympicsGB athletes achieve even more success in the Rio 2016 games and beyond."
Nick Beighton, CEO, ASOS said: "ASOS is proud to support the ParalympicsGB team for the 2016 Rio Paralympic Games. We are helping to supercharge the team and look forward to revealing our plans later in the year."
Gavin Patterson, CEO, BT Group said: "We know that ParalympicsGB is one of the most inspirational teams in the country. We are delighted to be a partner and we urge the public to do what they can to help Supercharge the team."
Peter Mather, BP Group Regional Vice President, Europe and Head of Country, UK said: "The entire nation was brought alive by the incredible energy of the London 2012 Paralympic Games. At Rio 2016, the Games promise to be just as amazing and the competition even more intense. That's why BP is a committed partner to the ParalympicsGB team and excited to be part of the Supercharge campaign."
Simon Wakefield, Partner, Deloitte said: "We are delighted to be supporting the Supercharge ParalympicsGB campaign and look forward to supercharging Deloitte Ride Across Britain in September, aiming to raise a record breaking total, as well as delivering a host of other activities in the build-up to the Rio 2016 Games."
Vincent de Rivaz, Chief Executive Officer, EDF Energy said: "EDF Energy has been a partner of the British Paralympic Association for London 2012 and now for Rio 2016. We understand that these Games will be the most competitive ever and that the world's eyes are on our athletes. We are proud to Supercharge the ParalympicsGB team and are already inspired by their achievements."
Nicholas Cheffings, Chair of Hogan Lovells said: "The inspiring ParalympicsGB team need funds to take them over the finish line and to remain one of the most successful nations in the world. Hogan Lovells is delighted to be part of the Supercharge campaign working together with the BPA to take the team to the Rio Paralympic Games."
Phil Greenhalgh, Managing Director UK, Mondelez International said: "We are very excited for 2016 as we look to Supercharge ParalympicsGB. We look forward to revealing our plans and urge the British public to support this fantastic campaign."
James Wright, Managing Director, Nissan Motor (GB) Ltd said: "As Britain's biggest car manufacturer we are delighted to be helping to Supercharge the ParalympicsGB team by challenging our 200 dealerships and 8,000 UK employees to Raise the Heartbeat of Britain and fundraise as much money as they can throughout 2016."
Sarah Warby, Marketing Director at Sainsbury's said: "Our partnership for the Paralympic Games is brilliant and unique. We know that the achievements of the ParalympicsGB team in Rio will inspire our colleagues and customers to achieve things they thought they couldn't both inside and outside of sport, so we'll be doing everything we can to help Supercharge the team. Keep your eyes open for what we'll be doing in store later this year!"
Tim Hollingsworth, Chief Executive of the British Paralympic Association, said: "We are incredibly proud of our relationships with our commercial partners, which are based on a genuine appreciation for and commitment to Paralympic sport. Our partners showed that they are passionate about supporting the ParalympicsGB team when they signed up to be partners, but with their support for Supercharge ParalympicsGB they have once again demonstrated they are committed to the BPA and the team right the way to Rio.
"I am delighted that they are on board with us and the campaign over this exciting Games year."
The Supercharge ParalympicsGB campaign includes a launch film, iconic imagery, a Text to Donate facility – TEXT "SUPER" to 70700 - and a wide range of fundraising tools and equipment.
Each text will result in a GBP 5 donation to British Paralympic Association (Charity no. 802385 England/Wales), plus standard network charges (which vary based on service provider rates).
All the above can be found at the Supercharge campaign website.