Brazil and Argentina rally for Para table tennis titles
Both countries win four gold medals at PTT American Regional Championships
08 Dec 2017
Imagen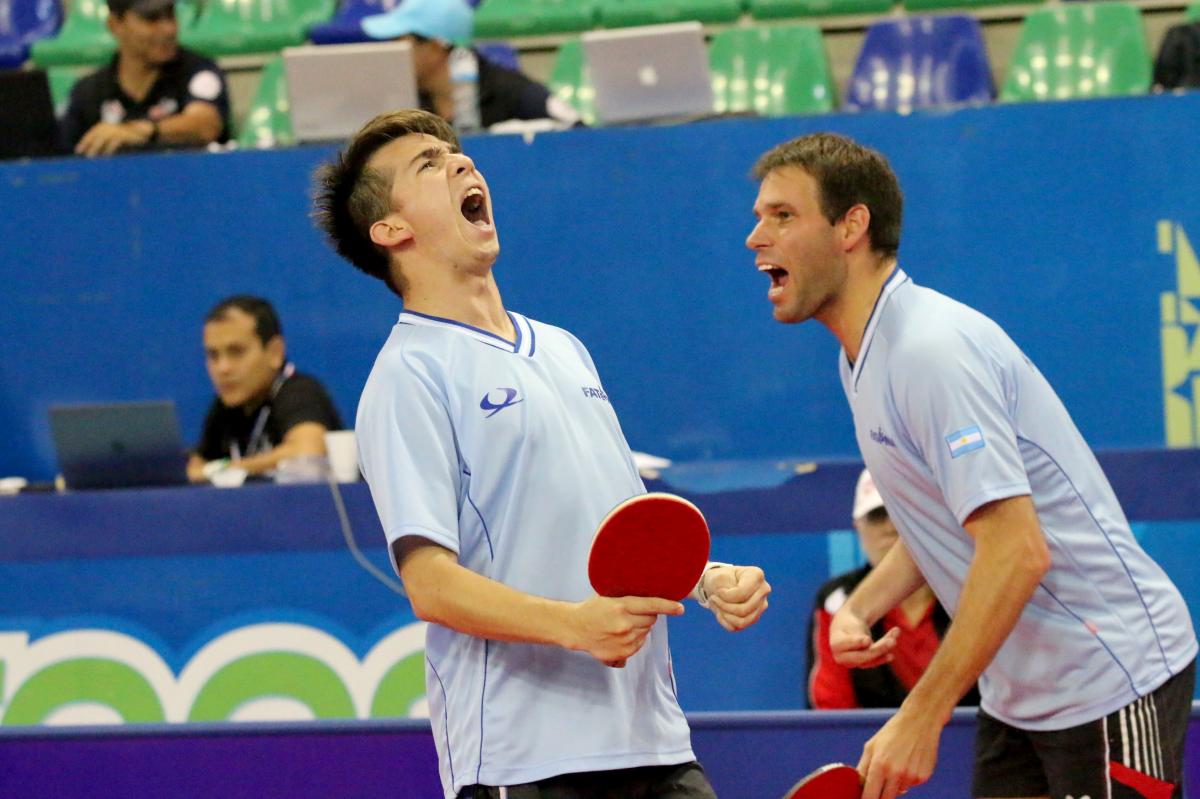 ⒸITTF
By Connor-Craig Jackson and IPC
Brazil and Argentina shared the spoils for medals as the 2017 Para Table Tennis American Regional Championships closed on 3 December in San Jose, Costa Rica.
Each country claimed four titles while Brazil got the better of the three head-to-head showdowns between the two nations.
Twenty-one old Brazilian Jennyfer Marques did not drop a set all tournament as she reclaimed her title from 2013 with a 3-0 humbling of Argentine veteran Giselle Munoz in the final.
A pulsating clash in the men's class 1 final saw Argentina's Fernando Emanuel Eberhardt hold off a late comeback from Brazil's reigning champion Aloisio Lima Juniorto win 3-1.
There was a case of deja vu from the 2013 edition for Argentina's Dario Andres Neira as he once again lost to a Brazilian in the class 10 final. But this year it was to Braz Claudio Massad who claimed his first regional title 3-0.
Brazil's Paulo Sergio Salmin Filho retained his men's class 7 title for the third time in a row after he dismantled Columbia's Jose David Vargas Pirajan 3-0 in the final.
Guilherme Marcio da Costa beat compatriot and five-time winner Irandilo Conceicao Espindola in an all Brazilian men's class 2 semi-final. However, da Costa could not secure gold as he was beaten convincingly by Mexico's Victor Eduardo Reyes Turcio.
After taking bronze in 2015, Argentina's Gabriel Copola ended a superb tournament for 17-year-old Jenson Van Emburgh of the USA with gold in men's class 4.
The men's class 6 gave a good glimpse of what the future may look like as Chile's Nicolas Lorca, 20, retained his title bearing the USA's impressive 16-year-ol Ian Philip Seidenfeld.
Meanwhile hosts Costa Rica boasted the competition's youngest winner in Steven Roman Chinchilla who, at only 15 years, became the new class 8 Americas champion after a 3-1 win against Chile's 2013's bronze medallist Jaime Jara Hernandez.
Team events
There was a huge shock in the men's class 3 as Chile's Luis Rodringo Bustamente Flores and Alfonso Enrique Diaz Angel ended Brazil's 14-year reign as champions. The pair beat the Brazilian duo of Irandilo Conceicao Espindola and Guilherme Marcio da Costa in both the group and final stages; it was the first time both the Brazilians have gone without gold in the Championships since 2001.
Argentina on the other hand returned back to the top of the Americas class 4-5 teams for the first time since 2011, with Mauro Depergola, Daniel Ernesto Rodriquez Ochoa and Elias Isaac Esteban Romero cruising to gold without dropping a single set, while the USA took silver.
A first team title in six years was also clinched by Chile in the class 6-7 group contest, with Cristian Dettoni, Matias Nicolas Pino Lorca, Ignacio Hernan Torres Orostica winning all four matches on their way to the gold.
Canada also recovered brilliantly from a shaky group stage in class 8 as Ian Kent, Masoud Mojtahed and Curtis Caron edged Columbia 2-1 in the final to reclaim their team gold from 2013.
Brazil did however find some joy in the class 9-10 contest. Diego Moreira completed a very impressive tournament when he and Claudio Massad retained Brazil's 2015 team title with a 2-0 final win against Columbia.
Complete results from the 2017 Para Table Tennis American Regional Championships are available on the International Table Tennis Federation Para Table Tennis website.